Sports betting is an activity that is becoming more and more popular as leagues embrace its newly legal status in the United States. And one sportsbook that bettors may hear about quite often in the states is Bovada, as it is a popular betting option around the world. But is Bovada legal? And what legal sports betting options are out there for bettors across the United States of America?
Is Bovada Legal In The US?
The answer to the question "is Bovada legal in the US?" is no as of right now. Bovada is not legal for bettors to use anywhere in the United States, as legal sportsbooks in the states are required to be licensed and to operate in the states where they are permitted to run. Bovada is one of many operators that runs its sportsbook offshore, meaning outside of the United States, and therefore does not meet that criteria to become a legal and licensed sportsbook.
There are some states that operate in a legal "gray area" of sorts when it comes to offshore sportsbook operators, not approving of their use without making it expressly illegal. But using a sportsbook that isn't straight up legalized in a bettor's state makes it so that they are not afforded the consumer protections that come with using a legal bookmaker.
---
Legal Status Of Sports Betting In America
Since 2018, when the United States Supreme Court overturned the Professional and Amateur Sports Protection Act (PASPA), states have been legalizing sports gambling across the country. Those states have then required sportsbook operators to run sportsbooks according to the sports gambling laws in each individual state. Some states allow online betting only, some only allow land-based gambling, while some allow a combination of both.
As a result of different states having different laws pertaining to sports gambling, there is a diverse array of sportsbook options available to players depending on which state they are on. Some states, like Colorado, have welcomed in dozens of sportsbook options for bettors. Other states, like New Hampshire, have very few options to choose from.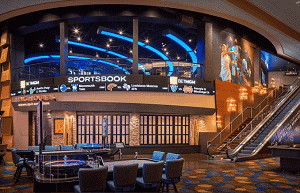 Legal US Sportsbook Alternatives
Instead of using Bovada, there are several legal alternatives that are available around the United States. These particular bookmakers tend to be the most common across the country, with the largest concentration of states offering their services. And with these sites offering various bonus offers to new players, there is plenty of added value that offshore sites don't do as well to provide.
BetMGM
BetMGM is one of the top legal bookmakers in America, offering several interesting features and allowing bettors to take part in one of their multiple welcome bonuses. During different times they run the popular Bet $10 Win $200 promotion or their First Bet Offer.
Caesars Sportsbook
Caesars Sportsbook offers players a go Full Caesar bonus when players sign up and place their first bet in a state that has legalized its use. Here, bettors can risk up to $1,250 on their first bet and automatically receive that back as a bonus bets if they lose.
DraftKings Sportsbook
DraftKings Sportsbook regularly offers intriguing promotions across a variety of sports for new players looking for a legal sportsbook to sign up with. Their Bet $5, Win $150 promo allows bettors to put $5 dollars on any team on the moneyline in an upcoming game. If you win get your bet, winnings an additional $150 in bonus bets back
FanDuel Sportsbook
FanDuel Sportsbook also offers a $1,000 No Sweat first bet to be used on their site in states where they are legal. FanDuel is always worth keeping in a bettor's repertoire of sportsbooks, as they tend to be early to the market with point spreads in sports like the NBA, where as other books might choose to wait to see what the betting patterns are like elsewhere.