Embarking on your sports betting journey starts with choosing the right sports betting app. Our comprehensive guide will help beginners navigate the process and make an informed decision that best suits your betting needs.
| Sports Betting App | Welcome Bonus & Promotion | Sports Betting Promo Code |
| --- | --- | --- |
| BetMGM Sportsbook | Bet $10 Get $200 Instantly In Bonus Bets | ATS200 |
| Caesars Sportsbook | $1,000 First Bet on Caesars | ATSBONUS1000 |
| DraftKings Sportsbook | Bet $5 Get $150 + No Sweat SGP Daily | Click To Claim |
| FanDuel Sportsbook | Bet $5 Get $200 in Bonus Bets | Click To Claim |
| Bet365 | Bet $5 Get $150 or $1000 First Bet | ATSBONUS |
| BetRivers Sportsbook | Second chance bet up to $500 | SPORTS |
GAMBLING PROBLEM? CALL OR TEXT 1-800-GAMBLER 18+
Top Ten Sports Betting Apps For Beginners
Ready to begin your online sports betting experience? Use our comprehensive guide to the top 10 sports betting apps for beginners in the US. Don't miss out on the latest features, promotions, and exclusive offers from these top-rated apps.
Best Sports Betting App For Beginners In-Depth Reviews
BetRivers
BetRivers IOS App Rating: 4.5 out of 5 Stars
BetRivers Android App Rating: 2.9 out of 5 stars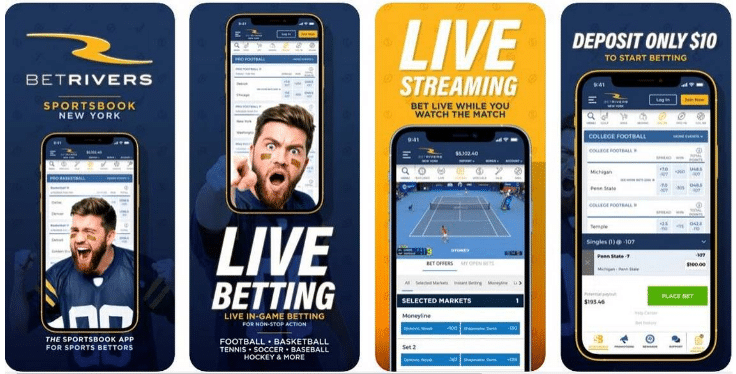 BetRivers is often considered an ideal sports betting app for beginners due to its streamlined, intuitive interface. It prioritizes user-friendly navigation, making it easy for newcomers to the sports betting world to understand and engage with the platform. Rather than inundating users with a multitude of betting options, BetRivers curates a select range of well-explained options, aiding users in making informed decisions without feeling overwhelmed. Additionally, BetRivers provides comprehensive customer support and detailed guides, further enhancing its appeal to beginners.
BetRivers is a trusted name in the online sports betting world and is operated by Rush Street Interactive. Its mobile sports betting app is now live in several states, including Pennsylvania, Illinois, Indiana, Michigan, Colorado, and Virginia. BetRivers sports betting app is packed with advanced features like live streaming, same-game parlays, and early cash-out options. With competitive odds, betting lines, and a lucrative loyalty program, BetRivers is the go-to app for beginning bettors. Additionally, BetRivers offers a welcome bonus for new users, and regular promotions for existing users, making it a top choice for sports bettors across the US.
BetMGM
BetMGM IOS App Rating: 4.8 out of 5 stars
BetMGM Android App Rating: 4.1 out of 5 stars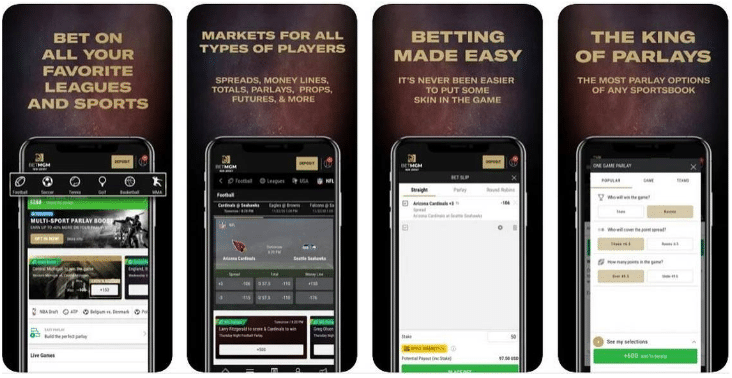 Beyond its beginner-friendly approach, BetMGM also offers a variety of features that enhance the overall betting experience. These include live betting options, competitive odds, and various types of bets, making it a suitable choice even for more experienced sports bettors. With a secure platform, easy deposit and withdrawal processes, and prompt customer service, BetMGM ensures a seamless user experience.
Furthermore, BetMGM frequently offers promotional bonuses for both new and existing users. This could be in the form of a welcome bonus for new account registrations or loyalty bonuses for regular bettors. The exact details and availability of these promotions may vary, so it's worth regularly checking their promotions page or subscribing to their newsletters for the latest updates.
In conclusion, while BetMGM is particularly accessible for beginners, its range of features and commitment to user satisfaction make it a strong choice for any sports betting enthusiast.
BetMGM is undoubtedly one of the best mobile sports betting apps out there. With a wide variety of bet lines, from Super Bowl futures to NBA props, and odds on nearly every event, BetMGM offers some of the best odds available in the market. It also offers some of the most generous bonuses, including those for regular customers. BetMGM is super easy to navigate, making it an overall excellent user experience. It also features free live streaming of almost any game, making it a top choice for sports fans. From its Bet $10 Win $200 promo during football season or its First Bet offer players can an above average welcome bonus.
Bet365
Bet365 IOS App Rating: 4.7 out of 5 stars
Bet365 Android App Rating: 2.4 out of 5 stars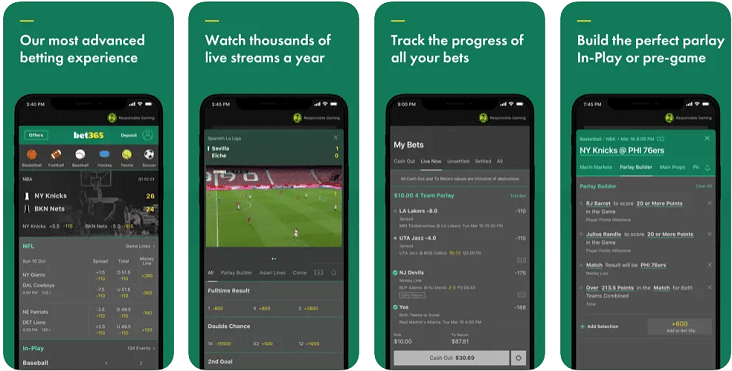 There are several reasons why Bet365 stands out from other online sports betting apps. For one, it offers a wide range of sports and events to bet on, including basketball, baseball, football, hockey, horse racing, rugby, golf, boxing, soccer, tennis, cycling, cricket, and MMA. This means that no matter what your preferred sport is, you're likely to find plenty of betting options on Bet365.
Finally, Bet365 is known for its user-friendly interface and excellent customer service. Whether you're a seasoned sports bettor or just getting started, you'll find the Bet365 app easy to use and navigate, with helpful guides and tutorials to help you get started. And if you have any questions or issues, Bet365's customer support team is available 24/7 to assist you. Bet365 offers its new users a huge 200-1 welcome bonus, users can bet $1 and get $200 in bonus bets back win or lose.
Caesars Sportsbook
Caesars Sportsbook IOS App Rating: 4.6 out of 5 Stars
Caesars Sportsbook Android App Rating: 4.4 out of 5 Stars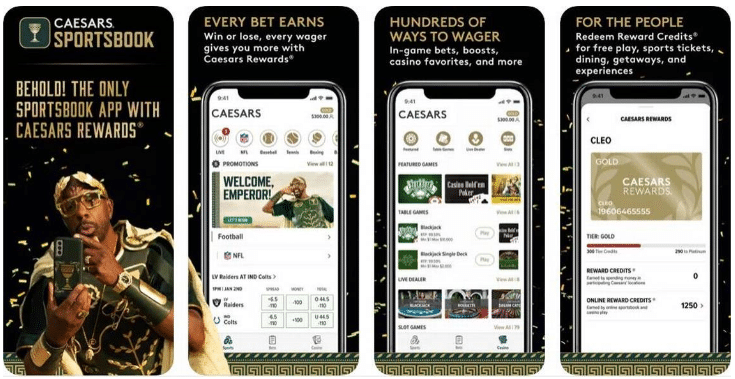 Caesars is a well-known name in the sports betting industry, and its mobile app lives up to its reputation. The mobile sports betting app is available in several states, including New Jersey, Colorado, Iowa, Illinois, West Michigan, Indiana, and more. The app is easy to use, with a clean interface that's easy to navigate. Caesars offers a wide range of betting options, including in-game betting, and its odds are competitive. The app also features live streaming of select sports events, as well as cash-out options. Additionally, Caesars offers regular promotions and bonuses to both new and existing users, making it a popular choice for sports bettors across the US. The Caesars Sportsbook app provides the largest welcome bonuses in the country with the Caesars Sportsbook promo code ATSBONUSFULL. New users can enjoy first-bet insurance up to $1,250 and other enticing offers.
DraftKings Sportsbook
DraftKings Sportsbook IOS App Rating: 4.8 out of 5 Stars
DraftKings Sportsbook Android App Rating: 4.6 out of 5 Stars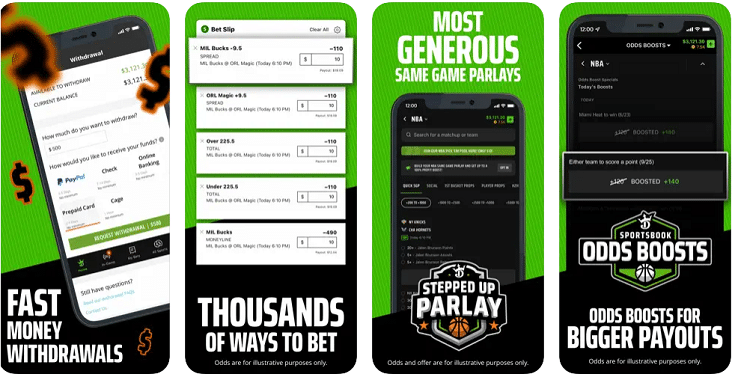 Starting as a leader in Daily Fantasy Sports (DFS), DraftKings now offers a seamless sports betting app that provides users with a wide range of sports and betting options. DraftKings' geolocation software ensures a secure betting experience, and its ongoing promotions keep users engaged. The DraftKings Sportsbook app offers exciting bet bonuses, such as $150 in bonus bets for new customers who make a $5 wager. Users can enjoy various betting options and access special promotions for various sports events.
FanDuel Sportsbook
FanDuel Sportsbook IOS App Rating: 4.8 out of 5 Stars
FanDuel Sportsbook Android App Rating: 4.7 out of 5 Stars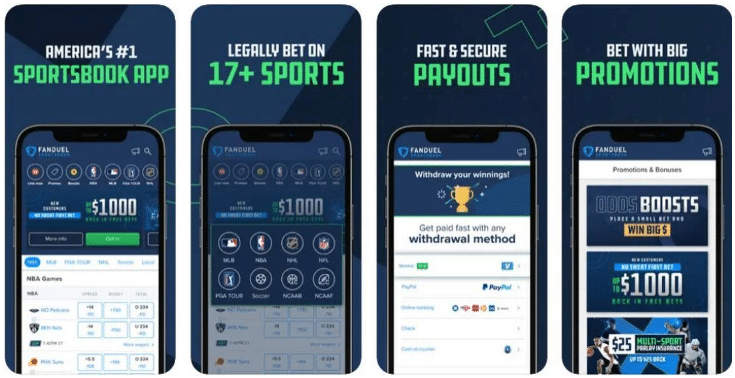 FanDuel's sports betting app is a favorite among users and industry experts for its low minimum bet requirement and wide range of prop betting markets. With its easy-to-use interface and quick cash-out options, FanDuel delivers a top-quality betting experience. FanDuel is the most popular sportsbook app in several states, thanks to its large bonuses, simple design, and rapid payouts. With a wide range of betting options and high wagering limits, FanDuel provides an exceptional betting experience.
PointsBet
PointsBet IOS App Rating: 4.7 out of 5 Stars
PointsBet Android App Rating: 4.8 out of 5 Stars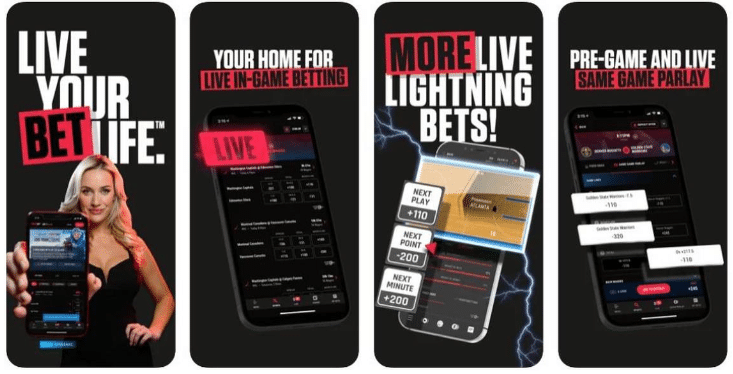 PointsBet has made an aggressive push in the US market and is already available in New Jersey, Iowa, Colorado, Indiana, Illinois, and Michigan. It offers a clean-looking and fast-to-use mobile app, making it arguably the best sports app for iPhone users. PointsBet focuses on the biggest sports and all the top leagues – with 15 sports on the slate, that's still more than enough betting markets for most. Its unique format, PointsBetting, often offers high-risk, high-reward props that are attractive to sports bettors. The app also features localized offers, and fantastic odds boosts for a genuinely personalized betting experience.
Tipico
Tipico IOS App Rating: 4.6 out of 5 Stars
Tipico Android App Rating: 4.3 out of 5 Stars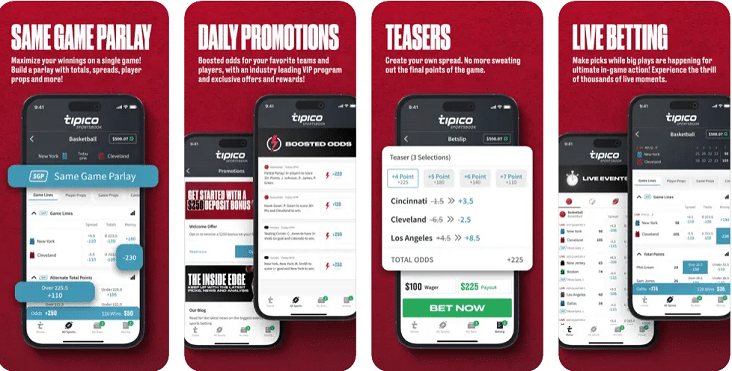 Tipico Sportsbook is a relatively new sports betting app in the U.S. market, but it has been an established brand in Europe for the past 18 years. It is currently available in four states: Colorado, Iowa, New Jersey, and Ohio. While it may not be as well-known as some other sportsbooks, Tipico has quickly gained a following thanks to its user-friendly app, competitive odds, and generous promotions. One of the best features of the Tipico Sportsbook app is its user-friendly layout. The sports are clearly listed on the left side of the screen, making it easy to find the sport and game that you want to bet on. Popular sporting events are also displayed along the top of the screen for easy access. Adding or removing wagers from your bet slip is simple, which makes it easy to create parlays. Live betting is also a breeze, and Tipico offers an online gambling blog called The Inside Edge that provides helpful tips to sports bettors.
WynnBET
WynnBet IOS App Rating: 4.6 out of 5 Stars
WynnBet Android App Rating: 4.4 out of 5 Stars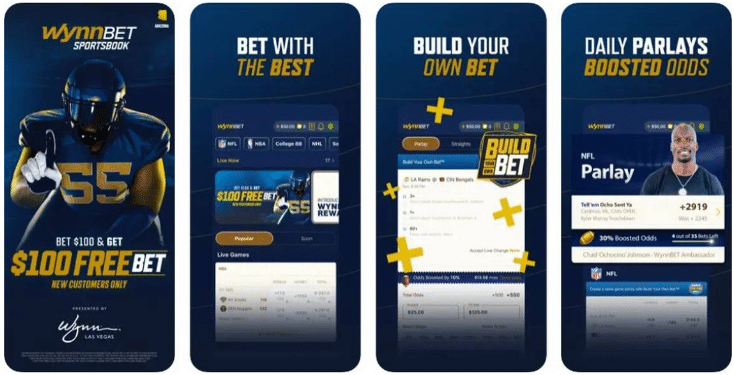 As the sportsbook arm of Wynn Interactive, it abides by all laws and regulations governing real-money wagering in each jurisdiction where it has a presence. WynnBET is also part of the Wynn Resorts family, a well-known name in the Las Vegas gambling scene for over a decade. WynnBET is the ideal sports betting app for beginners, featuring a simple and user-friendly interface. Covering a wide range of sports, WynnBET offers excellent customer support and attractive promotions.
SuperBook
Superbook IOS App Rating: 3.3 out of 5 Stars
Superbook Android App Rating: 3.3 out of 5 Stars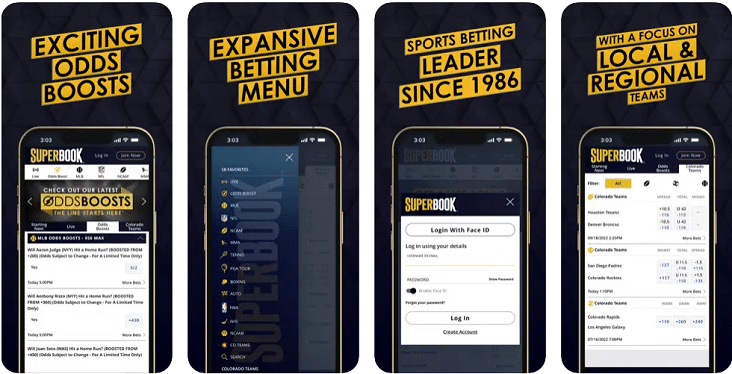 SuperBook Sportsbook takes pride in setting industry standards since 1993 with over 100 years of experience in bookmaking. As the mobile betting extension of the SuperBook in Westgate Las Vegas, the betting app provides players with the best odds in the business, extensive sports markets to choose from, and seemingly endless promotions.
---
What To Look For When Selecting A Sports Betting App
Every betting app has its unique offerings, and it's essential to recognize these differences before committing to one. The perfect sportsbook app should cater to your specific betting requirements and preferences. Here are the key factors to consider:
1. Betting Markets and Odds
Your chosen sports betting app should offer an extensive range of betting markets and consistently provide competitive odds. The more markets and sports available, the better your chances of finding the ideal bet.
2. User Experience and Interface
A user-friendly interface and seamless experience are crucial for enjoyable mobile betting app. The sportsbook's website and betting app should be easy to navigate, with clear information on betting options, odds, and promotions.
3. Promotions and Bonuses
Top betting sites offer lucrative promotions and bonuses to attract and retain customers. These can include welcome bonuses, deposit bonuses, cashback, and free bets. Keep an eye out for betting apps with enticing offers that align with your betting style.
4. Payment Options and Speed
Efficient financial transactions play a significant role in the betting process. Ensure the sports betting app offers your preferred deposit and withdrawal methods, as well as fast processing times for payouts.
5. Customer Support
Responsive and knowledgeable customer support is essential for addressing any issues or questions that may arise during your sports betting experience. A quality sportsbook will provide multiple contact channels, including live chat, email, and phone support.
6. Security and Licensing
When choosing a sports betting app, it's crucial to consider the security and licensing of the platform. The top sports betting apps are regulated and licensed by reputable authorities, ensuring the safety of users' personal and financial information. They also employ advanced encryption technologies and adhere to strict security protocols to protect user data. Ensure the app you choose is licensed in your state and adheres to industry standards for safety and security.
---
Comparing Sports Betting Apps
Once you've identified your preferences, it's time to compare various sports betting apps. Consider the following steps when making your decision:
Read comprehensive reviews from sites like ATS.io of top sportsbooks, paying attention to their ratings in areas like betting markets, odds, user experience, promotions, payment options, and customer support.
Visit the sportsbooks' websites and explore their offerings firsthand. This will help you gauge their user experience and interface, as well as assess their available betting markets and odds.
Test their customer support by reaching out with any questions or concerns. This will give you a firsthand experience of their responsiveness and knowledge.
Assess their promotions and bonuses, comparing which offers align best with your betting style.
---
Mobile Sports Betting Apps vs. Online Sportsbooks: Which One Is Right for You?
At present, bettors have a lot of options to place wagers, and it's no longer necessary to stand in line at a physical sportsbook. The two most popular options are mobile sports betting apps and online sportsbooks. But, which one is right for you? In this guide, we'll compare both options and help you make an informed decision.
Availability and Performance
The main benefit of using a mobile sportsbook is that it's always available. You can place your bets from anywhere, at any time, whether you're on vacation, commuting, at the office, or even in a stadium. On the other hand, online sportsbooks offer a larger screen size and more information directly in front of you, making it easier to compare odds and spreads.
When it comes to performance, mobile sportsbooks are usually faster than online sportsbooks. Betting needs are often time-sensitive, and every second counts, especially for in-game betting options. Moreover, mobile sportsbooks are specifically designed to fit perfectly on your screen and make the information easy to find.
Notifications and Comfortable Setting
Mobile sports betting apps also offer the benefit of notifications. You can set up notifications for upcoming games and matches, breaking news related to wagers you've placed, and account notifications, making it easier to stay on top of your sports betting. Online sportsbooks are great for a comfortable betting experience, as they offer familiar setups with desks, comfortable chairs, easy access to phones and printers, and multiple monitors.
Stable Connectivity and Ease of Use
Stable connectivity is an important factor for a hassle-free betting experience. While mobile devices may fail you in crowded sports bars or public Wi-Fi connections, your desktop or laptop offers a safer and more stable internet connection. For a new or casual bettor, mobile sports betting apps are easier to use and offer faster speed. They're also more convenient as they're always in your pocket, making it easier to compare odds and place bets on the go.
---
Making Your Final Decision
After thorough research and comparison, you'll be equipped to choose the perfect sports betting app that aligns with your betting needs and preferences. Follow these final steps to complete the process:
Sign up for an account with your chosen betting app, providing the necessary personal information.
Take advantage of any promotions or bonuses available for new customers.
Deposit funds into your account using your preferred banking method.
Begin exploring the betting markets and odds, and place your first bet with confidence.
Remember, the ideal sports betting app for you will depend on your individual betting preferences and requirements. With the right choice, you'll enjoy a rewarding and enjoyable sports betting experience.
---
Beginner Betting Tips & Strategies
Manage Your Bankroll
A critical component for a beginning sports betting to be successful is the effective management of your bankroll. Your bankroll is the initial amount of money you have set aside to bet with. Proper bankroll management ensures that you stay in the game for the long haul and minimizes the risk of losing your entire bankroll in a short period.
To effectively manage your bankroll, you should:
Set a budget: Determine how much money you are willing to risk and allocate it as your bankroll. This amount should be separate from your regular expenses and savings.
Establish a unit size: A unit is a fixed percentage of your bankroll that you will use to place bets. It is recommended to risk between 1% and 5% of your bankroll per bet. This approach helps to maintain consistency in your betting and protects you from losing significant portions of your bankroll in a short time.
Tracking Your Bets and Analyzing Performance
To improve your sports betting performance, it's essential to track your bets and analyze your results over time. This process helps you identify your strengths and weaknesses, allowing you to make better-informed decisions when placing future bets. You can use a simple spreadsheet or a dedicated betting tracking tool to monitor your bets, win/loss ratios, and overall return on investment (ROI).
By tracking your bets, you can:
Identify profitable markets: Determine which sports, leagues, or bet types are generating the highest returns for you. Focus on these areas to maximize your profits.
Recognize patterns: Analyze your betting history to identify patterns and trends that may indicate areas for improvement or opportunities for growth.
Adjust your staking plan: Review your unit bet size regularly to ensure it is still suitable for your current bankroll and betting performance. Adjust your unit size or switch to a different staking plan if necessary.
Keep Learning and Adapt To Trends
The sports betting landscape is always changing, and successful bettors need to adapt and learn continuously. Stay informed about the latest developments in your chosen sports, teams, and players, and be ready to adjust your betting strategies as needed. Furthermore, consider engaging with the sports betting community, participating in forums, and following reputable handicappers to expand your knowledge and improve your betting skills.
---
Finally Thoughts
In conclusion, the best sports betting apps for a beginner will offer a comprehensive and engaging betting experience with a wide range of sports and competitive odds. It will provide diverse betting markets and features, prioritize security and licensing, and offer a user-friendly interface for seamless navigation. Additionally, they ensure top-notch customer support to address any issues that may arise. Considering these factors, you can choose the ideal sports betting app to enhance your wagering experience and enjoy the thrill of online sports betting.