Looking for the best NFL betting sites in 2023? We've got you covered. Our experts have analyzed the top NFL betting apps, including BetMGM, Caesars, FanDuel, and DraftKings, to help you make an informed choice. In this guide, we'll break down everything you need to know about these betting platforms, from welcome bonuses and recurring promos to unique features, odds, betting options, and payout speeds. Whether you're a seasoned bettor or just starting out, our comprehensive review will steer you towards the best NFL betting app for your personal preferences.
Best NFL Sportsbooks 2023
NFL bettors have no shortage of sportsbook options. Each NFL betting site offers something different and something unique for its users. Many want to be able to do something different than the competition to separate themselves from the pack.
When it comes to betting on football at US online sportsbooks, each one offers lines on every game and has the ability to offer different props and futures to customers. Which sportsbooks are best for you depends on what you are specifically looking for from your NFL sportsbook in terms of what you specifically want to bet on. Moreover, the new user offers specific to each sportsbook may be helpful when considering the amount you refer for your initial deposit.
There are small, subtle differences that make one NFL betting site better than another when it comes to betting on the NFL and college football. Let's look at those and rank the online sportsbooks.
What Are The Best NFL Betting Sites
For the 2023-24 NFL season, the top-rated football betting sites include DraftKings Sportsbook, BetMGM, and Caesars Sportsbook. Each of these platforms offers a comprehensive selection of betting options, competitive odds, and user-friendly interfaces, catering to both novice and experienced bettors. With this weeks games just around the corner, these legal online sportsbooks provide extensive betting markets, ensuring you have access to the best possible betting experience for all the upcoming games.
The ATS.io experts have all weighed in and come up with the top 5 NFL betting sites for the 2023-2024 NFL season:
Caesars Sportsbook – Voted #1 by the ATS staff, offers the largest first bet insurance, daily odds boosts and player promotions
FanDuel Sportsbook – Largest NFL Prop Market – Huge Same Game Parlay Options
DraftKings – Best NFL betting app design, layout, and color
BetMGM – Best NFL app for odds
BetRivers – Best NFL betting rewards program
NFL Betting Promos
| NFL Betting Site | NFL Bonus Offer | Promo Code |
| --- | --- | --- |
| DraftKings | Bet $5 Get $150 + No Sweat SGP Daily | Click To Claim |
| BetMGM | Bet $10 Get $200 Instantly In Bonus Bets | ATSBONUS |
| Caesars Sportsbook | $1,000 First Bet on Caesars | ATSBONUS1000 |
| FanDuel | Bet $5 Win $150 in Bonus Bets | Click To Claim |
| Bet365 | Bet $5 Get $150 or $1000 First Bet | ATSBONUS |
| BetRivers | Second chance bet up to $500 | SPORTS |
Gambling problem? Call 1-800-GAMBLER CO, DC, IL, IN, KY, LA, MD, MS, NJ, OH, PA, TN, VA, WV, WY, 1-877-8-HOPENY or text HOPENY (467369) NY, 1-800-327-5050 MA, 1-800-NEXT-STEP AZ, 1-800-522-4700 KS, NV, 1-800-BETS-OFF IA, 1-800-270-7117 for confidential help MI. 21+ to wager. Please Gamble Responsibly.
Type of NFL Sportsbook Promotions
Numerous sports betting apps are flooding the market, each offering an enticing array of NFL bonuses to both new and seasoned punters. The key to making the most out of these bonuses is understanding the various types available and how to utilize them effectively.
Odds Boosts
Sportsbooks are known to get creative with their terminology, yet the essence of Odds Boosts remains consistent across the board. This bonus enhances the odds on a particular bet, leading to potentially higher payouts. A prime example is the BetMGM Lion's Boost, showcasing how brands infuse their unique flair into these offers.
First Bet Insurance
Insurance bonuses serve as a cushion, refunding your stake with bonus bets in the event of a losing wager. Opting in is typically a prerequisite for this type of bonus, underlining the need to be proactive and engaged in order to reap the benefits.
Bet & Get
The Bet & Get bonus is straightforward – fulfill certain wagering requirements for example Bet $5 Get $200, and you'll receive a bonus bets as a reward. This type of bonus encourages active participation and strategic betting, paving the way for additional opportunities to secure a win.
Profit Boosts
Lastly, the Profit Boost bonus offers a substantial increase, usually ranging from 25% to 100%, on your potential winnings when placing a bet. This incentive is geared towards elevating your returns, providing an additional layer of excitement and potential profitability to your betting experience.
---
NFL Betting Apps & Site Reviews

Caesars Sportsbook
Caesars Sportsbook has been one of the most trusted online NFL betting sites in the space for a very long period of time. They also offer extremely fair odds and sides and totals. On spread and total offerings, you won't find many -112s or -115s for no rhyme or reason like you might find in other places. You'll find the industry standard -110.
Caesars has committed to their goal of being your go-to sportsbook when betting on the NFL with a full slate of weekly promotions as well to help you build your bankroll. With Caesars, you don't only get your choice of promos, but you'll also get good prices and a customer service experience that looks and feels like one that has been cultivated over a long history in the business. There is a reputation to uphold and it happens every day.
It is also worth noting that Caesars is the first US sportsbook to offer live streaming of NFL games on their platform. The ability to watch the NFL and bet on the NFL from one app is a huge point of differentiation for Caesars, and is incredibly convenient for NFL fans and bettors alike.

FanDuel Sportsbook
A lot of bettors like FanDuel Sportsbook. After all, it is the most popular legal US sportsbook in the country. A big reason why is because FanDuel offers a lot of parlay options, such as parlaying NFL Player Props or Same Game Parlays. These can often have big multipliers and huge payouts on winning parlays.
Another big draw to betting on the NFL or college football at FanDuel Sportsbook is that it is the home of one of the best live NFL betting interfaces in the industry. You know you're going to plop down on the couch or saddle up to the bar to watch football. That may mean making a few live bets as well.
FanDuel wouldn't be as popular as it is if it didn't have a lot of the things that bettors are looking for and that is especially true of NFL Sundays and college football Saturdays.

DraftKings Sportsbook
DraftKings Sportsbook also has a massive client base. There are a lot of big draws to betting at DraftKings, including one of the largest collections of player props and futures available. It isn't enough nowadays to just bet on spreads, totals, and moneylines on NFL Sundays. Many bettors want options. They want props. They want futures. DraftKings is out in front of the competition in that regard.
DraftKings Sportsbook is also really popular for a lot of people, especially when it comes to finding exactly what you want in rapid fashion. News breaks quickly in football and you may have a short window of time to get your bets in and take advantage of what is happening.
Another positive to NFL betting at DraftKings Sportsbook is that you have access to a huge amount of futures markets. Countless odds will be posted for season win totals, conference and division winners, Super Bowl and National Championship winners, and so much more.

BetRivers Sportsbook
BetRivers Sportsbook has technological support from Kambi and Rush Street Interactive to create one of the best live NFL betting interfaces for betting on the NFL and college football. This is a really solid sportsbook that is easy on the eyes and will often have a good NFL betting selection of props and futures.
One of the unfortunate things for BetRivers is that betting on college athletics can be a little bit limited in a many of the key states that it services. However, BetRivers is a strong place to bet on the NFL and that live betting interface is truly one of the best in the space.

BetMGM Sportsbook
Everyone knows BetMGM Sportsbook. It is a name and a brand recognized around the globe for catering to bettors of all different shapes and sizes. BetMGM Sportsbook also provides fair odds across the NFL and college football. That includes NFL odds and pricing on the futures and props markets as well.
Unlike other online NFL betting sites listed, MGM has multiple revenue streams, with hotel and casino resort properties spanning the globe.
BetMGM will have a plethora of futures odds listed, but may not have quite as many prop NFL betting options as the other online sportsbooks listed.
BetMGM is also a NFL betting site that has their famous Bet $10, Win $200 and other NFL MGM promotions check back during the NFL and college football seasons to see if its offered.

PointsBet Sportsbook
PointsBet Sportsbook is a standard sportsbook like its competitors, but also offers the revolutionary PointsBetting system. PointsBetting allows users to make more money based on margin of victory with their bets. For example, you could bet Aaron Rodgers over 315 passing yards for $10. If he throws for 355 passing yards, you win 40x your bet amount, or $400, with a mulitplier coming with each yard over the total. Similarly, you can bet on Ezekiel Elliott over 92 rushing yards. If he runs for 100 yards, you'd win 8x your bet amount, or $80.
Of course there are two sides to that coin. If Rodgers throws for just 285 passing yards, 30 yards under the total, you would lose 30x your bet amount, or $300. The high-risk, high-reward style of PointsBetting isn't for everyone, but for those with a added desire for a larger payout, it can be quite a lucrative endeavor.
The other reason why PointsBet Sportsbook is one of thethe best for betting NFL and college football is that they offer No Juice Fridays and even No Juice Saturdays when you bet on football. That means that instead of laying the standard -110 on NFL and college football side bets, you can get them a +100, or even money. No juice or vig is added to the wagers.
---
What Makes The Best NFL Betting Site?
Surely you've heard the expression, "Beauty is in the eye of the beholder." Well, what makes one of the best NFL betting sites is dependent on what each individual user is looking for. Some want the best NFL odds. Others want the most NFL betting prop options. While some want the best NFL futures pricing. A newer trends is bettors want the best Live NFL Betting platform or they want the best parlay and teaser odds. Many simply want the best value on their welcome offers upon signing up.
It all depends on what you prioritize to determine what is best for you. We don't know your handicapping style or preferences. We'd love to say that there is a NFL sportsbook that is perfect across the board, but we all know that doesn't exist. Each sportsbook has its own unique strengths.
Here are three things you want to look for with NFL betting:
Best NFL odds
Best promotions and bonuses
Live NFL Betting
NFL Betting Odds – Get Fair Odds
Let's talk about the fairest odds first because this one is extremely important. Beating the NFL betting market is hard because oddsmakers are generally quite sharp and good at their jobs. NFL outcomes and strength of teams are far from unknowns. Everyone knows all of the players and all of the team tendencies. It is the most analyzed sport in the United States without question.
In order to have the best chance at success, you have to be able to bet with the best odds. Places like Caesars Sportsbook and BetMGM Sportsbook are almost exclusively going to offer -110 on spreads or totals. If you can help it, you don't want to bet with a sportsbook offering -112 or -115 on both sides of a spread or total.
Your break-even rate at -110 is 52.38%, so you need to win 53 out of every 100 bets to be profitable. Your break-even rate at -115 is 53.49%, so you have to win 54 out of every 100 bets for that same profitability.
Legal NFL betting sites can also manipulate the money lines as they see fit as well. You might see +120 and -140 on a game with a small favorite at one sportsbook, but +120 and -145 or -150 at another sportsbook. The vig matters. You have to be aware of it at all times and try to set yourself up for the most success possible. The best way to find the best moneyline pricing is to have multiple sportsbooks.
NFL Betting Promos & New User Welcome Bonuses
A sign-up bonus is a really good way to get your bankroll situated prior to an NFL season if you are signing up with any new NFL betting sites. Some sportsbooks may offer a Deposit Match Bonus instead of a Risk-Free Bet. A Deposit Match Bonus means that you will get the same amount as your deposit in free bet credits. A Risk-Free Bet means that if you lose your first bet, you get that amount refunded up to a certain amount in free bet credits.
A risk-free bet for a large amount will be attractive to some bettors, while it will be less so for others. The ability to place a larger than normal first wager will get some customers excited, where others will be less enthused with no added bonus on a winning bet. With a Deposit Match Bonus or win or lose free bets, you get something on that first deposit whether you win your first bet or not.
While places like DraftKings Sportsbook and BetMGM Sportsbook Risk Free NFL Bets instead of deposit bonuses, those two places will additionally offer heavily boosted odds such as Bet $1, Win $100 promotions regularly. FanDuel Sportsbook also does the same.
Some of the best NFL sportsbook promotions for the NFL come from BEt365 Sportsbook. No Juice Fridays are the best bets for the NFL because you can bet games at even money instead of -110. That means betting something like $50 to win $50 instead of $55 to win $50 with a traditional -110 line.No Juice bets put your break-even rate at 50%, which is huge for your bottom line.
NFL Live Betting
Live NFL Betting is growing in popularity every year. It makes sense. You can bet as the action unfolds and bettors get the chance to see how a team actually looks before betting blindly into their lines. You can do all the research imaginable before locking in your wager on a game, but variance happens. Early portions of games can simply not go as planned.
Once you've seen how the game appears to be playing out, you can make a live wager and often have a higher degree of confidence. Your ability to make those bets and get your action in quickly depends on how good the Live Betting platform is. Places like DraftKings, BetRivers and FanDuel have incorporated their own or partnered technology into their live betting interface to create something quick, unique and reliable.
A good Live NFL Betting interface is also the mark of a sportsbook that has its platform in order and a good sign of reliability and availability on game day when everybody is getting those last-minute bets in.
---
NFL Betting – Learn How To Bet
Knowing how to bet on NFL football is the first step to successful wagering. Whether you are football betting for fun, NFL betting as a hobby, or are looking to take it to the next level, there are a few things that you absolutely, positively have to know about wagering on college football or the NFL.
Whatever your bet size and your bankroll winds up being, there are some fundamental things about NFL betting that you need to know.
What Bet Types are Available for Betting In The NFL?
When looking for the right NFL betting site, you are going to be hit with a lot of different bet types. Lets take a look at what sportsbooks will offer. You can also check out our complete How To Bet On the NFL for a full breakdown on betting types, strategies and more.
Point Spread: Choosing who will cover the spread based on a handicap determined by the sportsbook
Moneyline: Simply choosing who will win the game, with odds
Totals (Over/Under): Betting on total points scored in the game
Props: Betting on individual or team performances such as rushing yards or total field goals
Parlays: Combining multiple bets for a bigger payout
Teasers: A parlay where you can move the line up or down for all the bets in the parlay
Readings & Understanding NFL Betting Lines
451 Pittsburgh +6 (-110) | +230 | Ov 51.5 (-110)
452 Cleveland -6 (-110) | -270 | Un 51.5 (-110)
Let's say you come across this one of your NFL betting sites. This would be the normal format for a betting line in the NFL.
137 South Carolina +14.5 (-115) | +450 | Ov 58.5 (-110)
138 Georgia -14.5 (-105) | -600 | Un 58.5 (-110)
The above would be the normal format for a college football line.
For reference, each portion of the betting line is broken down as follows:
Rotation number Team Point Spread (odds on point spread) | moneyline | game total (odds on total)
Knowing what each element of the line means is very important to ensuring that you make the right bet and understand what it is that you are betting. With football betting, it isn't as simple as just picking the winner of the game, unless you want it to be with laying or taking odds on the moneyline. The most common type of bet in the NFL is the "Spread Bet." Betting the "Total" is the number of combined points over or under you expect in the game.
Let's break this down section by section to talk about what all of this means:
Spread betting on the NFL
With the NFL example above, the spread for the Pittsburgh/Cleveland game is six points. Cleveland is the favorite, so they are designated as "-6", while Pittsburgh is the underdog, so they are "+6". You can bet on either side of the game.
In NFL betting, in order for Cleveland to "cover the spread", the Browns must win by 7 or more points. In order for Pittsburgh to "cover the spread", the Steelers must lose by 5 or fewer points or win the game. If the difference between the two teams' final scores is 6 points, that is called a push, and no money changes hands on wagers.
The -110 in parentheses is called the "vig" or "juice". Short for vigorish, it is the built-in house edge. If an NFL betting site took 100 bets on the Steelers and 100 bets on the Browns for the same amount with no vig on either side, there would be no profit for them.
The -110 figure is based on a $100 wager. This means you would have to lay $110 to win $100, or more simply, you have to bet $11 to win $10. As follows, -105 would mean a required lay of $105 to win $100.
Moneylines
The goal of a Moneyline bet is to pick the winner of the game and take the point spread out of play. This is of course an odds based endeavor. Betting favorites will require laying heavier odds and betting underdogs will return higher odds.
Instead of the -110 level $11 to win $10, you will see something like the -270 on the Browns or +230 on the Steelers. That means a wager on the Browns to win outright requires betting $27 to win $10. If you think the Steelers can win as an underdog, the +230 means that you can bet $10 to win $23. You can bet anything you want up to the limit or as little as you want down to the minimum bet, the proportion on the line will remain the same.
The larger the spread for the favorite, the more expensive the money line will be. In the college football example using Georgia, you have to bet $60 to win $10 on the -600 moneyline. LIkewise, the larger the spread for the underdog, the larger the return odds. A moneyline wager costs $10 to win $45 on South Carolina at +450.
Over/Under Bets
The Total is the sum of the combined points of both teams. If the two teams score more points than the total, then that game has gone "over the total". For example, if the Browns beat the Steelers 30-27, the total number of points scored is 57 and that is higher than the 51.5 betting total.
If the two teams score fewer points than the total, then that game has gone "under the total". For example, if the Browns beat the Steelers 24-10, the total number of points is 34 and that is less than 51.5.
Similar to spread betting, most totals will have vig of -110, so the $11 to win $10 comes into play once again, much like a point spread.
Side outcome has no bearing on total betting. The Browns could win by 50. The Steelers could win by 50. You are still paid the same amount of winnings based on your bet amount if you are correct.
NFL Prop Betting
NFL betting sites have gained a lot of popularity for allowing users to parlay player props. Places like FanDuel Sportsbook have gotten a lot of attention and free marketing on social media from bettors placing small wagers to win large sums on player props.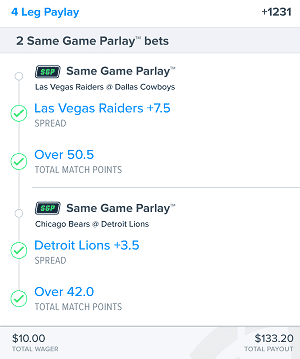 Whether you bet player props straight or parlay them together looking for that magic lottery ticket, the NFL betting sites with the most player props are going to have the most options. You want to exercise safe and responsible gambling with these because they can get a little bit dangerous if you try to bet too many, but the options are there for those that want to look more at the player props.
There can be team props as well, like over/under number of touchdowns or over/under team interceptions or sacks.
Basically, what the best NFL betting sites have found is that their customers simply want choices. Whether or not they bet on those choices is up to them, but there is something for everybody out there in the sports betting world. Some online sportsbooks do more than others in that regard.
The best NFL betting sites are going to do as much as they can to provide the best possible user experience. The best experience for you, both as a bettor and as somebody hoping to win money, is to take all of it under consideration and see what the best NFL sportsbook is for you.
NFL Parlays
An NFL Parlay Bet is an advanced type of wagering strategy where a bettor combines multiple individual NFL bets into one single wager to potentially achieve a higher return. The intriguing aspect of a parlay bet is the requirement for all the chosen individual bets, whether they're games, totals, or props, to be correct for the parlay bet to yield a win. To illustrate, consider a scenario where you make a parlay bet on the Chiefs with a spread of +3.5 and the Jets with a spread of +7.5. The bet is only victorious if both these spreads are covered in their respective games, thereby enhancing the thrill and potential payout of NFL parlay betting.
NFL Parlay Betting
Parlays are all the rage these days. The idea of doing Same Game Parlays has caught on like wildfire and there are a lot of people that also look to parlay props with low-risk, high-reward wagers that feature small bet amounts and big payouts. While the chances of hitting these lottery tickets is fairly low, success stories are shared on social media each and every day from these bet types.
As long as you keep a responsible approach to making these bets, you can make some "fun money" wagers in hopes of hitting that big long shot.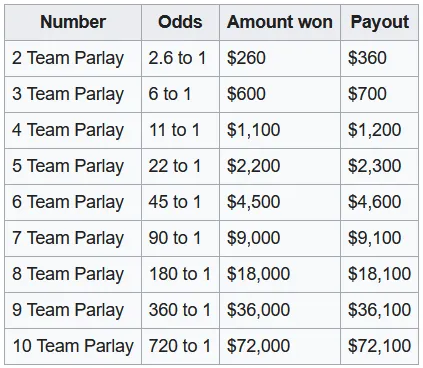 The Best NFL Parlay Sportsbooks are going to be the ones that don't restrict what you can add to the ticket. You'll have the Same Game Parlay options. The player props. The fairest parlay odds and the industry-leading payouts. FanDuel Sportsbook is definitely thought to be at the top of the list for those types of wagers, especially with parlaying player props.
Most NFL betting sites offer Parlay Boosts nowadays as well, so they'll put together pre-selected parlays and sweeten the pot a little bit with higher payout amounts. A lot of these are done geographically, depending on the sportsbook. Places like PointsBet really hammer home the local angles of supporting the home team. You'll see that with BetRivers or Unibet, too.
The sky is the limit for the NFL parlays that you can put together, but, again, bet responsibly. While parlays are fun and the draw of betting a little to win a lot has a very strong pull, just remember how many things need to go right in order to cash a big parlay ticket because you have to be correct with each and every bet.
NFL Teasers
A lot of recreational bettors will play parlays and won't even think about teasers. If you ask sharp bettors and those that bet for a living, they will tell you about the importance of teasers in the NFL. Teasing NFL spreads through key numbers like 3, 4, 6, 7, and 10 can create a +EV environment for those that properly utilize teasers.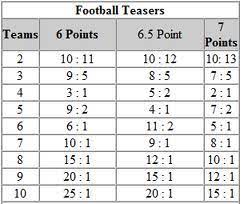 The Best NFL Teaser Sportsbooks don't shy away from taking that kind of action. They can anticipate it and know when it is coming. An underdog of +2.5 is going to be a big teaser consideration to go up to +8.5. Similarly, a favorite of -8.5 will be a big teaser leg to go down to -2.5 on a six-point teaser, which is the industry standard.
The best teaser sportsbooks are willing to put lines out there knowing that they're going to get those teaser bets and will balance the books accordingly. They're also going to offer -110 on a 2-team, 6-point teaser instead of the -120 that a lot of NFL betting sites offer. Teasers are a great weapon in a very tight and efficient NFL betting market. They are inevitable and they are usually sharper in nature.
When you see a sportsbook willing to put some lines up that could get exposed to some teaser liability and will do so with a -110 payout, you know that's when you are betting with one of the best. If you see -120 when other online sportsbooks have -130, at least you aren't getting the worst of it.
Be sure to check out the Help section of a sportsbook or the terms and conditions pages to see which sportsbooks offer the fairest payouts on teasers because it will vary from sportsbook to sportsbook.