Bet $5 Get $200 + $150 in No Sweat Bets
PROMO CODE:
ATSBONUS
Claim Bonus
Gambling Problem? Call or TEXT 1-800-Gambler 21+
Bonus offer
Bet $5 Get $200 + $150 in No Sweat Bets
DraftKings Promo Code
US States Applicable T&C
AZ, CO, IL, IN, IA, KS, LA, MA, MD, MI, NJ, NY, OH, PA, TN, VA, WV, WY
Platforms
Desktop/Android/iOS
Overall rating 5 /5
ATS.io Quick Take On DraftKings Sportsbook
The DraftKings Sportsbook app offers a best-in-class sports betting platform with over 17 different sports betting markets to power thousands of different betting options every day. As a top 3 sportsbook in the US users can expect a wide range of daily player perks, bonuses, contests, and promotions to keep every player engaged and happy.
About DraftKings Sportsbook
Dominating the DFS landscape wasn't enough for DraftKings. Now they're dominating the sports betting industry as well. The simple transition from DFS to betting gave DraftKings a leg up on most of the competition by being one of the first to offer online sports betting via mobile apps and desktops in legal jurisdictions.
DraftKings Sportsbook's mobile app is now available in all states where US sports betting is legal, including Arizona, Colorado, Connecticut, Illinois, Indiana, Iowa, Kansas, Louisiana, Massachusetts, Maryland, Michigan, New Hampshire, New Jersey, New York, Ohio, Oregon, Pennsylvania, Tennessee, Virginia, West Virginia, Wyoming, and more states are expected to come on board soon.
If you don't live in one of the above states, but live in a neighboring state, all you have to do is signup and register then be within the legal state's border and you can access the app and place your bets. That means states like Delaware, Nebraska, Minnesota, Missouri, Kentucky, and more can go to a nearby state to place their wagers.
Because of the wide-ranging success of daily fantasy sports, DraftKings was part of the push for legalized sports betting and the opportunity to add more revenue streams to its empire. Even though sports betting has not been approved in nearly as many states as DFS has, DraftKings' imprint on the gambling landscape left the company in a great spot to transition its app over for betting purposes.
---
The Good & Bad At DraftKings Sportsbook
Pros
Easy to use betting interface
Beginner Friendly
Parlay Insurance
Cons
Separate DFS & Betting Apps
No Venmo
DraftKings Sportsbook Promotions – Sign up bonus & daily Player promos
DraftKings Sportsbook has one of the best welcome offers for new players in legal US states. Its easy to win Bet and Get off starts just about every user off on the right foot with $200 in bonus bets to pad the bankroll and allow players to try a variety of different betting options.
| DraftKings Sportsbook | Promo |
| --- | --- |
| DraftKings Bonus Code | ATSBONUS |
| Deposit Bonus | Bet $5 Get $200 + $150 in No Sweat Bets |
| Platforms | Desktop/Android/IOS |
| States Applicable T&C | AZ, CO, CT, IL, IN, IA, KS, LA, MA, MD, MI, NH, NJ, NY, OH, OR, PA, TN, VA, WV, WY |
GAMBLING PROBLEM? CALL OR TEXT 1-800-GAMBLER 21+
DraftKings New User Bonus
Bet $5, Get $150 in Bonus Bets if it wins. That's as easy as it gets, just make a deposit of $5+ into your online sportsbook account then place your first bet of $5 on any sports betting market of your choice and win $150 in bonus bets. Bonus bets are paid out in six (6), $25 bets that must be used within 7 days of being awarded. For a deep dive into the Bet $5 Win $150 strategy click here.
NBA No Sweat SGP
This is the offer that keeps on giving weekly to users who love to bet Same Game Parlays! The rules are pretty simple just opt-in and make an NBA No Sweat SGP Bet one day each week of your choice, if it loses get up to $10 back in bonus bets if it loses. If it wins collect! Promotion valid on eligible NBA games throughout the 2022-2023 season and will run from 10/11/2022 through 6/30/2023.
NHL Stepped Up Parlay
DraftKings sportsbook just made betting the NHL even more exciting with its NHL Stepped Up Same Game Parlay promotion. The bigger the SGP, the bigger the boost. All you have to do is opt into the NHL Stepped Up Same Game Parlay Promo, and make a 3+ leg Same Game parlay with legs of -300 or longer. Boosts will be applied based on this table
| # Of Parlay Legs | SGP Odds Boost |
| --- | --- |
| 3 Legs | 20% Boost |
| 4 Legs | 25% Boost |
| 5 Legs | 30% Boost |
| 6 Legs | 40% Boost |
| 7 Legs | 50% Boost |
| 8 Legs | 65% Boost |
| 9 Legs | 80% Boost |
| 10+ Legs | 100% Boost |
Daily Free To Play Pools
DraftKings' free-to-play pools cost users nothing to play, are fairly simple to participate and overall very easy to understand. First, you select which pool you want to participate in and are then you are given a series of questions to make picks on possible outcomes. If your picks are correct, you'll be entitled to a share of the prize pool for that day or period, and if not it cost nothing and you can play again the next day or week. Type of pools consists of:
Pick'em: Players make picks on outcomes from a series of questions about a game of series of games for that week and or day.
Popularity Picks: Go with the crowd, try and select the most popular answer given for the specific question. If your selection is considered the most popular you get that one right, if two or more answers tie, they'll all be considered winners for that question.
Trivia – Basic knowledge questions regarding sports, events etc..
Politics – Everyones favorite topic pick outcomes and win
Refer A Friend
Yes, DraftKings sportsbook does have a refer-a-friend program that allows both the referrer and referred player to earn a $25 bonus bet. Here are the details:
How to refer a friend: To refer a friend, you need to log in to your DraftKings account and click on the "Refer A Friend" link. You can then share your referral link with your friends via email, social media, or any other means you prefer.
Rewards for referring a friend: When your friend signs up using your referral link and meets the eligibility requirements, you and your friend can both earn a $25 bonus bet.
Eligibility requirements: Your friend must be a new DraftKings user who has not previously signed up for an account. They must also meet any other requirements specified in the current promotion, such as making a deposit or placing a bet within a certain timeframe.
---
DraftKings Rewards Program – Dynasty Rewards
DraftKings Sportsbook offers their players daily and weekly promotions. For example, Daily Odds Boosts, Refunds, Parlay Insurance, and Risk-Free Bets. Bettors can also accumulate "Tier Credits" and "crowns" for placing bets, which can be redeemed for Bonus Bets and more.
Tier Credits are earned when you play on DraftKings and are what grants you Tier Status. Tier Credits are earned on an annual basis and are reset on January 1 each year.
Here's how the Dynasty rewards system works for gambling on DraftKings:
Sportsbook Rewards: Players earn 1 Tier Credit for every $10 total dollars wagered on straight bets and futures also earn 1 Tier Credit for every $5 wagered on a parlay or SGP.
Daily Fantasy: Earn 1 Tier Credit for every $5 spent on contest entries.
Marketplace: Buy NFT's and earn 1 Tier Credit for every $2.50 spent also earn 1 Tier Credit for every $10 spent on any other purchases.
Online Casino: Earn 1 Tier Credit for every $10 bet on a majority of slots. Earn 1 Tier Credit for every $25 wagered on table games and select slots.
Virtual Sports & Keno – Earn 1 Tier Credit for every $10 Wagered.
Crowns are earned by playing on DraftKings and can be redeemed for free play and items on the Dynasty Store. All activity that earns Tier Credits also earns Crowns. The Crown earning rate depends on the game played or bet placed, the amount of the wager, and length of play or number of bets placed.
Redeem Tier Credits For Prizes
Players can redeem the credits for just about anything in the Dynasty Store! Pick from literally millions of different items and gift cards in the Dynasty store if you can't find it on the Dynasty Store, it probably doesn't exist!
---
What kind of bets can I make on DraftKings?
DraftKings offers a wide variety of betting options across multiple sports, so the most popular bet types can vary depending on the season and sport. DraftKings offers straight bets, money lines, over under totals bets, prop bets, player props, futures and more. Two of the most popular bets include teasers and parlays. Lets look into those in further detail here.
DraftKings Teasers
Does DraftKings Have Teasers?
Yes, you can bet teasers on DraftKings Sportsbook, they offer 6, 6.5, 7 point teasers from two to six picks, if a pick is a tie, the pick is removed. To team teasers with a win and tie is considered no action.
DraftKings Teaser Payout Tables
Football Teasers At DraftKings
| # of Picks | 6 Points | 6.5 Points | 7 Points |
| --- | --- | --- | --- |
| 2 | -120 | -130 | -140 |
| 3 | +160 | +150 | +130 |
| 4 | +260 | +230 | +200 |
| 5 | +400 | +350 | +320 |
| 6 | +600 | +500 | +450 |
Basketball Teasers At DraftKings
| # of Picks | 4 Points | 4.5 Points | 5 Points |
| --- | --- | --- | --- |
| 2 | -110 | -120 | -130 |
| 3 | +170 | +150 | +130 |
| 4 | +290 | +240 | +190 |
| 5 | +450 | +400 | +350 |
| 6 | +650 | +550 | +450 |
DraftKings sportsbook also offers a Super or Monster teaser. Super teasers include three picks and 10 points in football, 8 in basketball with -120 odds, ties lose. Monster teasers are 4 picks with 13 points in football -140 odds and 10 points in basketball -120 odds, ties lose.
How to make a teaser bet on Draftkings
Time needed: 2 minutes.
Making a teaser bet on Draftkings sportsbook is an easy 4 step process.
Select the sport you want to start your teaser with

use the A-Z sports menu on left side of screen


Select the games to use in your teaser

click on each game spread or total you want to use in the teaser


On the Bet slip click Teaser and enter the bet amount

select teaser and enter the amount you wish to risk on your teaser bet


Place teaser bet

at the bottom of the bet slip click place bet

DraftKings Parlays
Does Draftkings offer Parlay Bets?
Yes, DraftKings sportsbook offers both traditional parlays and single game parlays aka SGP's up to 7 picks.
DraftKings Parlay Payout Table
This payout table is based on each pick having -110 odds, higher or lower odds will affect the payout.
| Parlay # of Teams | Payout | Parlay # of Teams | Payout |
| --- | --- | --- | --- |
| 2 Team | 2.64-1 | 5 Team | 24.35-1 |
| 3 Team | 5.95-1 | 6 Team | 47.41-1 |
| 4 Team | 12.28-1 | 7 Team | 91.42-1 |
To calculate a DraftKings parlay with different odds use the following steps:
Convert the money line odds to decimal odds.
Multiply each picks decimal odds together.
Multiply that result by your bet amount.
Subtract your bet stake to get the resulting parlay odds.
Parlay betting is another popular sports bet at Draftkings Sportsbook and it's as easy as making a teaser bet. Simply follow these four quick steps:
Step 1: Choose the sports you want to use for your parlay bet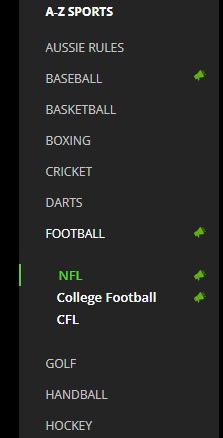 Step 2: Choose the games for your parlay by clicking on the team spread, moneyline, over/under, or props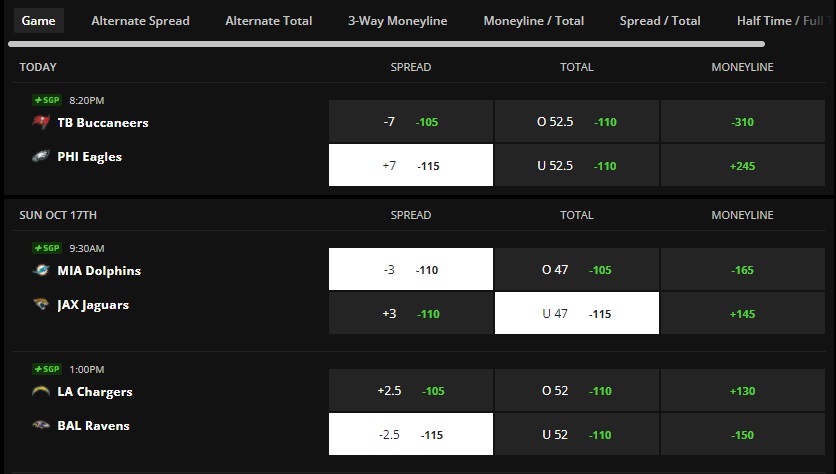 Step 3. Click Parlay in the middle of the bet slip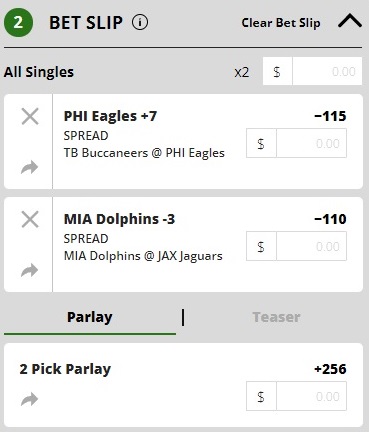 Step 4. Enter your bet amount and click Place Bets. Remember when betting a parlay the more teams you select the higher the payout, but lower the chance to win!

---
The benefits of playing on the DraftKings betting site and app
Big bettors, small bettors, hobbyists, semi-pros, amateurs, novices, it doesn't really matter what kind of bettor you are. DraftKings will take your action and will give you a lot of different sports and styles of betting. Even if you just want to try it out with a test drive to have some fun and give it a try, DraftKings takes wagers as small as 10 cents!
Do you prefer to play parlays? DraftKings has fair parlay odds and great "How To" videos explaining what a parlay means and how you can win one. Are you a straight bettor of sides and totals? DraftKings has all of those standard options as well.
NFL, college football, college basketball, MLB, NBA, Golf, NHL, MMA, Tennis, Soccer, Motorsports, Boxing, Cycling, Cricket, and all sorts of other betting odds are available. Unfortunately, one big downside to DraftKings is that college sports that are played involving states that prohibit in-state college sports betting are not listed on the site. This is not exclusive to DraftKings, and is an issue with the states themselves, but is worth being aware of.
DraftKings, along with the standard DFS contests and the betting options, allows for the creation of Sportsbook Pools, in which players can play pick 'em contests against other entrants to pick the straight-up winners of MLB or NFL games. Most of them are Guaranteed Prize Pools that have a certain amount of money to hand out for winnings, even if there aren't enough sign-ups to get to that prize pool amount.
---
What Makes DraftKings Sportsbook Unique?
Along with the free to play pools, DraftKings has a revolutionary live betting system. Where a lot of online sportsbooks that offer live betting force players to make new bets, DraftKings's live betting system allows you to cash your winner early at a different vig.
For example, if the Patriots are -8 and are winning by 14, you won't get the full value of your -110 bet at -8, but you would make some money on it if you decided to cash in your ticket early and avoid a backdoor cover or a bad beat. Instead of running the risk of that garbage time touchdown, that so many of DraftKings' players are all too familiar with, you can simply take your profit and run. Just know that you won't make as much as you would if you waited it out and won.
---
Sign Up, Deposit, and Withdrawal
Deposit Options
ACH
Visa
Mastercard
Cage Cashier
Wire Transfer
PayPal
VIP Preferred e-Check
Play+ PrePaid Card
Deposit limits and fees will vary based on what you decide to use. The minimum for any deposit is going to be $5, but the maximum can have a wide range based on the method of deposit. Some options can take up to 48 hours to clear.
Withdrawal Options
Cash withdrawals (Casino Cage where A sportsbook is located)
Pre-paid Play+
PayPal
Bank Transfer (ACH)
Wire Transfer
Draftkings protects your personal and financial information with state-of-the-art encryption and cybersecurity technology. Their withdrawals are quick and easy and bettors typically receive their funds within two days at the most.
---
How DraftKings Compares With Other Sportsbooks
DraftKings is one of the most popular and rapidly growing sportsbooks in the United States, but how does the platform stack up against the competition?
DraftKings vs. FanDuel
FanDuel and DraftKings, two rivaling sportsbooks and daily fantasy sites, are very similar. They each provide a user-friendly website and mobile app, many different payment options to customers, and an incredible live betting experience. However, there are a few key differences worth mentioning. FanDuel is considered to have better customer service and faster payouts, while DraftKings offers its users amazing opportunities and perks through its customer loyalty program. Ultimately, DraftKings vs. FanDuel is likely to be a common debate among sports bettors for years to come.
DraftKings vs. BetMGM
There are a few important differences between what DraftKings and BetMGM have to offer their customers. For example, the DraftKings mobile app tends to be more reliable and less likely to crash than the BetMGM mobile app. On the other hand, BetMGM provides slightly better overall customer service, always helping users get their questions answered and problems resolved in a timely manner. These are just a few of the ways in which the two popular sportsbooks contrast with one another.
DraftKings vs. BetRivers
BetRivers and DraftKings have very much in common in terms of what they can offer their users. Both sportsbooks offer competitive odds, exciting opportunities for new customers, and a fantastic mobile experience. However, it is worth sharing a few of the differences between DraftKings and BetRivers. For instance, DraftKings provides one of the best live betting experiences in the industry and is currently available in more U.S. states than BetRivers. Meanwhile, BetRivers generally has the edge when it comes to customer service and withdrawal times.
DraftKings vs. Caesars
There is a lot to like about both DraftKings and Caesars. Each platform offers a special opportunity to new customers, fair odds, and a variety of different options for making deposits and withdrawals. However, the DraftKings mobile app tends to be more reliable, and DraftKings is the better option if you enjoy more options for same game parlays as well as alternate lines and totals. On the other hand, Caesars has better customer service and a wider range of prizes available through its customer loyalty program.
---
DraftKings Legal States & Sports Betting Sites
DraftKings operates both online and brick-and-mortar sports betting sites across several US states. Being one of the most popular online sportsbooks in the US, DraftKings is an attractive sports betting partner for most brick-and-mortar casinos looking to offer a state-of-the-art sportsbook.
Arizona
Retail Sportsbook: TPC Scottsdale, 17020 N Hayden Rd Scottsdale, Arizona 85255
DraftKings launched in Arizona on September 9, 2021 just in time for the NFL betting season that year. Residents can bet online in the Copper state as well as visit the fabulous DK sportsbook at TPC Scottsdale.
Colorado
Retail Sportsbook: Bally's Black Hawk – 300 Main St, Black Hawk CO 80422
In May 2020 DraftKings in a partnership agreement with the Colorado Rockies offers both online betting and in-person options to bettors in the Centennial state.
Connecticut
Retail Sportsbook: Foxwoods Resort & Casino, 350 Trolley Line Blvd, Ledyard, CT 06338
DraftKings Connecticut took advantage of three possible sports betting licenses in the state by teaming up with the Mashantucket Pequot Tribe and Foxwoods Resort Casino to bring both mobile betting and online casino gaming to the Constitution state in May 2021
Illinois
Retail Sportsbook: Casino Queen, 200 South Front St, East St. Louis, IL 62201
After some back and forth between in-person and online registration Governor Pritzker finally gave the green lite for full remote registration on March 5, 2021.
Indiana
Retail Sportsbook: Ameristar East Chicago, 777 Ameristar Blvd, East Chicago, IN 46312
A deal between Ameristar Casino and DraftKings paved the way for both a sports betting site in the Ameristar East Casino and online betting for players 21 and over in the state.
Iowa
Retail Sportsbook: Wild Rose Casino & Resort, 5465 Mills Civic Parkway #400, West Des Moines, IA 50266
After a brief period that required in person registration to play on the DraftKings betting app users in the Hawkeye state can now register and bet anywhere within the states borders.
Kansas
Retail Sportsbook: Boot Hill Casino & Resort, 4000 W Comanche St, Dodge City, KS 67801
September 1, 2022, kicked off legal sports betting in Kansas, and DraftKings partnered with Boot Hill Casino & Resort to gain access to the Sunflower state.
Louisiana
Retail Sportsbook: Golden Nugget Lake Charles, 2500 Golden Nugget Blvd, Lake Charles, LA 70601
Louisiana became the 15th state to offer the DK mobile sportsbook in 55 of 64 parishes in the Bayou state.
Maryland
Retail Sportsbook: Online Only
As of November 23, 2022, DraftKings along with seven other sportsbook apps launched in the Old Line state.
Massachusetts
Retail Sportsbook: Online Only
Massachusetts is the latest state to legalize online sports wagering, with DraftKings go live in March 2023.
Michigan
Retail Sportsbook: BayMills Resort & Casino, 11386 W Lakeshore Dr, Brimley, MI 49715
Bettors in the Great Lakes State can place sports wagers online, through the sportsbook's betting app or in-person at the Bay Mills Resort & Casino.
Mississippi
Retail Sportsbook: Scarlett Pearl Casino Resort, 9380 Central Ave, D'lberville, MS 39540
Sports betting has been legal in Mississippi since August 2018, however, bettors must place all wagers from casino grounds if they want to bet on DraftKings or any other sportsbook within the state.
New Hampshire
Retail Sportsbook: Players can visit two sports betting sites

Filotimo Casino, 1279 S Willow St, Manchester, NH 30103
The Brook, 319 New Zealand Rd, Seabrook, NH 03874
DraftKings is the only option both online and in person in the state of New Hampshire after agreeing to pay 51% tax on their overall revenue thus creating a monopoly for DK.
New Jersey
Retail Sportsbook: Resorts Casino, 1133 Boardwalk, Atlantic City, NJ 08401
New Jersey was the first state to legalize sports betting after the Professional and Amateur Sports Protection Act was overturned leading to DraftKings online sportsbook makings its debut in August 2018.
New York
Retail Sportsbook: Del Lago Casino, 1133 NY-414, Waterloo, NY 13165
DraftKings started taking online bets in the Empire State on January 8th, 2022 prior to that in-person wagering was required in one of the upstate New York casinos.
Ohio
Retail Sportsbook: Online only currently
DraftKings launched in Ohio on January 1, 2023, in partnership with Hollywood Casino however only to offer its online sports betting site while BarStool offers a retail option inside the casino itself.
Oregon
Retail Sportsbook: Online Only
DraftKings is the only option to bet both online and at tribal casinos within the state after an exclusive deal with the Oregon Lottery.
Pennsylvania
Retail Sportsbook: DraftKings has two sports betting site locations in the state of PA

Hollywood Casino (At Penn National), 777 Hollywood Blvd, Grantville, PA 17028
Hollywood Casino (at The Meadows), 210 Racetrack Rd, Washington, PA 15301
Sports bettors in the Keystone state can enjoy both the DraftKings sportsbook and casino having launched both options through a partnership with Hollywood Casino.
Tennessee
Retail Sportsbook: Online betting only in the state
Tennessee is one of a handful of states that does not have any gambling locations as such sports bettors must play via the mobile betting app or DK website.
Virginia
Retail Sportsbook: Online only
Launching its online sportsbook in January 2021, Virginia became the 12th state to offer the DraftKings sportsbook in the US.
Washington
Retail Sportsbook: DraftKings has two locations in the state

Quil Ceda Creek Casino, 6221 31st Ave NE, Tulalip, WA 98271
Tulalip Resort & Casino, 10200 Quil Ceda Blvd, Tulalip, WA 98271
Washington legalized sports betting on reservation lands of Native American tribes in the states, DraftKings has partnered with the Tulalip tribe to provide a sports betting site at both of their casinos. Online sports betting is not legalized in the state currently.
West Virginia
Retail Sportsbook: Hollywood Casino at Charles Town Races, 580 E 5th Ave, Ranson WV 24986
West Virginia was one of the first states to legalize online sports betting in 2018, with DraftKings making its debut in the summer of 2019.
Wyoming
Retail Sportsbook: Online Only
DraftKings was a little late to the party in Wyoming launching the betting app and site in September 2021.
---
Latest Betting Information & Promotions At DraftKings
---
Customer Service Information at DraftKings
Email: support@draftkings.com
Postal Mail: US Office, 222 Berkeley St, Boston, MA 02116
Live Chat: Available 24/7
Twitter: @DKsportsbook
---
Why you should choose the DraftKings betting app
Because you know it. You know the name. You know the reputation. You can trust that you will get paid out in a timely fashion and that you will have a lot of betting options. You'll get bonus bets, promotions, and one of the best initial deposit bonuses in the business. The sportsbook itself is also of high quality, and is much more than just a name.
---
DraftKings FAQs
How does DraftKings work?
Signing up for Draftkings is simple, fill out the short registration form, verify your identity, deposit $5 or more using the many cashier options and place a bet!
Where is Draftkings sportsbook legal?
The Draftkings betting app and website are is legal in the following states with more to come: Arizona, Colorado, Connecticut, Illinois, Indiana, Iowa, Kansas, Louisiana, Massachusetts, Michigan, New Hampshire, New Jersey, New York, Oregon, Pennsylvania, Tennessee, Virginia, West Virginia, and Wyoming
How to play Draftkings in a restricted state?
Sports bettors can sign up at DraftKings in any state however you must be within the borders of a legal state to place a wager. Bettors can travel to a legal state to place their bets as they please.
How to enter the promo code on Draftkings?
The Draftkings Sportsbook promo code is ATSBONUS, during the registration process players will be prompted to enter it, just start the registration process now to get going.
How to transfer money from DraftKings fantasy to sportsbook
Click on the 'Account' section of the app or website, here will be an option to link your DraftKings DFS account with the sportsbook account. Once you connect the two sites, the balance is then shared between both accounts. This process is the same for the casino.
Can I use the funds on my Daily Fantasy Sports account to bet in the sportsbook or Casino?
No, fund deposited directly into your fantasy account can not be used to place wagers in either the sportsbook or casino. However winnings from entering contests in DFS can be transferred.