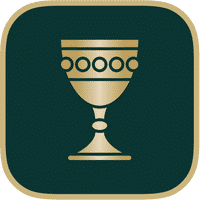 $1,000 First Bet on Caesars
PROMO CODE:
ATSBONUS1000
Get Bonus
Gambling Problem? Call or TEXT 1-800-Gambler 21+
Caesars Bonus offer
$1,000 First Bet on Caesars
Caesars Promo Code
US States Applicable T&C
AZ, CO, DC, IA, IL, IN, KS, KY, LA, MA, MD, MI, NV, NJ, NY, OH, PA, TN, VA, WY, WV
Website
Caesars Sportsbook is a site that does a lot of things well for sports bettors. From their mobile app to the massive number of bets that can be placed, there is something for everyone at this site. In this Caesars Sportsbook review, continue reading to find out what we think of everything this site has to offer and get our honest opinions on the site before you start betting like a Caesar.
Author's Hot Take On Caesars
Is there a name more popular than Caesars in gambling? With decades of experience, the Caesars sportsbook app brings everything a seasoned bettor or new player starting out can expect in one of their casinos or sportsbooks to the palm of your hand. Sign up now for an amazing new user welcome offer at one of the top legal US Sportsbooks!
Caesars Sportsbook Ratings Breakdown
| | |
| --- | --- |
| Bonuses & Promotions: | 5/5 |
| Banking: | 5/5 |
| Mobile App & Website: | 3/5 |
| Betting Options: | 4/5 |
| Safety & Security: | 5/5 |
| Overall Rating: | 4/5 |
About Caesars Sportsbook
Caesars Sportsbook is part of Caesars Entertainment, a company that has a long history in the casino and gaming industry. Caesar's origins can be traced back to 1937, when Bill Harrah opened a bingo parlor in Reno, Nevada. Over the years, Harrah's business grew and expanded into other forms of gaming, including casinos and sports betting. In 2005, the company acquired Caesars Entertainment, a move that gave it ownership of several well-known casino brands, including Caesars Palace and the World Series of Poker.
In 2010 in a change to capitalize on the international name recognition of the Caesars brand Harrah's Entertainment rebranded to Caesars Entertainment.
In 2020, Caesars Entertainment announced a partnership with William Hill, a UK-based sportsbook operator, to launch a new sports betting platform in the United States. The platform, known as Caesars Sportsbook by William Hill, was launched in September of that year.
Caesars Sportsbook is now one of the most popular online sportsbooks across the U.S. Currently, Caesars Sportsbook is operational in numerous states including Arizona, Colorado, Illinois, Indiana, Iowa, Kansas, Louisiana, Maryland, Michigan, Nevada, New Jersey, New York, Ohio, Pennsylvania, Tennessee, Virginia, West Virginia, Washington D.C., Wyoming or Ontario. Always ensure to check for updates as they continue to expand their presence.
---
Caesars Sportsbook Pros & Cons
Pros
Massive first bet insurance
Caesars Rewards Program
Competitive Odds
Daily SGP Odds Boosts
Caesars Sportsbook Bonuses & Promotions – 5/5 Rating
Caesars Sportsbook offers a lot of bonuses that are ultra-competitive with the other sports betting sites throughout the US. New account holders get a huge signup bonus and then ongoing odds boosts, Caesars rewards program, and promotions. Caesars offers a lot of daily and weekly specials and other free bonus bets for staying in the game.
| Caesars Sportsbook | Promo & App Information |
| --- | --- |
| Caesars Sportsbook Bonus Code | ATSBONUS1000 |
| Caesars Sportsbook Bonus | $1,000 First Bet on Caesars |
| Platforms | Desktop/Android/IOS |
| Verified | December, 2023 |
GAMBLING PROBLEM? CALL OR TEXT 1-800-GAMBLER 21+
Caesars is also running some terrific online casino bonuses as well for states with legal casino gambling like Pennsylvania, New Jersey, and Michigan. At its core, this is a company well-versed in all forms of gambling, so it makes a lot of sense that casino offers would be plentiful. You can also use your Reward Credits and convert them into Real Money, much like you can in brick-and-mortar Caesars properties around the US and Canada.
That also means that you can link your Caesars Rewards Program account, which can help you get better deals on hotels, dining, and entertainment by accumulating Tier Credits and Reward points. Many betting sites have their own rewards programs, but they are limited to use within the app. Almost by default, this makes the Caesars Rewards option one of the best sportsbook loyalty programs in the US.
Caesars Sportsbook is one of the few sportsbooks that has a huge welcome bonus and ongoing player perks during every sports season. Players at Caesars Sportsbook can look forward to these perks:
Caesars Sportsbook Sign Up Bonus
The new player sign-up bonus at Caesars sportsbook consists of two parts. The first player get a $1,000 first bet on Caesar when signing up with Caesars sportsbook bonus code ATSBONUS1000. Better yet, the Caesars Rewards program. The Caesars rewards program is the best overall loyalty programs in online sports betting world, incentivizing users with not only bonus bets but also discounts on hotels, restaurants, and entertainment options across the company's physical retail locations.
Caesars Rewards – bet and get bonus bets and free entertainment!
The Caesars Rewards program is a loyalty program offered by Caesars Entertainment and is now a part of the Caesars sportsbook app. The program allows players to earn rewards for each bet made or wager in their online casino and use them for a variety of benefits, such as free bonus bets on the app, free spins, deposit bonuses, hotel stays, dining credits, and priority access to shows and events.
Upon signing up at Caesars sportsbook players are automatically enrolled in the Caesars Rewards program.
Rewards are earned in the form of Tier Credits and Reward Credits. Tier Credits determine a member's tier level, which ranges from Gold to Diamond Plus, based on their level of activity in the program. Reward Credits can be redeemed for various perks, including free bonus bets, hotel stays, dining credits, show tickets, and more.
Tier Levels:
Gold (0+ Tier Credits)
Platinum (5000+ Tier Credits)
Diamond (15,000+ Tier Credits)
Diamond Plus (25,000+ Tier Credits)
Diamond Elite (75,000+ Tier Credits)
Seven Stars (150,000+ Tier Credits)
Profits for the people – Daily odds boosts
Caesar takes care of his people! One of the key features of the Caesars Sportsbook is the "odds boosts" that are offered to customers.
Odds boosts are daily sportsbook promotion offers that increase the potential payout for a specific bet. The Caesars odds boosts are applied to various types of bets each day, such as moneyline, single game parlays, props, and can be offered on a range of sports gambling markets.
For example, if the odds for a particular team to win a game are -150 (meaning a $150 bet would pay out $100), a Caesars boost may be offered that increases the odds to +150, which would lower require only $100 and increase the potential payout to $150.
In addition to the daily game odds boosts Caesars offers boost tokens weekly:
100% Profit Boost Token – Friday thru Sunday, players can opt in for a 100% odds boost token to use on a 4+ leg parlay for any event, Max wager is $50, with the Max additional payout of $5000
College Basketball Boost – Opt-In any day of the week and get one 33% Parlay Boost Token to use on a 4+ leg, +400 minimum odds parlay for any college basketball game, max wager is $50 and max additional winnings is $1000
Caesars Refer A Friend Promo
Caesars Sportsbook offers a generous referral program. Existing users receive $100 in bonus bets for each friend they successfully refer. What's even more enticing is that users can take advantage of this referral bonus with up to 10 friends. This means an opportunity to earn a whopping $1,000 in bonus bets by simply referring friends to Caesars Sportsbook.
Here's how it works: Current users can share a unique referral link with friends. When a friend registers via this link and makes an initial deposit of at least $50, the referring user earns a $100 bonus bet. It's a win-win: the new user gets started on their betting journey while the existing user gets rewarded. The $100 bonus is credited to the referrer's account within a span of just seven (7) days post the friend's qualifying deposit."
What Is the Caesars Sportsbook Welcome Bonus Code to get my new player promos?
For the current Caesars sportsbook welcome bonus sign up with Caesars sportsbook bonus code ATSBONUS1000, this allows new users to get a Go Full Caesar First Bet of up to $1000,and daily player perks when creating their Caesars Sportsbook account.
How do I use the Caesars Sportsbook bonus code?
To use the Caesars sportsbook bonus code the first step is to claim the offer by clicking any of the links on this page or copying and pasting the new user bonus code ATSBONUSFULL and entering it when filling out the Caesars registration form. Quickly verify your account, make a first deposit, and your first bet. If it loses you will be awarded the amount you risked back in bonus bets!
---
How Caesars Compares With Other Sportsbooks
Many different online sportsbooks are currently available to bettors in the United States. Let's see how Caesars stacks up against the competition.
Caesars vs. DraftKings
There are many similarities between Caesars and DraftKings as well as a few key differences. Both sportsbooks offer competitive odds, incredible market depth, and a phenomenal live betting experience. However, DraftKings tends to have an edge when it comes to its mobile app, types of wagers offered, and the variety of promotional deals provided to everyday customers. Meanwhile, Caesars has amazing customer service, fast withdrawal times, and one of the best customer rewards programs in the industry.
Caesars vs. FanDuel
FanDuel has the advantage over Caesars in a few important categories. FanDuel has a more reliable and user-friendly app, provides quicker payouts, and generally offers more bet types to its customers. On the other hand, Caesars Sportsbook is unmatched in the number of daily odds boosts it provides and covers more betting markets around the world. In addition, unlike FanDuel, Caesars has a fantastic customer rewards program. Click the following link to read a full in-depth analysis of Caesars vs. FanDuel.
Caesars vs. BetMGM
Overall, BetMGM and Caesars have quite a bit in common with one another. They are both widely available in the United States, have great customer support teams, and cover a wide range of sports and leagues from across the globe. However, Caesars offers a greater selection of everyday bonus opportunities and odds boosts to its existing customers, while BetMGM provides an unrivaled in-game betting experience.
Caesars vs. BetRivers
BetRivers has a slight edge over Caesars in terms of its market depth and everyday promotional deals. That said, Caesars is the clear leader when it comes to its payout speed, the welcome offer it provides new customers, and the number of U.S. states where it is currently available. Nevertheless, both BetRivers and Caesars are great options for sports bettors and online casino players as well.
Caesars Sportsbook Information Promo News & Game Bonuses
How to Sign Up at Caesars Sportsbook
Time needed: 5 minutes
Can you count to 10? Of course, you can. The Caesars sportsbook registration process is even easier than that because there aren't even 10 steps to sign up. There are just a few.
The first step is to access the visit the website here to start the registration process.

Heading over to the Caesars sportsbook new user promotion page is the fastest way to get started. Choose your desired state to get started.

Begin filling Caesars sportsbook registration process.

To get started enter your email and promo code to qualify for the Go Full Caesar promotion.


Fill out your personal details

Once you have accessed the Caesars site, you just follow the prompts to sign up for an account. Some generic personal information is required for example, Name, address, birthdate and last four of your social security number.


Verify your details

Once you have completed entering your personal details, allow Caesars sportsbook to verify them. If prompted allow Geolocation to access your location.

Ready to bet at Caesars?

The registration is complete, you can now download the Caesars App, Browse betting odds or goto the cashier to make a deposit into your account and start betting!
I signed up for an account at Caesars sportsbook account. Now what?
Time to fund your account using any of the many Caesars Sportsbook banking options. Funding a new Caesars Sportsbook is a piece of cake and only takes a couple of minutes. You can use the site's desktop platform, a mobile browser, or download the Caesars Sportsbook app. Caesars makes it easy to deposit and withdraw your funds.
Deposit at Caesars Sportsbook
Credit card deposits via Visa and Mastercard are the two most popular options. You can also use several other methods such as the Caesars prepaid Play+ card, Discover card, PayNearMe, Neteller, ACH, Bank Transfers an e-check, PayPal, or the cage at any of the Caesars land-based casinos or partner casinos are all additional options.
Collect your winnings and withdrawal at Caesars Sportsbook
To withdraw, you can visit the cage at any Caesars land based casino, which is a nice excuse for heading out. You can also request payouts via e-check, Caesar's prepaid card, Neteller, Bank Transfer and PayPal.
Most customers use PayPal but the Caesars Prepaid Play+ Card is also recommended as these two options are the fastest for withdrawals.
Collect Your Caesars Sportsbook New User Bonus
Once you have opened your account and made a deposit you are now eligible for the Go Full Caesar – new user promo. To collect you need to make your first bet! This is the only bet covered by Caesar so make sure you make it for the amount and game you want.
A Winning First Bet – Your bet wins, then you get the your bet amount, winnings and the promotion is over. For example, if you bet $1100 on a spread bet to win $1000 you would get your $1100 back plus $1000 in winnings for a whopping $2100!
A Losing First Bet – Loses happen in betting but with the promotion Caesar will refund your bet in the form of a bonus bet credit matching your first bet all the way up to $1250. This bet can then be used to wager on any future game or event.
How To Use Your Caesars Bonus Bet Credit
If your qualifying wager loses, Caesars Sportsbook will credit your bonus bets within 3 days. You then have 30 days to use it or else it will expire. You must use the entire bonus bet credit amount in a single shot meaning you can't break the bonus bet down into multiple smaller bets.
One of the best things about this sportsbook offer is that anything you win as a result of this promotion is free and clear of any wagering conditions. You can withdraw your winnings or keep the cash in your account to place more bets.
Limited Time New User Welcome Offer
With the NBA, NHL, NCAAB, and MLB all underway this promotion couldn't come at a better time. Your team might let you down, but the Caesars Sportsbook first bet match up to $1000 won't. Sign up at Caesars using the bonus code ATSBONUS1000, fund your account, and place a wager. Don't wait too long because this offer will expire!
---
Caesars Sportsbook Website and App – 3/5 Rating
Caesars Sportsbook Betting App
Much like a palace, or, well, Caesars Palace, everything that you could want or need exists in the Caesars sports betting app. Straight bets, parlays, teasers, sides, totals, round robins, whatever types of wagers you want to make, you can make them in the Caesars app.
Do you want to bet on MLB? It's there! NFL, NBA & NHL? Also there! College football and College Basketball? There, except in some states where games played in the state are excluded, which is a statewide rule for both CFB and college basketball. International sports like soccer, tennis, golf, and rugby? All there.
Like most sports betting apps, you can use your mobile device or a desktop/laptop to get your bets in, so long as you are in the state and have an account.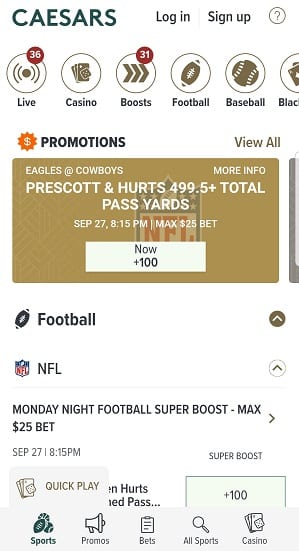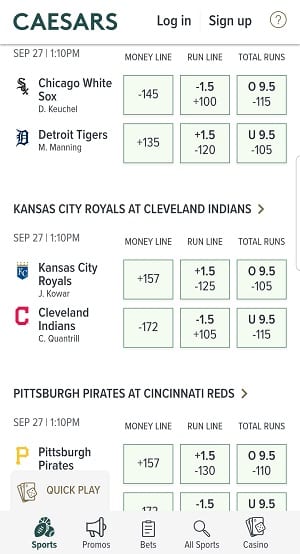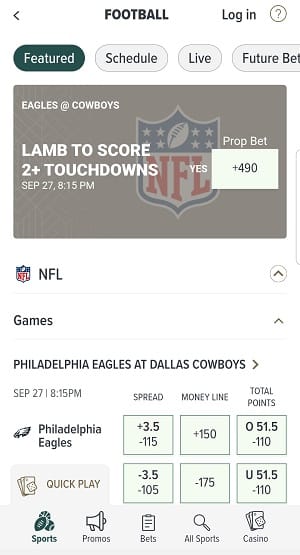 What do users think about the Caesars Sportsbook App?
With the legalization of sports betting downloading a betting app is easy as you just need to go to the App Store for the Iphone or Android users in the Play Store, links are also available to directly download it from the Caesars website.
Caesars Android App – Google Play
With over 500,000 downloads and a 4.5 out of 5 stars rating it's easy to see why Caesars is considered a goto sportsbook for every sports bettor.
Here are some good and bad examples of what users are saying about Caesars:
Easy to use, fast payments . Just with there was a cancel option. Sometimes if you bet early things change and the option to change ur bet would be great

Daniel Kuftack Jr
Such a great app, they are always updating it and tweaking different aspects. There's also LOTS of cool Rewards you can opt. into once betting. Man, I sure am glad Louisiana can now do sports bets online now. Never thought I'd see the day haha!

Rockie Corbett
App is pretty clunky. The UI looks like an website that has been compressed. Password reset feature doesn't work. No email sent With password to reset. Some password managers don't work well. No fingerprint login yet. With all the competition there's no reason to use Caesars unless you are heavy in the Reward credit stuff. The saved credentials doesn't work. Draftkings and FanDuel are both better in comparison.

Edgar Tan
Need to know more? Check out the Caesars App listing here
Caesars IOS App – App Store
Similar to the Android listing the App store listing also has glowing reviews and ratings. Currently rated 4.6 out of 5 stars with almost 40,000 ratings! Here are some of the most interesting reviews:
Love winning money on this book as for some reason I have the best luck with all my bets placed here so maybe that's why I'm bias in giving 4 stars…I use every book u can name in nys lol as far as I know at least and this is one of the more buggy ones! Constantly reloading and going back to main screen having to log back in sometimes unusable for hours at a time which doesn't happen often but has happened multiple times. If this app would run more smooth without crashing and all the other little bugs it would be almost flawless. Also maybe take a page out of fan duel and draft kings book as far as markets go. Need more markets more things to bet on for each game… also love the addition of some of the leagues for hockey, basketball, soccer etc i know nys is behind the ball when it comes to gambling on certain foreign leagues and what not but it's getting better and Caesar's is one of the books that's keeping up to date as far as this goes. Cmon Caesar's a little tweaking here and there and we good!!!

datkidtone00101
I keep telling myself to not bet on the props. But, Caesars has a way of making them palatable. I mean, some of them are such a long shots that you would be a fool to bet them. But, there are enough props that are intriguing that it makes it fun. Your best chance, of course, will still be standard pointspread and over under bets, but Caesars makes it even more interesting. First of all, you can bet on the game after it started. The pointspread and over under change according to the current results in the game. They will also offer alternate lines on the game: if the original pointspread was 10 points, you can also bet on the same team with a smaller pointspread, and a smaller pay off, or a bigger pointspread and a bigger payoff. The casino is pretty standard. But, I keep playing it because there are promotions all the time that will cover part of your losses. Someone posted that they had to call William Hill each time to get the coverage on the bet they made. But, the rules state that they will refund you after a few days. I have not seen them fail to do this. Winning bets are paid incredibly quickly, sometimes before the game has even ended. And, one handy tool is being able to see a high-level play-by-play of the game in progress. This saves having to open up another tab in my browser to check the status of the game if I can't watch it. Like I said, there is a lot to like here.

Roberto Tomba
Get more details on the Caesars IOS app here.
Caesars Sports Web Site Interface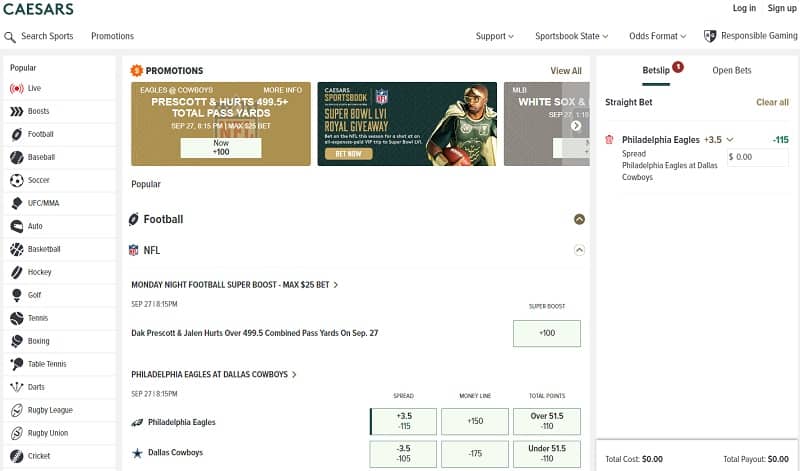 The Caesars Sportsbook website interface is designed to be user-friendly and easy to navigate, with a sleek and modern layout. However, the plain white interface on their desktop site is simply not something that compares favorably to many of the other sites out there. Here are some key features of the Caesars Sportsbook website interface:
Homepage: The homepage of the website provides users with a quick overview of the most popular betting options and promotions. Users can easily access various sections of the website, including upcoming events, live events, and promotions.
Navigation: The website has a navigation bar at the top of the page that allows users to quickly access different sections of the website, including sports, promotions, and account settings.
Sports: The website offers a wide range of sports to bet on, including football, basketball, baseball, hockey, soccer, and more. Each sport has its own section on the website, with upcoming and live events listed.
Betting options: The website offers various types of betting options, including point spreads, money lines, totals, parlays, and more. Users can easily select the type of bet they want to place and enter the amount they want to wager.
Live betting: The website also offers live betting options, allowing users to place bets on games that are currently in progress. The live betting interface provides users with real-time updates and odds.
Promotions: The website regularly offers promotions and bonuses for users, including free bets and cashback offers. Users can easily access these promotions through the website's promotions section.
Overall, the Caesars Sportsbook website interface is designed to provide users with an easy and enjoyable betting experience. The website offers a wide range of sports and betting options, along with various promotions and bonuses to keep users engaged.
---
Caesars Sportsbook Betting Options – 4/5 Rating
When the worldwide sports betting powerhouse that is Caesars Sportsbook US made its way into the legal US online betting market it was a big deal. Already well-versed in the world of mobile sports betting because of its partnership with William Hill as well as interests in Europe and Las Vegas, the Caesars Sportsbook app became a no-brainer for sports betting enthusiasts looking to sign up at a US Sportsbook.
With that in mind, the Caesars Betting app is an industry leader. There were no growing pains. There were no questions about the interface or the layout. It was a tried and true app used by millions of customers around the world. That type of reputation doesn't exist with a lot of the other companies.
In terms of functionality, reliability, and overall consumer confidence, Caesars Palace is at the pinnacle of the online sports gambling world.
How do I bet on sports at Caesars Palace?
You pick the spreads, totals, props, parlays, teasers, money line, futures, and single game parlays that you like, you enter a bet amount, and you hit submit!
Caesars Sportsbook offers betting odds on all of the major sports betting markets and very fair prices. You can bet on all of the US pro leagues, college sports, and also a lot of international competitions and events. The NBA? Bet on it at Caesars Sportsbook. The NHL? At Caesars. MLB, NFL, college football, college basketball, UFC, boxing, darts, Aussie rules football, rugby, NASCAR, golf, soccer, tennis? Bet on all of it at Caesars.
Betting isn't restricted to the period before a game either. You can bet while the game is going on. Live betting, or in-play wagering, is a fairly new concept, but you can make bets as the game is being played based on a variety of different factors. Has there been a key injury? Is somebody in foul trouble? Is there a line that looks too good to be true?
Because of Caesars background in Europe and Nevada, where live betting has been happening for a little while, you would be hard-pressed to find a better live betting feature than what this app has to offer.
And it is easier than you think for residents of adjacent states. For example, How do I bet on sports in California? Well, you can sign up online, download the Caesars sportsbook app, deposit, and then just get within the borders of Arizona and start making your bets. You'll just have to be in Arizona every time you use it. This same process works for any of the bordering states of legal sports betting state.
---
What states is Caesars sportsbook available in?
Caesars Sportsbook availability is quickly expanding, as the company continues to expand its operations in different states. It's always a good idea to check ATS.io to find out if your state has changed its laws regarding online sports betting. Currently, Caesars sportsbook is available in 23 states, as well as Puerto Rico, Washington DC, Ontario, and the Bahamas.
Caesars Sportsbook Arizona
The state of Arizona passed a bill legalizing sports betting in April 2021, Caesars sportsbook Arizona partnered with the Arizona Diamondbacks and officially launched its online betting platform on September 9th, 2021. In addition to its online sportsbook, Caesars opened a retail sportsbook at Chase Field in Phoenix Arizona.
Caesars Sportsbook Colorado
The state of Colorado legalized sports betting in May 2019, the Caesars betting app was able to launch on May 1st, 2020 after obtaining partnerships with the Isle Casino Hotel and Lady Luck Casino in Blackhawk Colorado.
Caesars Sportsbook Washington DC
in July 2020, Caesars DC obtained its sports betting license from the D.C. Office of Lottery and Gaming now sports bettors in the DC area can visit the Caesars Sportsbook in person at Capital One Arena or download the mobile betting app to place bets online when geolocated within two blocks of the arena.
Caesars Sportsbook Florida
In November 2021 mobile sports betting went live in the state of Florida however, it was temporary after a judge's ruling blocked online wagering in the state for the time being. On June 24, 2022, Caesars Racebook opened in the state of Florida, as online horse racing betting is still permitted.
Caesars Sportsbook Illinois
Originally Caesars launched in Illinois as William Hill in September 2020 through a partnership with the Grand Victoria Casino in Elgin, Illinois, however, in April 2021, Caesars Entertainment purchased William Hill and in the summer of 2021 rebranded the William Hill betting app to Caesars sportsbook.
Caesars Sportsbook Indiana
After acquiring William Hill in the spring of 2021, Caesars Sportsbook launched into the Indiana sports betting space through a partnership with Tropicana Evansville Casino. As of June 2021, sports bettors in the Hoosier state can now bet at Caesars sportsbook via their mobile device, desktop computer, or in person at the Tropicana Casino.
Caesars Sportsbook Iowa
William Hill went live in Iowa on Day 1 of sports betting back on August 15th, 2019 boasting partnerships with five casinos within the Hawkeye states, making it the most available sports betting sites in the state. In 2021 after a buyout, William Hill was rebranded as Caesars sportsbook. Sports bettors can now bet with Caesar on the Caesars online sportsbook, app or in person at the following casinos:
Isle Bettendorf – 1777 Isle Parkway, Bettendorf IA 52722
Isle Casino Hotel Waterloo – 777 Isle of Capri Blvd, Waterloo IA 50701
Prairie Meadows Racetrack – 1 Prairie Meadows Dr, Altoona IA 50009
Harrah's Council Bluffs – 2701 23rd Ave, Council Bluffs IA 51501
Horseshoe Casino Council Bluffs – 1 Harrah's Blvd, Council Bluffs IA 51501
Caesars Sportsbook Kansas
Caesars Sportsbook Kansas was licensed by the Kansas Lottery in early 2022 and went live on September 1, 2022. Sports bettors can place wagers in person at the Kansas Crossing Casino in Pittsburg, Kansas, or from their website where they offer a wide range of sports betting options such as single game parlays, straight wagers, teasers, futures bets, and props.
Caesars Sportsbook Kentucky
Bettors in Kentucky can now sign up with Caesars Sportsbook. Although online betting officially launches on Sept. 28, early bird promotions are already underway. For instance, using the Caesars Sportsbook Kentucky promo code ATSBONUS1000 during sign-up will fetch bettors a lucrative $100 in bonus bets. So, Kentuckians can both anticipate and capitalize on this new era of online sports betting.
Caesars Sportsbook Louisiana
The Louisiana Gaming Control can approve up to 20 retail sportsbooks as well as 41 online sportsbooks and mobile betting apps. Caesars sportsbook secured one of those licenses in November 2020 and now offers its sports betting app to the 55 parishes approved for online sports betting as well as 4 retail locations listed below:
Harrah's New Orleans – 228 Poydras Street, New Orleans LA 70130
Horseshoe Lake Charles – 100 Westlake Ave, Westlake LA 70669
Louisiana Downs – 8000 E Texas St., Bossier City LA 71111
Horseshoe Bossier City – 711 Horseshoe Blvd, Bossier City LA 71111
Caesars Sportsbook Maryland
Caesars Sportsbook went live in Maryland on November 23, 2022. Bettors 21 years and over in the state can now wager online or in person at the retail sportsbook located at the Horseshoe Casino, in Baltimore Maryland.
Caesars Sportsbook Massachusetts
Caesars Sportsbook Massachusetts is licensed by the Massachusetts Gaming Commission to operate in the state. The online betting site and the app are set to launch on March 10, 2023, however, users can already bet in person at the Caesars retail sportsbook location at Raynham Park a greyhound race track located at 1958 Broadway, Raynham, MA 02767.
Caesars Sportsbook Michigan
Caesars Sportsbook Michigan, formerly William Hill is licensed and regulated by the Michigan Gaming Control Board (MGCB) users can use the app from anywhere within the borders of the state or in person at one of two retail locations:
Turtle Creek Casino – 7741 M-72, Williamsburg MI 49690
Leelanau Sands Casino and Lodge – 2521 N West Bay Shore Dr, Peshawbestown MI 49682
Caesars Sportsbook Mississippi
Online sports betting in Mississippi is available to sports bettors who are located on the premises of a licensed casino. Caesars sportsbook is available in the following locations:
Casino Viskburg – 1380 Warrenton Rd, Vicksburg MS 39180
Fitz Tunica Casino & Hotel – 711 Lucky Ln, Robinsonville MS
Harrahs Gulf Coast – 280 Beach Blvd, Biloxi MS 39530
Horseshoe Tunica Casino – 1021 Casino Center Dr, Robinsonville MS 38664
Island View Casino Resort – 3300 West Beach Boulevard, Gulfport MS 39501
Palace Casino Resort – 158 Howard Ave, Biloxi MS 39530
Treasure Bay Casino & Hotel – 1980 Beach Boulevard, Biloxi MS 39531
Isle of Capri Lula – 777 Isle of Capri Pkwy, Lula MS 38644
Silver Slipper Casino Hotel – 5000 South Beach Boulevard, Bay Saint Louis MS 39520
Trop Greenville – 199 N Lakefront Rd, Greenville MS 38701
Waterview Casino & Hotel – 3990 Washington Street, Vicksburg MS
Caesars Sportsbook Nevada
Nevada is the birthplace of Caesar Palace having operated there since 1966 after a buyout of William Hill sportsbook bettors can bet in person at 671 locations, for a full list visit the site to find the closest to you here. In addition to in-person betting, the Caesars app is also available for download in both the Play Store and App store.
Caesars Sportsbook New Jersey
Licensed and regulated by the New Jersey Division of Gaming Enforcement, Caesars originally launched in the Garden State as William Hill in September 2018, then rebranded as Caesars sportsbook in the summer of 2021.
Caesars Sportsbook New York
The state of New York approved online sports betting in 2021 and on January 8, 2022 Caesars sportsbook launch with nine other sports betting sites. Bettors can now place wagers online or at there retail sportsbooks in upstate NY located at:
Points Place Casino – 450 452 NY-31, Bridgeport NY 13030
Turning Stone Casino – 5218 Patrick Rd, Verona NY 13478
Yellow Brick Road Casino & Sportsbook – 800 W Genesee St, Chittenango NY 13037
Caesars Sportsbook New Mexico
New Mexico law allows legal sports betting online on tribal lands, through a partnership with the Mescalero Apache Tribe of the Mescalero Reservation, Caesars opened a retail sports betting site at the Inn of the Mountain Gods, located at 287 Carrizo Canyon Road, Mescalero, NM 88340.
Caesars Sportsbook North Carolina
Caesars has two retail sportsbooks in North Carolina however mobile sports betting isn't legal yet, those wishing to place sports wager must visit one of the two Caesars sportsbook locations:
Harrah's Cherokee Hotel & Casino – 777 Casino Drive, Cherokee NC 28719
Harrah's Cherokee Valley River Hotel & Casino – 777 Casino Parkway, Murphy NC 28906
Caesars Sportsbook Ohio
Caesars Ohio sportsbook launched at the stroke of midnight on January 1, 2023, which means the Buckeye State can now enjoy betting from the comforts of their home, work, on the go or in person at:
Eldorado Scioto Downs – 6000 S High St, Columbus OH 43207
Caesars Sportsbook @ Rocket Mortgage Field House – 1 Center Court, Cleveland OH 44115
Caesars Sportsbook Ontario
Ontario legalized single-game sports betting with the passage of Bill C-218 the Safe and Regulated Sports Betting Act by Canada's Parliament on June 22, 2021, which paved the way for Caesars to launch its online sportsbook on April 4, 2022.
Caesars Sportsbook Pennslyvania
Caesars Sportsbook in Pennsylvania is licensed and regulated by the Pennsylvania Gaming Control Board offering both casino and sports gambling to users 21 and over. Bettors can download the app, play on their desktop-friendly website or visit Harrah's Philadelphia to place wagers in person.
Caesars Sportsbook Puerto Rico
Caesars Sportsbook became the second retail sportsbook in Puerto Rico to offer sports betting after securing a partnership with Casino Metro. Caesars plans to launch its online betting site and app sometime in 2023. For now, bettors must visit Casino Metro at 200 Convention Boulevard, San Juan PR 00907.
Caesars Sportsbook Tennessee
On April 30, 2019, sports betting was legalized in Tennessee with a bill passed by the state's legislature, with online gambling launching on November 1, 2020 and Caesars Sportsbook going live in August 2021. Tennessee does not have any physical casinos or in-person sportsbooks.
Caesars Sportsbook Virginia
Licensed and regulated in Virginia by the Virginia Lottery, Caesars attained a sports-betting license and launched in February 2021. Currently, Caesars VA is only available online, there are no in-person locations in the state.
Caesars Sportsbook West Virginia
West Virginia was one of the first locations Caesars sportsbook launched going all the way back to 2018 when they received a sports betting license from the West Virginia Lottery, bettors can also bet in person at the Mountaineer Casino, Racetrack, & Resort located at 1420 Mountaineer Circle, New Cumberland WV 26047.
Caesars Sportsbook Wyoming
Wyoming went live with sports betting as of September 2021 currently there are no retail sportsbooks in the cowboy state, but the tribal casinos might open their own facilities at some point. Users who are 18 years or older can download the app, or play on the Caesars website.
---
Caesars Sportsbook Banking Options – 5/5 Rating
There is a strong amount of deposit and withdrawal options to choose from at Caesars Sportsbook. Bettors can utilize everything from their credit and debit cards to a number of online payment options to fund their accounts or receive their winnings. Below is a list of deposit and withdrawal options that bettors can use at Caesars.
Caesars Sportsbook Deposit Options
| Deposit Method | Fees | Processing Time |
| --- | --- | --- |
| Visa | Free | Instant |
| MasterCard | Free | Instant |
| Discover | Free | Instant |
| Online Banking | Free | Instant |
| PayNearMe | Free | Instant |
| PayPal | Free | Instant |
| Skrill | Free | Instant |
| ACH e-check | Free | Instant |
| Caesars Prepaid Card | Free | Instant |
| Wire Transfer | Free | Instant |
| Cash at Casino Cage | Free | Instant |
Caesars Sportsbook Withdrawal Options
| Withdrawal Method | Fees | Processing Time |
| --- | --- | --- |
| Online Banking | Free | 1-5 banking days |
| PayNearMe | Free | Within 24 hours |
| PayPal | Free | Within 24 hours |
| Skrill | Free | Within 24 hours |
| ACH e-check | Free | 1-5 banking days |
| Caesars Prepaid Card | Free | Within 24 hours |
| Wire Transfer | Free | 1-5 banking days |
| Cash at Casino Cage | Free | Instant |
---
Caesars Sportsbook Safety & Security – 5/5 Rating
Bettors do not need to worry about the security of their personal information and payment information when using Caesars Sportsbook. They use the most up-to-date encryption technology to protect their players from any issues when providing that information to Caesars. Bettors can also use steps like two-factor authentication to further protect their accounts.
---
Is Caesars Sportsbook good for beginners?
Something fun for those just starting out, which will be a lot of people in this post-PASPA world, is that the minimum bet on the Caesars app is $1 for straight bets and 1 cent for parlays and round robins.
That means that you can learn with real money in the game, but at very small, very comfortable stakes. Something else that helps bettors from getting in too deep is that you can set daily, weekly, and monthly betting limits so that you don't go overboard.
This is a really cool function and one that few other sportsbooks offer. There are always people that are going to walk into a casino and want to try a table game but won't want to play with the $5 or $10 minimums. They'll walk away sullen and disappointed. The inclusiveness of the Caesars app is a really strong selling point for those that want to dip a toe or maybe a foot in the pool and test the waters. Not all sportsbooks offer that.
There is a common misconception that this is a business where only big money bettors can hang. That's not true. Everybody had to start somewhere and the Caesars app is a great place to start if you aren't quite sure what you are doing, but you want to learn.
---
Caesars Sportsbook Customer Support
Caesars Sportsbook has a vast knowledge base here that answers virtually every question. However, if you have can't find an answer, you can contact the support team via Live chat – available 24/7.
---
Final thoughts on Caesars Sportsbook
This is a great all-around app. It benefits novices that are just starting out and also the more experienced players, especially those that have accumulated some Caesar's Rewards points and are looking to build up their statuses. Everything that you would expect to find in this app is there, with activity on all the major sports leagues and with access to all of the most popular bet types.
This is also one of the most advanced live casino interfaces in the business, so you can enjoy spinning those reels on the couch or get some craps bets in without having to stand up next to the table with cigarette smoke blowing in your eyes. The Caesars Sports app has everything you could possibly want.
---
Caesars FAQ
Who Owns Caesars Palace?
In July 2019, Eldorado Resorts bought Caesars Entertainment for $17.3 Billion
How Do I access the Caesars Sportsbook App?
Visit the website, register an account, and then download either the IOS or Droid App. Users in any US state are eligible to download the app
Is Caesars sportsbook legit?
Yes, Caesars Sportsbook is licensed and regulated in over 23 states, Canada, Puerto Rico and Washington DC
What is the minimum deposit to play at Caesars sportsbook
Caesars requires that users make a minimum deposit of $20 when funding their sportsbook or online casino account.
Does Caesars sportsbook pay real money?
Yes, you can win real money at Caesars Sportsbook they offer licensed and regulated real money sports betting options.
Can you withdraw winnings from site credit or bonus bets at Caesars Sportsbook?
Yes, winnings can be withdrawn at any time however some may have a rollover requirement, check the terms and conditions prior to wagering.