2021 Illinois Sports Betting Apps & Mobile Sportsbooks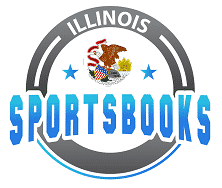 Legal sports betting in Illinois was a long time coming. In the summer of 2019, however, Governor J.B. Pritzker officially signed SB 690 to make betting on sports legal in the state.
Now that the wait is over, there is no time like the present to sign up for the various Illinois sportsbooks. Here at ATS, we've ranked the operators based on a number of different factors, including deposit and withdrawal options, bonuses and promotions, ease of use and accessibility, and so much more.
With BetRivers, DraftKings, FanDuel, William Hill, and PointsBet among the major players in the state, there is something for everyone in the Land of Lincoln and we're thrilled to show you the different options and our reviews of those places to legally bet on sports.
ATS.io's Best Illinois Betting Apps & Mobile Sportsbooks
Illinois Sportsbook Reviews
BetRivers Sportsbook – BetRivers Sportsbook was the first to go live in Illinois at its Rivers Casino Des Plaines location on March 9, 2020. As a result of the COVID-19 pandemic of 2020, the in-person registration requirement in Illinois was relaxed to allow for remote registration, which gave BetRivers unprecedented access to the entire state as a home of legal sports betting by being the only online and mobile sports betting app up and running at that time. A competitive match bonus and a smooth sports betting after through Rush Street Interactive awaits for those that sign up.
FanDuel – In order to keep up with its chief competitor, which already had a large market share in Illinois, FanDuel actually bought its own property to gain licensing in the state. That property is the FanDuel Sportsbook & Horse Racing facility in Collinsville. Unfortunately, that property is over four hours from Chicago and the state continues to miss the mark with its In-Person Registration requirement. Fortunately, Collinsville is close to St. Louis and Missouri is not a state with legal sports betting just yet. Once Illinois gets Remote Registration and sticks with it, FanDuel will thrive in the state. That happened to a degree during the COVID-19 pandemic when Remote Registration was allowed and a lot of people took advantage to sign up for FanDuel. The FanDuel Sportsbook App has been live since August 2020.
PointsBet – The Australian-based PointsBet brought its groundbreaking PointsBetting system and its top-rated sportsbook to the state of Illinois. By partnering up with the Hawthorne Race Course in Stickney, Illinois, PointsBet gained its entry into the Illinois market and operates a retail sportsbook at the location. A temporary operating permit acquired in July 2020 will turn permanent and look for this to be a rapidly-growing sportsbook operator to continue to prosper and continue to offer something that nobody else can with PointsBetting.
DraftKings Sportsbook – It was believed that DraftKings Sportsbook would have a hard time gaining entry into the Illinois sports betting market because of some past tensions regarding daily fantasy sports, but we should never underestimate the power of this industry leader. DraftKings partnered up with the Casino Queen for a retail sportsbook and a way to deploy its online and mobile capabilities in the state. Most would consider DraftKings the premier brand in the world of legalized sports betting in the United States and it won't take long to see why.
Illinois Sports Teams To Bet On:
Sports is alive and doing well in Illinois. In fact, Chicago is home to some of the best sports teams across all leagues. These teams don't disappoint on the field, and they will not disappoint on your sportsbook receipt, either. Here is an overview of the best teams to bet on in Chicago:
Chicago Bears – Chicago Bears are the former winners of Super Bowl XX. The team is formidable on the field and has a largely impressive winning streak. Most notably, the team finished first place in the NFL 2018 season for the North Division of the NFC Conference. This is a significant improvement from the previous seasons, as the team finished in fourth place for the four consecutive seasons before that. The Bears are vowing not to back down as they have their sight set on another Super Bowl win.
Chicago Bulls – The Chicago Bulls are popular with basketball fans worldwide and are credited for popularizing the NBA beyond American borders. It is one of the most successful teams in the league, with six NBA Championships in just one decade during the 1990s. The team has not won an NBA Championship of late, but it is maintaining a good statistical record. Most notably, it finished third in the Central Division for the 2019-20 season.
Chicago Cubs – The Chicago Cubs is one of two winning baseball teams representing Illinois in Major League Baseball. The team had seemed to fall on the sidelines for a long time, but it made a major comeback in 2016 after it won the World Series Championship. Since then, the team has been making major strides as it seeks to regain its position at the top of the pyramid. To this end, they have finished among the top five positions for the past five seasons, and they finished third for the 2019 season.
Wolves – The Chicago Wolves are one of the best teams in the AHL. The team has several impressive scores, including winning the Turner Cup Championship twice in 1998 and again in 2000. The team also won four Calder Cup titles in a span of 11 seasons. All in all, the team has won more than 1,000 regular-season matches. Their most recent victories are when they finished first for 2016-17, 2017-18, and 2018-19 seasons.
These are just some of the teams that you can bet on in Illinois. There are more professional and collegiate teams that you can also bet on, and they are just as impressive as these four.
Sportsbooks Coming Soon To Illinois
William Hill – William Hill is going to have its fingerprints all over the state of Illinois. Several retail sportsbooks, including the two Harrah's properties that are now part of the Eldorado Resorts family, are spread throughout the state. That also means a large market share for William Hill's online website and mobile betting app. William Hill is known the world over as a global brand and a respected bookmaker in numerous countries and states and their reputation has most definitely followed them into Illinois as a trusted place to wager on sports.
How do I sign up for sports betting in Illinois?
This is actually a bit of a sticky subject. Like Iowa, Illinois passed sports betting legislation that required users to sign up in-person at the sportsbook of their choice with what is most commonly known as "in-person registration". Detractors of this plan, who are correct in our estimation, have pointed to how restrictive that stipulation is because it limits who has access to what based on mobility and geographic factors.
The large market of Chicago is so expansive and there are quite a few casinos in the Chicagoland metro area, but a case could be made that it has just been a lot easier to go into Indiana, where "remote registration" is an option, sign up, and then just get over the border to be allowed to access your online account.
The COVID-19 pandemic forced lockdowns and shutdowns across the state of Illinois, including all of the gaming facilities. In the midst of the outbreaks, Governor J.B. Pritzker, who signed the bill for sports betting into law on June 28, 2019, relaxed the in-person registration requirement. That means that Illinois residents can sign up, deposit, and then wager from anywhere in the state.
If that is not the case, then registration will need to be done in-person. At the very least, you can sign up from home, but you need to show yourself and confirm your identity in order to gain full access to your betting account.
In the interim, even if you don't deposit right away, it is very much in your best interest to download the apps and sign up for them while the in-person registration requirement has been suspended. If you don't do it now, you may face the hassle of having to go and sign up in person and all of that jazz.
Our suggestion is that you take advantage of that right now.
Once you get signed up and registered, you can bet from anywhere. Geolocation technology will ensure that you are within the state borders in order to have access to your real money account. There are three racetracks and 10 casinos in Illinois, all of which will have retail sportsbooks and/or betting kiosks if you want that game day experience or just find yourself near one of those properties.
Otherwise, you can bet from the comforts of home on your computer or on your mobile device. All of these operators have websites that are mobile-friendly or you can download the betting apps. Keep in mind that Android users will have to download the apps from the websites themselves because the Google Play Store does not allow gambling apps to be listed. Apple (iOS) users can simply download the apps from the Apple Store.
Each retail location is partnered with a different sports betting operator. For example, BetRivers has its own Rivers Casino in Des Plaines. PointsBet has partnered with Hawthorne Race Course. DraftKings has partnered with the Casino Queen. William Hill has properties all over the state, including the Harrah's in Joliet and Harrah's Metropolis, as well as the Grand Victoria.
Penn National (Barstool Sports) has the Argosy and the Hollywood properties in Aurora and Joliet. Jumers has partnered with Delaware North. Par-A-Dice is with Boyd Gaming. Arlington Park is with Churchill Downs (Bet America). Fairmount Park is aligned with FanDuel.
What Can ATS.io Do For Me When Betting in Illinois?
ATS.io is actually a perfect website when it comes to legalized sports betting in the United States. In fairness, we are a little bit biased, but not only do we provide sportsbook reviews and report on industry news, but we also have lots of free picks, betting tips, game and event previews, and a whole lot more on a daily and weekly basis.
In other words, we are a one-stop shop for legal sports betting content. Our affiliate partnerships with the different sports betting operators mean that we are able to offer the best sign-up and deposit bonuses in the industry to our readers. You'll also find articles about special promotions and offers from the sportsbooks, including Odds Boosts, Free Bet Promotions, and a whole lot more.
History Of Sports Betting In Illinois
The Chicagoland metro area allowed the state of Indiana to get off to a great start. Places like Ameristar East Chicago and Horseshoe Hammond sit about 45 minutes outside of downtown Chicago and it was clear from the betting handles at those two places that Chicagoans wanted to wager on sports. It was also clear that the state of Illinois needed to get up and running to stop losing money across the border.
Sports betting in Indiana started in a retail capacity in September 2019 and the first mobile sportsbooks went live October 3, 2019. While that was going on, the infrastructure for sports betting in Illinois was being deliberated. Governor J.B. Pritzker actually signed legislation into law in June, but it wasn't until March 9, 2020 that Rivers Casino Des Plaines took the first sports bet.
What started with retail betting has now morphed into online and mobile wagering with BetRivers officially launching its online capabilities on June 18, 2020. Because of the COVID-19 pandemic of 2020, in-person registration, which was supposed to last for 18 months, was temporarily suspended, allowing Illinois residents to sign up remotely for sportsbooks. Depending on the success of the relaxed policy, perhaps Pritzker makes the change permanently.
The state of Illinois isn't just the city of Chicago, obviously, but Chicago has the third-largest population in the United States and the Chicagoland metro area is the third-largest in the U.S. These are fertile betting grounds and operators are going to be flocking to the Land of Lincoln to set up shop.
The process has been smoother in a lot of states compared to Illinois. Tensions between DFS operators and the state's former attorney general Lisa Madigan led to what industry insiders called a "penalty box" for "online-only" operators like DraftKings and FanDuel, but they seemed to find workarounds and got approved for their temporary permits in July 2020. Calling DraftKings and FanDuel online-only operators is kind of ridiculous, given that they've operated retail sportsbooks in virtually every state that they have been approved since PASPA was overturned on May 14, 2018.
In any event, with DraftKings and FanDuel approved alongside BetRivers and Penn National, who runs the sports betting for Argosy Casino, Illinois will have all of the heavy hitters as this process moves along. PointsBet has made its way to the Illinois sports betting market. There are retail Harrah's properties, which are now part of the Eldorado Resorts family, so that means William Hill will also have strongholds in the state.
BetAmerica, Fox Bet, theScore Bet, and others are also going to set up shop in Illinois in due time.
Illinois certainly has a rich history of sports fandom and something of an unspoken history regarding sports betting, as it was a major town for illicit gambling activities in the heyday of the mob. With legalized sports betting now, everything should be on the up and up and Cubs, White Sox, Bears, Bulls, Blackhawks, Fire, Sky, and Red Stars fans will have all sorts of rooting interest.
While it has taken Illinois a little while to get up and running relative to other states, like bordering Indiana and Iowa, sports betting legislation started before PASPA was even overturned, so there has been a strong push for quite some time to get Illinois another revenue stream. There were five bills in total in 2018 that at least generated enough discussion for things to proceed forward.
The state legislature got sports betting in just under the wire at the end of the legislative session in 2019 and it was signed into law on June 28 by Pritzker.
Original language in the bill gave retail sports betting operators what appeared to be a leg up on the online operators, but DraftKings and FanDuel found their ways into Illinois anyway and will be at the forefront of the market. The language stipulated that only in-state casinos could get licenses, which is why DraftKings and FanDuel had to basically invest in two in-state properties to get approval.
Even though BetRivers was first, DraftKings is a well-known name for DFS reasons, but also because the Ameristar East Chicago property in Indiana is a DraftKings Sportsbook, so those that signed up there when Indiana went live will already have accounts.
Sports betting is live and legal in Illinois and is only going to continue to grow rapidly from here.
What Are The Online Sports Betting Partnerships In Illinois?
| Casino | Sportsbook Partner |
| --- | --- |
| BetRivers | Rush Street Gaming |
| Argosy | Penn National |
| Casino Queen | DraftKings |
| Grand Victoria | William Hill |
| Harrah's Joliet Eldorado (Caesars) | William Hill |
| Harrah's Metropolis – Eldorado (Caesars) | William Hill |
| Hollywood Aurora | Penn National |
| Hollywood Joliet | Penn National |
| Jumers | Delaware North |
| Par-A-Dice | Boyd Gaming |
| Arlington Park Racecourse | Churchill Downs Inc. (BetAmerica) |
| Fairmount Park | FanDuel |
| Hawthorne Race Course | PointsBet |
Where can I place a sports bet in person in Illinois?
Sports betting in Illinois is allowed for anyone 21 or over, they can place bets in the following Illinois Sportsbooks & Casinos: