Bet $5 Get $150 + No Sweat SGP Daily
PROMO CODE:
Click To Claim
Claim Bonus
Gambling Problem? Call or TEXT 1-800-Gambler 21+
Bonus offer
Bet $5 Get $150 + No Sweat SGP Daily
DraftKings Promo Code
US States Applicable T&C
AZ, CO, IL, IN, IA, KS, KY, LA, MA, MD, MI, NJ, NY, OH, PA, TN, VA, WV, WY
Platforms
Desktop/Android/iOS
Overall rating 5 /5
The DraftKings at Casino Queen Sportsbook is open today in East St. Louis! Visit today to start placing bets on all your favorite sports and leagues or sign up on the DraftKings Sportsbook app to claim up to $150 in bonus bets!
In recent years, DraftKings has become a household name in the world of sports betting. The industry giant offers one of the top sports betting sites in the United States and beyond, giving fans an opportunity to place wagers on all of the most exciting matchups and sporting events from the comfort of their own homes.
In addition, for those who prefer a more dynamic and immersive experience, DraftKings offers retail sportsbooks all across the country. The DraftKings at Casino Queen Sportsbook is one of these lively in-person betting locations, has become quite popular here recently, and will be the subject of our review here today!
In this article, we'll take a closer look at the DraftKings Sportsbook at Casino Queen in East St. Louis, Illinois. We'll explore the best it has to offer and provide all the information you'll need to plan a visit and start placing bets today. Now, let's dive right in!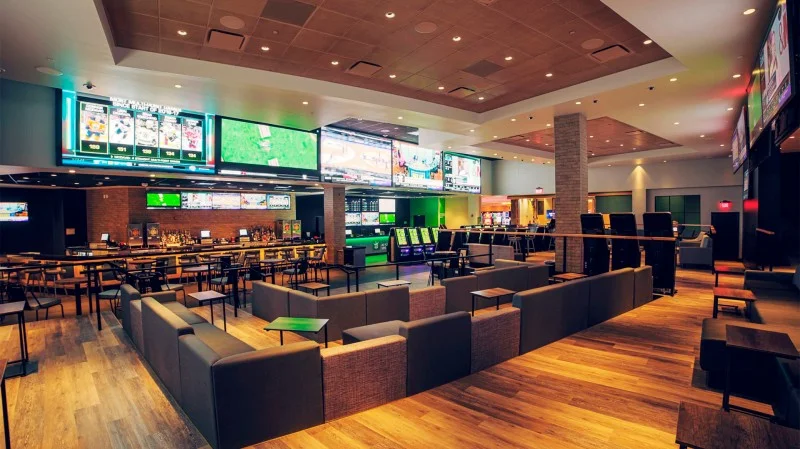 ---
DraftKings Sportsbook at Casino Queen: Betting, Dining, & More
Casino Queen, an iconic casino hotel located along the Mississippi River in Illinois (just across the river from St. Louis), struck a deal with DraftKings in 2020 and rebranded their property as DraftKings at Casino Queen.
Through their partnership, the DraftKings at Casino Queen Sportsbook was opened and quickly became a hotspot for sports bettors in the area. The establishment is one of the state's premier sports betting facilities and delivers a top-tier experience on gameday.
State-of-the-art technology, real-time live odds boards, delicious dining options, and an enormous video wall are just the beginning of what patrons can expect at DraftKings at Casino Queen Sportsbook. Check out the table below for some additional information about what to expect when you visit today!
DraftKings at Casino Queen Sportsbook
Key Information & What To Expect
🏈 Betting Options:
5 Betting Windows & 38 Betting Kiosks
🎰 Wagers Offered:
Straight Bets, Teasers, Parlays, Round Robins, & More
⏰ Hours:
Monday-Friday: 9:00 AM – 11:00 PM
Saturday-Sunday: 8:00 AM – 11:00 PM
🍔 Dining:
Daily Food & Beverage Service
📺 TVs:
28+ LED TVs & 60+ Foot Video Wall
🌎 Location:
200 Front St, East St Louis, IL 62201
✅ Age Requirement:
21 Years or Older
Welcome Bonus at DraftKings Casino Queen
DraftKings Sportsbook is well known in the industry for offering all new customers a generous welcome promotion to help kickstart their betting experience. Although the specific details of the offer fluctuate throughout the year, first-time customers will typically have the opportunity to earn hundreds of dollars in bonus bets for simply signing up for an account.
Unfortunately, the DraftKings Sportsbook welcome offer cannot be physically claimed in person while visiting the DraftKings at Casino Queen Sportsbook. Instead, it will be awarded virtually to all new users on the DraftKings website or mobile app, meaning the process of earning your bonus bets can be completed online from anywhere with a secure internet connection.
If you're ready to claim your welcome bonus at DraftKings Sportsbook, just sign up for an account using the links we've provided on this page, and you'll receive your bonus cash in no time!
---
How To Get To Casino Queen DraftKings Sportsbook
The DraftKings at Casino Queen Sportsbook is very easy to find, no matter where you're coming from. For instance, if you're heading from downtown St. Louis, just a quick trip across the Eads Bridge into East St. Louis, Illinois, lands you right at the doorstep of DraftKings at Casino Queen. If you're arriving from other parts, simply follow the signs to South Front Street, where the Casino Queen stands tall. You can't miss it.
The address is 200 Front St, East St Louis, IL 62201, and there are plenty of parking options in the area to accommodate your visit. Once you've reached DraftKings at Casino Queen, the sportsbook is located right in the heart of the facility, meaning you should have no trouble finding your way to the betting action.
---
Hours of Operation
The DraftKings Sportsbook at Casino Queen is typically open for the following hours each week:
Monday-Friday: 9:00 AM – 11:00 PM
Saturday-Sunday: 8:00 AM – 11:00 PM
Visitors will be able to place wagers using any of the self-service betting kiosks during these hours of operation. In addition, betting counters will also be available; however, they close one hour earlier (at 10:00 PM) each night.
As a result, you've got plenty of time to get in on the action at the DraftKings Sportsbook! Whether you're planning a casual weekday bet or looking for some weekend excitement, DraftKings Sportsbook at Casino Queen has you covered and is sure to offer an extensive window of time for you to dive into the excitement.
---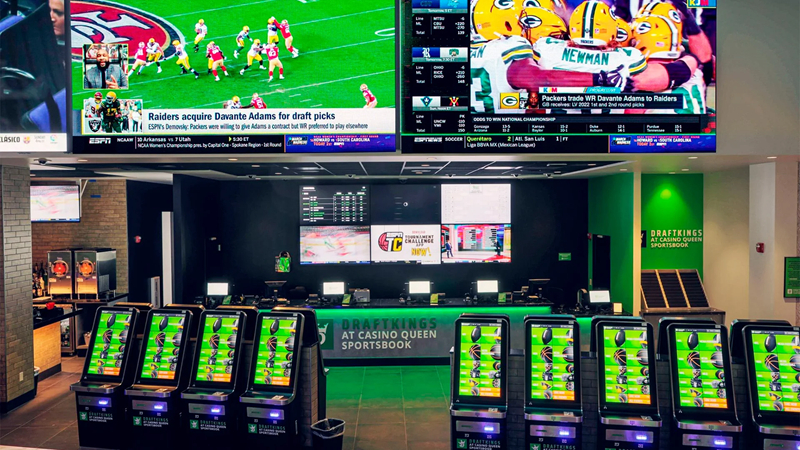 Layout & Accessibility
As you step into DraftKings at Casino Queen Sportsbook, you'll notice a well-organized space that's easy to navigate. The layout is designed for a great view no matter where you settle, be it by the impressive 60+ foot video wall or one of the 28 flat-screen televisions broadcasting live action. With over 6,000 square feet of room available, there's enough space to move comfortably without feeling crowded.
Conveniently, they've placed 5 betting windows and an impressive 38 betting kiosks for easy access to place your wagers. The setup makes diving into sports betting simple, allowing you to enjoy the energetic atmosphere and the range of amenities available.
---
Dining Options: Food & Drinks
At the DraftKings at Casino Queen Sportsbook, the bar is a haven for any drink you might be craving. From timeless cocktails to specialty craft beers, there's a perfect match for every taste and every game-day mood.
And when it comes to grub, they've truly covered all bases. Whether you're in the mood for classic game-day delights like loaded nachos and juicy burgers, or you want to share a pizza or some finger-licking appetizers (wings, onion rings, and more) with your crew, it's all on the menu for you to enjoy.
Don't worry about missing out either—the bar is open daily from 11:00 a.m. to 11:00 p.m., and the kitchen serves up delicious bites from 11:00 a.m. until 10:00 p.m. It's not just about the games; it's about having a blast, enjoying fantastic food, and finding your perfect sip while you soak in the sports excitement.
---
Types of Bets Offered at DraftKings Casino Queen
Before we wrap things up, you may be wondering what types of bets are available at the DraftKings Casino Queen Sportsbook. Well, you'll be happy to hear that all of the same wagers offered on the DraftKings website and mobile app can be placed during your visit. This includes the following types of bets:
Moneylines: This is a straightforward bet on who will win a game or match. It's about choosing the outright winner, and the odds reflect the favored and underdog teams or players.
Spreads: Spreads involve betting on the point difference between two teams at the end of a game. You can either bet that a team will win by a certain number of points (cover the spread) or that they won't.
Over/Under Totals: This bet is about predicting whether the total combined score of both teams will be over or under a set number determined by the sportsbook.
Prop Bets: These are fun, specific bets on events within a game, not necessarily tied to the final outcome. For example, you might bet on a player's individual performance or the occurrence of certain events during the game.
Futures: This involves betting on events that will happen in the future, such as predicting the winner of a championship before the season starts.
Teasers: Teasers allow you to adjust the point spread or totals in your favor for multiple games, but in return, it reduces the potential payout.
Parlays: Parlays combine multiple individual bets into one ticket. All the bets on the ticket must win for the parlay to pay out, but the payout is significantly higher than individual bets due to the combined odds.
---
DraftKings at Casino Queen Sportsbook FAQ
Can You Bet on Sports at Casino Queen?
Yes! DraftKings at Casino Queen offers in-person sports betting to anyone who is 21 years or older.
When Is DraftKings at Casino Queen Sportsbook Open?
The DraftKings at Casino Queen Sportsbook is open Monday through Friday from 9:00 AM to 11:00 as well as Saturday and Sunday from 8:00 AM to 11:00 PM.
How Old Do You Have To Be To Bet at DraftKings Sportsbook?
To place wagers on sports in person at DraftKings Casino Queen or online in the state of Illinois, you must be at least 21 years old.
What Sports Can You Bet on at DraftKings Sportsbook Casino Queen?
You can bet on a wide range of sports when you're visiting the DraftKings at Casino Queen Sportsbook. This includes football, basketball, baseball, hockey, soccer, golf, tennis, MMA, auto racing, and more.