Basically all online sportsbooks and betting sites accept teaser sports betting action these days, as they have become a standard part of the online sports betting landscape. Same Game Parlays and the ability to parlay player props and futures will be different at different parlay betting sites.
Teasers are pretty much what they are across the industry. You may find subtle, little differences here and there, but this is more or less a list of the top teaser betting site bonuses because teasers are pretty boilerplate across the industry.
---
What Is The Best Sportsbook For Teasers?
As we mentioned earlier all sportsbooks offer the same teaser structure when betting on the NFL, NBA, College Basketball or College Football. What differentiates one from the other is things like payouts, weekly teaser promotions, new user bonuses and more.
Our Top 5 Rankings For The 2023 NFL Betting Season Is As Follows:
---
Teaser Sportsbook Reviews
FanDuel Sportsbook
There are a lot of reasons to like FanDuel Sportsbook. Teasers are kind of give and take. They offer even money or better on NBA teasers of 5, 4.5, and 4 points, though you cannot tease side and total of the same game. You'll get even odds on a 5-point two-team NBA teaser, +110 on a 4.5-point teaser and +120 on a 4-point teaser.
Those are really good odds and a really good return. Most places don't offer odds that good on teasers at standard -110 single game wagering lines.
Caesars Sportsbook
Caesars Sportsbook (formerly William Hill) goes as high as 6 points on NBA teasers, though you will definitely pay for them at -140. There is no 4.5-point option, but Caesars more than makes up for it by allowing same-game NFL teasers. In our Best Parlay Sportsbooks article, we talked about correlated parlays and how those were basically prohibited in Nevada before sports betting went national. Same-game teasers are basically unheard of, but Caesars is one of the sportsbooks that allows it.
Their standard 6-point teaser is -120, which is a little bit higher than some books that are at -110, but, once again, there is some give and take with what is allowed and what isn't and the same-game teaser option could be a great one at Caesars.
BetMGM
BetMGM Sportsbook checks a lot of boxes for us and is a really popular sportsbook for a lot of reasons. Admittedly, teasers are where they come up a little bit short. You can tease NFL and college football, along with NBA and college basketball, but it can be a little more difficult to find the option to do that compared to other sportsbooks.
The odds are fair and in line with the rest of the market, but navigating the Bet Slip to put in a teaser option is not nearly as user-friendly as it is with other sportsbooks. Again, BetMGM is really great for a lot of other reasons, so if you aren't a big teaser bettor, this is nothing to shy away from. If you are, any of the other options may be better for you.
DraftKings Sportsbook
DraftKings Sportsbook is a top-rated sportsbook for a lot of reasons. They, too, offer the Reverse and Sweetheart teasers like BetRivers and these can be really interesting options if you are willing to take on a little bit more risk in exchange for a higher payout. This would be a lot like betting alternate lines, but you are parlaying them together to create a teaser.
Those Teaser+ options could come in really handy in a lot of ways and are just another reason to sign up with a top-rated sportsbook like DraftKings.
BetRivers Sportsbook
BetRivers has limited teaser ability on college sports, but does offer some unique teaser lines for the NBA. Their Teaser+ option allows for "Sweetheart" teasers of 7 points and then even "Reverse" teasers to subtract 4 or 5 points to increase your risk, but give you better odds on the other side.
BetRivers also shows you in real-time what the teaser odds look like based on the type of teaser that you choose. In most cases, a Reverse two-team teaser will be worth around +650 or +700, while a Reverse Sweetheart teaser of 7 points will be worth around +1000. While you don't want to get in the habit of doing these often because of the increased risk, if you feel really confident that the line is off and that the favorite will win in bigger fashion, this is an industry-leading option.
Unibet Sportsbook
Teaser betting was popular at Unibet long before the European bookmaker came stateside. As a result, they have a lot of experience in suffering the 6 and 6.5-point teasers in football and also all of the standard teasers in basketball. With standard payout amounts and fair odds, Unibet is a good place to make your teaser wagers.
Bet365
Like all European operators that have come to the United States, bet365 has seen it all. That includes a variety of different teaser bets. The industry standard for teasers is the same that you'll see offered at bet365, like 6, 6.5, and 7-point teasers on football and then 4, 4.5, and 5-point teasers in basketball.
There is nothing wrong with being status quo, especially if you don't purposely set up lines for teaser protection and are willing to take the action. If there's anything we know about bet365 from its history, it is that this is an operator willing to take the action.
PointsBet
PointsBet Sportsbook is actually one sportsbook that allows you to pick your own lines from a teaser standpoint on individual games, spreads and totals, and even player props. The Pick Your Own option from PointsBet gives you a lot of flexibility and the chance to really maximize your profit potential.
Also, while not teasing in a traditional sense, PointsBetting is a teaser of sorts. With PointsBetting, you win based on how "right" you are…of course, you could also lose more based on how "wrong" you are. While you bet a fixed number, you win more if you are more correct and also lose more, so it's almost like teasing the size of your bet instead of the line itself. This is a very popular option and a great perk of having a PointsBet account.
---
Learn About Teaser Betting, How, What And Strategies
What Exactly Is A Teaser Bet?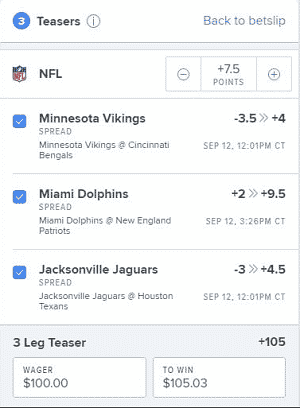 Does anybody really like to be teased? It sure feels like more of an annoyance than anything else. Like either do it or don't, right?
Well, in a betting context, a teaser can be a very powerful weapon. What it means to "tease a bet" is to add or subtract points from the line to create a more favorable scenario. Teasers are predominantly used in the NFL, but there are some people that will tease the NBA or college football or basketball.
Examples Of Teaser Bets
The best example of a teaser is to look at the NFL, so let's explain what we're talking about. There are a number of teaser varieties for football. Most NFL betting sites will offer a 6-point teaser, a 6.5-point teaser, a 7-point teaser, or a 10-point teaser. If you "tease a favorite" or "tease the over", you subtract that number of points from the line. If you "tease a dog" or "tease the under", you add that number of points to the line.
For example, take the Tampa Bay Buccaneers against the Washington Football Team in the Wild Card Round of the 2020 NFL Playoffs. Tampa Bay was -8.5 with a total of 45.5 before the line eventually closed at -10. Let's say that you like Tampa Bay in the game, but don't want to lay -8.5. You can execute a 6-point teaser and bring Tampa Bay down to -2.5.
But, you cannot do this alone. A teaser is like a parlay, in that you have to have multiple bets on one betting ticket or Bet Slip. In order to tease Tampa Bay down from -8.5 to -2.5, you might have chosen to tease the Buffalo Bills down from -7 to -1. You could have teased the total on Ravens vs. Titans up from 52 to 58 to bet the under. Or down from 52 to 46 and bet the over.
With teasers, all you have to remember is that you take points off of the line on the favorite and the over and add points to the line on the underdog and the under.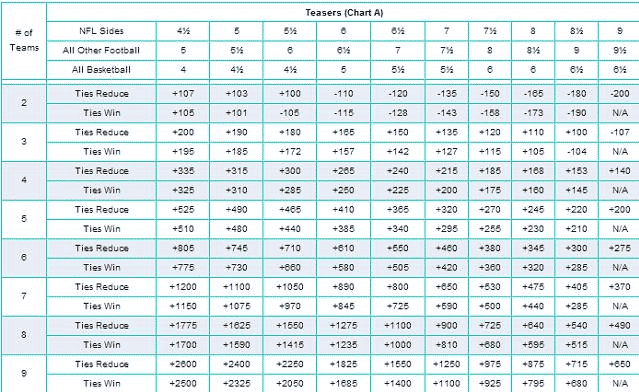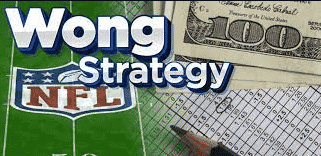 Teaser Betting Strategies: The Stanford Wong Strategy
The optimal teaser strategy, at least for the NFL, is called a Wong Teaser after Stanford Wong. That means teasing through numbers that allow you to get 3 and 7, which are called "key numbers" in the NFL. That would mean doing something like teasing a +1.5 underdog up to +7.5 or a -8 favorite down to -2.
Teasers are best used in relation to the total on a game. For example, if a team is +2.5 and the total on the game is 45, those six points to go up to 8.5 are more valuable than they would be if the total on the game was 55.
Teasers can also be used in college football, but that is usually a bad idea because college football games are high-variance in nature.
Some people like to tease the NBA. Basketball teasers are different from football teasers. Football teasers are 6, 6.5, 7, and 10 points. Basketball teasers are usually 4 or 5 points. Sometimes this can be really beneficial with late-game fouling and also when teams decide to stop fouling. Usually once a game reaches a score disparity of more than three possessions, teams stop fouling. As a result, you might see bettors tease underdogs up from +7 to +11 or favorites down from -10 to -6.
While parlay betting usually just mean increasing the payout odds with more risk to get every game right, teasers are a more mathematical version of parlays. These are a lot more popular among serious bettors, especially in the NFL. These can really be used to your advantage if you know the value of a number.
Unlike parlays, teasers do not apply to things like player props or derivatives like first half or first quarter lines. Teasers apply to the spread and total on a game. As a result, they have smaller payout odds, especially because you are making the line more favorable in your direction.
For example, a two-team, 6-point teaser pays back -110 at most places. That is the standard odds for a regular spread or total bet. Teasers also have a smaller number of options. With some sportsbooks, you can parlay maybe 10 or 15 things. With teasers, most cap the number of bets on one ticket at eight.
Parlays are certainly viewed as more fun and potentially more profitable if you get lucky and hit one, but teasers can create some +EV situations.