PointsBet Sportsbook Review
People are always looking for a way to make sports betting even more fun than it already is. The folks at Pointsbet have come up with a unique idea that makes betting on games interesting at a new level. With this new way of betting the wager is not decided until the final buzzer, and what you win or lose is also not decided until its over.
In gambling, you are rewarded for being right, in this new way of betting you are rewarded for being more right. Your prediction is fine-tuned like nowhere else.
This unique way of gambling is on a website called PointsBet.com and was created in 2017 in Australia. Early in 2019, it came to New Jersey. The owners plan to keep expanding and could move into other states before 2019 ends.
PointsBet offers traditional types of betting on a lot of different kinds of sports, so there is plenty of that available. What makes this site interesting is the new way of gambling it offers.
This is online gaming, and fortunately, their website is easy to use and helps you with your wagers. With this new kind of gambling, the bet is carried on to the end. It's not just a matter of picking the winner, but how much your pick wins by is what determines your winnings or losses. You will not know that until the very end.
If you bet wins by one point that is great, but the amount you win goes up as the margin increases. On the other hand, your loss gets worse if the margin spreads in that direction as well. There is a sliding scale on their website that shows what your potential win or loss will be.
For instance, if you have a bet that an NBA game will have 200 total points scored, you could win or lose $500 on a $10 bet. If you bet "over" your winnings increase the higher it gets. This can be easily translated to any sport. The cool thing is, it really isn't over until it's over. Often the amount of your bet — the $10 above — increases incrementally. You may also do a $1 bet. If In the above example, if you bet the teams would score more than 200 points you win. If they score 201 you would win $10, if they score 202, you would win $20 and so on. If they were to score 220 you would win $200. If you lose it works the same way, going incrementally on each point scored.
Potentially you could also have a quick reversal at the end if a large deficit was wiped out and the winning team kept pulling away.
The website offers gaming options of all kinds. You may do traditional bets in the normal way, or try your luck with this new unique method of betting. There are of course many things you can bet on. You could bet on when the first point will be scored or when the first touchdown pass will be thrown, and many other options. Due to the immediacy of the Internet, you may also make a wager during a game. You may play any of these options with the new points bet format or the traditional way with set odds.
With betting on teams you could win or lose a lot. Betting on individual players could get even more extreme. Say you bet you favorite quarterback will pass for more than 400 yards. If he has a record day and throws for 500 or more you will win a lot. If he gets hurt on the first drive and throws for 20 yards your loss would be big. There are some safeguards on the site that prevent catastrophic losses like this. At times bets have been called off and money refunded.
But even with safeguards things can get out of hand quickly with this type of wagering. An inexperienced gambler could lose a lot more money than they expected. With this in mind, there are a couple of ways to control your losses. The amount you bet to start with controls the outcome to a large degree. If you bet $10 per point, that can go up or down fast. If you bet $1 per point the extremes are avoidable. The website also has a "stop-loss feature." This is a cap you place on the bet before the game begins. You set a limit on how much you can lose, but that also sets a limit on how much you can win.
PointsBet Sportsbook Signup Promo & Bonus Code
| PointsBet Sportsbook Signup Promo & Bonus Code | |
| --- | --- |
| PointsBet Bonus Code | ATS |
| First Deposit Bonus | Up to $1500 |
| Platforms | Desktop/Android/IOS |
Pointsbet Sportsbook Promotions
The thing that makes point betting unique is how winning and losing are calculated. The actual wagering is not that different from traditional sports betting. You may bet the point spreads, who will win and by how much. You can bet on specific stats, such as passing, rushing, hitting in baseball, and so forth. You can also bet on the largest lead any team will have, or one of the teams will have. The company has done a good job of finding different aspects of the game where you can place a wager.
They still have all the traditional gaming as well with all the same bets available. You can still bet money lines, point spreads, team and player stats game stats and different types of point totals. The website claims 200 different types of bets on a single game, and we don't think that is much of an exaggeration.
Website and Apps
You may visit their website at pointsbet.com, and bet all you like. They also have an app. You must download the Android from their site, and the Apple version can be gotten through Google Play. You can do anything through the app that you can do on the site.
The site is very easy to use. The app is also intuitive and responsive on a smartphone. This site and company were created in Australia a couple of years ago. They no doubt took time to work out the bugs because the app is very easy to use, and works very well. Some criticize the overall design, and maybe it could be more attractive, but most gamblers want an app or a site that works easily. Pointsbet wins on that easily. We would put up with less than stellar design.
The site is well-organized and intuitive. With more than 200 possible bets on a single game and thousands of games to bet on, it would be easy to get lost in the maze. On the pointsbet website, however, it is intuitive and easy to navigate even with all those choices. You can easily access the games you wish to bet on by sport, or by the games happening on that day. You may also search by the athlete.
The website is focused on gaming, but there is some help available in conjunction with its deal with Meadowlands. The Revis Betting Academy has a lot of information, and solid advice, about how to use the site. This is essentially a help site and has all the information you need to use the site effectively. It also offers some gaming advice that could help. The site has also named two ambassadors who are NFL All-pro cornerback Darrelle Revis, and NBA Hall of Famer Allen Iverson.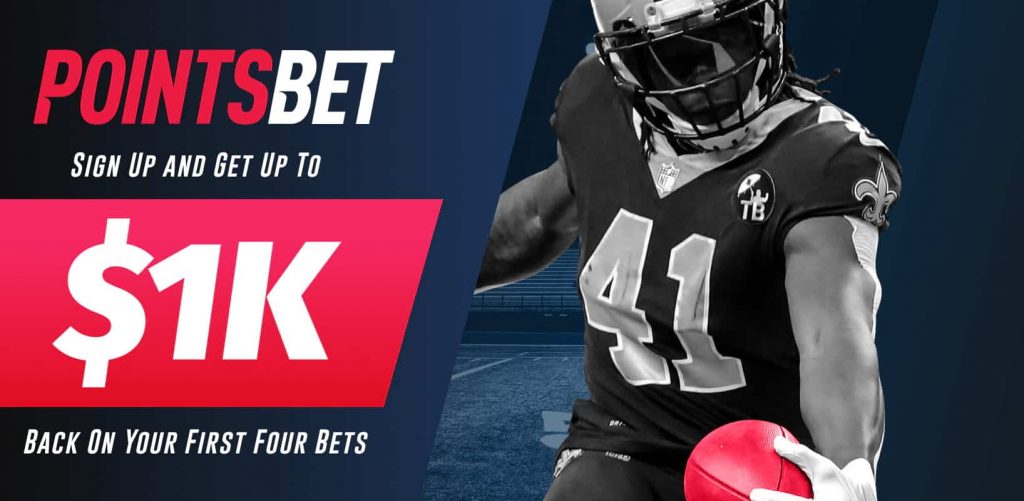 As noted, the site and the app are both intuitive and well organized. It is fairly straightforward, meaning you won't find any surprises or have much difficulty finding the game you want to bet on. This is a high-risk, high-reward gambling option. This is a big plus but it can also be a big negative to beginners who might lose more than anticipated.
The company is transparent in how it works, which is a plus. There is, however, a bit of a negative on how money is handled. This may be one bug they still need to work out. There are two ways to pay, which is a bank transfer or a credit card. This will work fine for most people, but there could be some people who would want to use other methods. A positive some have noted is there are no fees for bank transfers and there is no minimum deposit.
This new type of wagering may take some getting used to, so it is a danger for beginners perhaps. But there are also great reward and options for just about any taste. You can wager on hundreds of games, and have hundreds of kinds of bets on each of those games, so the options are nearly endless. Traditional gambling is still a big part of the picture, so that is also an option.
The folks at pointsbet are also brave. They are taking on or inviting, the high rollers or "sharps" as they are called. These are people who are essentially professional gamblers and they win often because of the expertise they have developed. Many gambling sites or locations limit these people or ban them outright.
Instead of turning these people away, Pointsbet is guaranteeing $10,000 worth of action. This is being done to attract high rollers, many of which would be classified at "sharps." While some sites shy away from these people, PointsBet says "bring 'em on."
Special Deals and Incentives
Pointsbet is making an all-out effort to attract customers of all kinds, not just the high rollers.
One incentive that sounds great as an introductory offer is a "no risk" fist bet. Your firsts wager will be refunded if you lose up to $500. The refund is in bonus bets, not in cash, but still, it is a refund.
There is also a rewards program that gives you something with every bet. Rewards can be used for future bets. You can also get $50 for referring a friend who places a wager.
Another incentive for first time users is risk-free bet deals. This combines the pointsbetting deal with traditional fixed odds betting. You may place a traditional bet and a points betting bet up to $500 each and your losses will be covered.
You may also cash out early to lock in your winnings or to cut your losses, depending on how the game is going. This is only available on fixed-odds betting.
Some other incentives include:
NFL Hall of Fame Game early payout.
Double winnings on bonus parlay bets.
Special market bonuses, such as the Yankees-REd Sox series in early August.
Early payouts for two goals being scored, or when the game is getting out of hand. A three-run lead, or a bonus for every home run in a game, are additional incentives.
In the WNBA there are bonuses for three-pointers
There are some bets for specific markets with specials.
You may also bet on topics on talk shows or things like the Academy Awards.
Here is a partial list of the sports available on their website:Aussie rules football
Baseball
Basketball
Boxing
Cricket
Cycling
Darts
Football
Golf
Hockey
Mixed martial arts
Motorsports
Rugby Union
Soccer
Tennis
Other bets
There are other sports as well, and you can bet on teams or individuals. Here are some individual stats you could bet on for the NBA and NFL.Quarterback completion percentage
Player rushing yards X player receiving yards
Time of the first touchdown (in seconds)
Player shooting percentages
Time of the first basket by a player
Player points multiples (Q1 points multiplied by Q2 points)
Time, in minutes, played for players to pass 5 points, 10 points, 15 points
Longest made FG distance in feet
Player points X assists X rebounds
Where to play
PointsBet started in Australia, as noted, so it is obviously available there. It came to the United States late December of 2018 to New Jersey. It partnered with Meadowlands Racetrack in East Rutherford. Mobile betting is available for New Jersey residents, as well as the Meadowlands Racetrack. For now, you must be in New Jersey to play the new way of gaming, but that is expected to change in the not too distant future.
Pointsbet has its eyes on other states as well:
New York: Pointsbest has teamed up with Tioga Downs Casino Resort in New York, and a mobile betting program is in the works. New York is planning on legalizing online sports betting soon, and PointsBet will be there when it does.
Illinois: Pointsbet has a deal with Hawthorne Race Course near Chicago for its land-based operations. Mobile gaming and sportsbooks are in the words for Illinois.
Iowa: Pointsbet made its deal with Catfish Bend Casino in Iowa for retail sportsbook and for the app. They are expected to open in Iowa soon and regulatory approval is anticipated in the near future.
Colorado: The company partnered with Double Eagle Hotel and Casino in Cripple Creek for betting in this state. Voters must approve a referendum in Nov. 2019 for it to happen, but the plans are there and it will include mobile betting.
Who can play
For now, you must gamble in the state where it is legal. To play the games Pointsbet offers you must be in New Jersey, Iowa or Indiana if you are in the United States. People must also be 21 years of age to place a bet.
Pointsbet has a rewards program for United States customers that may keep you coming back. For fixed-odds wagering, you get a point for every $5 wagered. For parlays, you get one point for ever dollar bet. Pointsbetting is a bit different in that it pays a reward point for every dollar won or lost.
Points can be redeemed for free bets. 100 points earn you one dollar in gambling credit. You will have to get 250 points before you get your first payout, which will be $2.50 in free bets.
Since there is the possibility of losing, you will have to have some money deposited with the site. The site pledges that this money will be kept in a separate account and not used by Pointsbet. You may use any of the following to make a deposit:Credit card Debit Card ACH eCheck Pointsbet card.
There is a maximum deposit of $50,000 for all but the Pointsbet Card. This ard is like a prepaid card. You may apply for the card after creating your account. You may also use this card for payouts of your winnings. You may also use this as a debit card anywhere you like.
The Pointsbet card is the easiest to use for a payout, but any of the ways you deposit can also be used to receive a payout. Your winnings are held until all your bets are settled.
Customer support and security
here is a customer service support team on duty at all times, 24/7. Chat functions are available.
You will have to have a strong password on your account, and you must enter it every time you access your account. You also will have the option of choosing "strong authentication," which makes access a little more difficult but also adds security.
Why PointsBet Sportsbook?
Pointsbet has all the traditional gaming you could want in an easy to use website and app. The addition of the new and different points betting concept makes it even more interesting. The new way should be fun to play with and adds a new level of fun to the sport of gaming. While there is some added risk, people who are responsible and aware of how the system works should not have a problem.
The app itself is easy to you, but you will need to have an understanding of how online gaming words even if you go the traditional gaming route. It is certainly something to try if you are interested in online gaming. It is especially interesting if you like high-risk, high-reward type gambling.