The process of signing up for a sportsbook account is easier than ever before. That is especially true with PointsBet Sportsbook. There is only one wrinkle in the process and that will be going away on January 1, 2021, so you'll be able to skip that step once the calendar flips to a new year. Hopefully we'll be able to get rid of a lot of things from 2020 when the calendar flips to 2021.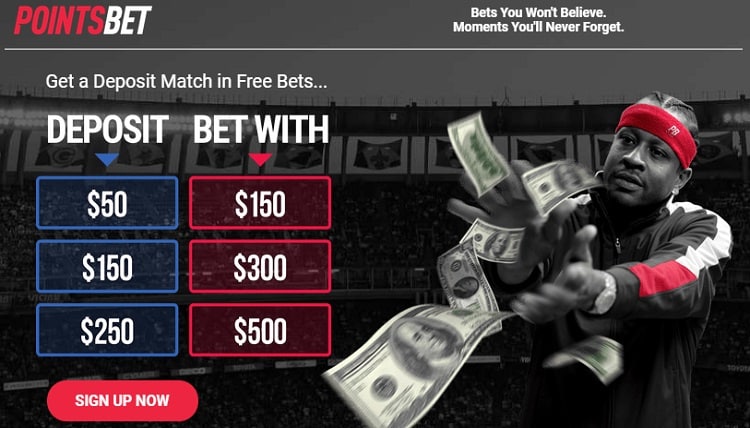 How to create a PointsBet account in Iowa is a popular search term, so we thought that we would take some time to answer that question for you. Creating an account is the easy part. Getting your account registered is a little bit more challenging, but that will be the thing that gets easier once 2021 rolls around.
In order to create a PointsBet Iowa account, you have to go to the website or check out the app. Once you get there, you can click the box that says "SIGN UP" in big, bold, beautiful letters. There is a box for a promo code and you want to make sure that you enter ATS in that box. If you do that, you will unlock an industry-leading deposit bonus to get up to $250 in risk-free bets.
That is the only thing we can tell you to enter at sign up because you have to enter your personal information to create your account otherwise. That means your name and address, email address and phone number, and any additional information requested of you.
The step that is scheduled to go away in 2021 will be the in-person registration step. You can create your PointsBet account in Iowa online and we encourage you to do that because it will streamline the process and you also get access to those deposit bonuses.
Before you can use your PointsBet account, however, you have to register in person and prove your identity. This requirement ends January 1, 2021, but why would you want to miss out on the football season for some pesky little drive?
The PointsBet Sportsbook in Iowa is at the Catfish Bend Casino in Burlington. Burlington is in the southeastern part of the state near the Mississippi River. It is right outside the border of Illinois. Keep in mind that you can sign up for a sportsbook if you live outside of the state. You just have to physically be in that state to place bets, so those in Illinois and Missouri that want to use PointsBet Iowa, all you have to do is get within the borders of the state and geolocation technology will confirm your location and give you access to your account.
To sum it all up, create your account on the PointsBet website or the PointsBet app and use the promo code ATS when you do so that you can get up to $1500 in free bets. Register in-person at Catfish Bend Casino to validate your account prior to January 1, 2021. After that, we'll have to wait and see if Iowa opts to extend that requirement or not, but based on other states that have remote registration, it would be a surprise.
Now you know what to do, so what are you waiting for? Sign up today!
More On PointsBet