PointsBet is one of the fastest-growing online betting platforms in the United States. It has many incredible qualities and provides customers with a wide range of exciting features. This includes its high-risk, high-reward style of wagering known as PointsBetting, which allows a user's bet to win or lose more money based on the accuracy of their prediction.
In this article, we will take a look at the PointsBet Refer A Friend program, which allows you and each friend you invite to earn a $100 bonus bet when they sign up on the platform. Keep reading to find out how this promotional offer works, the steps to take to claim your bonus, and everything else you need to know about the PointsBet referral program.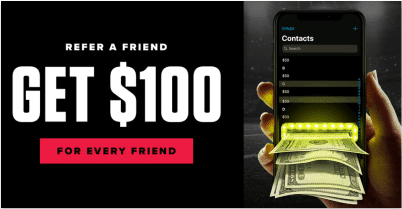 PointsBet Refer A Friend: How Does It Work?
For each one of your friends that signs up with PointsBet Sportsbook using your account's unique referral link, you and your friend will each get a $100 bonus bet credited to your accounts. The bonuses will be awarded as soon as your friend registers for an account and makes their first wager of at least $20. You can refer up to five friends in a single day and as many as 25 friends in one year. As a result, you have the opportunity to collect as much as $2,500 in bonus bets annually through the PointsBet Refer A Friend system.
In order to be eligible for this promotional offer, customers must have had their PointsBet account for at least 14 days, currently reside in a state where PointsBet operates, have deposited and turned over at least $250, and maintain a positive balance in their account. In addition, every friend you invite must be a new user, meaning they have never registered for an account with PointsBet at any point in the past.
---
How To Claim Your PointsBet Referral Bonus
Time needed: 4 minutes.
If you qualify for the PointsBet referral program, then you should have no problem claiming your bonus bets. You will just need to follow the simple steps outlined below.
Visit PointsBet

Log in to your account with PointsBet Sportsbook or create a new account with PointsBet Promo Code on the website or mobile app.

Access your refer a friend link

Open the drop-down menu by clicking your login email on the right-hand side of the page.
Click on the "Refer A Friend" tab to access your account's unique referral link.

Send the invite to your friend

Send the referral link to your friend, and have them sign up for an account with PointsBet. They will need to enter all necessary personal information and complete the verification process as well.

Steps needed to qualify for the refer a friend bonus

Your friend will need to make a deposit using one of the safe, secure payment options provided by PointsBet and then place their first wager of $20 or more on any game or matchup of their choice.

Get your bonus bets

You and your friend will each be awarded a $100 bonus bet.

Refer as many as 25 friends a year

Repeat this process and earn up to $2,500 in referral bonuses through the PointsBet Refer A Friend program.
---
PointsBet Promotional Offer Details
There are a few additional details about the PointsBet Refer A Friend promotional offer that you will need to know. First, invites are only valid for 30 days and will expire once this amount of time has passed. Second, this PointsBet bonus opportunity is only available to customers who are 21 years or older and are physically present in Colorado, Illinois, Indiana, Iowa, Kansas, Louisiana, Maryland, Michigan, New Jersey, New York, Ohio, Pennsylvania, Virginia, or West Virginia.
Furthermore, as previously mentioned, you cannot take advantage of the referral program until you have had your account for a period of 14 days or longer. You must also have deposited at least $250 to your account and wagered at least that much as well. Lastly, you cannot claim the Refer A Friend bonus if you have a negative account balance on PointsBet.
---
More On PointsBet