With expansion into fourteen legal US sports betting markets, PointsBet has also launched its fourth retail sportsbook in Illinois in partnership with Hawthorne Race Course. The retail outlet is located in Villa Park, Illinois.
The very architecture of the PointsBet Retail Sportsbook is conceived with the bettor in mind. The sportsbook located within the Crazy Pour Sports Bar at Club Hawthorne, has an expansive 15,000 square foot facility equipped with:
26-foot-wide HD Display
160 high-resolution TVs
Five 160″ Jumbo Trons
LED sports tickers
A dedicated private party and VIP room
A fully covered heated patio
With a capacity to host 400 individuals, the sports and horse betting bar has already made a name for itself, hosting events like NCAA basketball, UFC fights, and the esteemed Kentucky Derby. Hawthorne Race Course's CEO, Tim Carey, highlights the uniqueness of Club Hawthorne, pointing out its comprehensive offering of sports betting, horse racing, and video slots – an entertainment trifecta unavailable anywhere else in Chicagoland.
The setup prioritizes convenience. Patrons can either approach any of the three dedicated betting windows or use one of the eight self-service kiosks. Beyond the betting experience, the venue tantalizes the palate, with Crazy Pour offering a diverse menu, featuring an array of whiskeys, craft beers, gourmet pizzas, and the much-talked-about "Legendary Beef Roll".
PointsBet Sportsbook Club Hawthorne Locations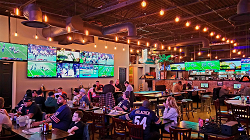 Villa Park
105 E N Ave, Villa Park, IL 60181
PointsBet Sportsbook Hours

Monday – Friday 1pm – 8pm
Saturday – Sunday 10am – 9pm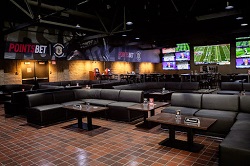 Crestwood
13148 Rivercrest DR, Crestwood, IL 60445
PointsBet Sportsbook Hours

Monday – Friday 10am – 9pm
Saturday – Sunday 9am – 9pm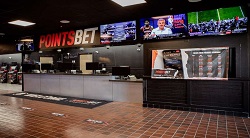 Prospect Heights
1250 River Rd, Prospect Heights, IL 60070
PointsBet Sportsbook Hours

Monday – Friday 1pm – 8pm
Saturday – Sunday 10am – 9pm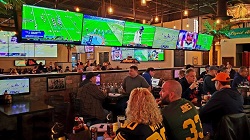 Hawthorne
3501 S Laramie Ave, Cicero, IL 60804
PointsBet Sportsbook Hours

Monday – Friday 10am – 9pm
Saturday – Sunday 9am – 9pm
Hawthorne Race Course: A Legacy in Motion
Established in 1891, Hawthorne Race Course is an emblem of heritage and tradition, making it the oldest sporting venue in Illinois. With a lineage of hosting both Thoroughbred and Standardbred racing, it stands as a unique entity in the nation's racing domain. Moreover, its recent approval by the Illinois Gaming Board for a $400 Million development underscores its commitment to ushering in a new era for the sport.
---
PointsBet Overview
Established in New Jersey in 2019, PointsBet has carved a formidable reputation for itself, holding a commendable seventh rank in the expansive U.S. sportsbook market. The brand boasts an impressive 3.7% market share, underscoring its swift and steady growth over the years.
Illinois is emerging as a behemoth in the U.S. sports betting landscape. A testament to this dominance is the $2 billion in wagers expected for the start of the football season. This feat not only marked the state's second successive month surpassing the billion-dollar handle but also placed it in the elite club alongside heavyweights like New York, New Jersey, and Nevada.
Mirroring the global trend, online sports betting in the U.S. has witnessed an overwhelming preference. Capturing a staggering 96.1% of the total handle in November, it dwarfed its retail counterpart, which merely scratched the surface at 3.9%. Such statistics resonate with the figures from the preceding month, reinforcing the growing affinity for online betting avenues.
Given such promising dynamics, it's no surprise that Illinois stands as a tantalizing prospect for PointsBet. The brand's presence, already resonating in 14 U.S. states and Ontario, Canada's crowning province, speaks volumes about its expansionary vision. In a recent move, PointsBet made its debut in Maryland, unveiling both online and retail sports wagering. Furthermore, Ohioans welcomed the brand's services at the onset of the year.
---
FAQ
How much does it cost to get into Hawthorne race track?
For those eager to experience a piece of Illinois' rich sporting history, the entry fee for Hawthorne Race Course stands at just $2 for general admission. Proudly positioned as the oldest active sporting venue in Illinois, Hawthorne Race Course boasts a long-standing tradition, having opened its gates in 1891, making it the fifth-oldest racetrack in the United States.
Does Hawthorne Race Track have slots?
As of the latest update, Hawthorne Race Course, despite receiving authorization for casino gambling over three years ago, has not yet commenced its slot machine operations. Originally, the ambitious $400 million "racino" project – a fusion of a horse racetrack and casino – was slated to open in 2021. However, no cards have been dealt, and slots remain inactive, awaiting a future launch.
Is PointsBet legal in Illinois?
Yes! PointsBet is authorized for use in Illinois. However, users must adhere to certain criteria: they should be at least 21 years of age and must be physically present within the state boundaries. PointsBet employs advanced geolocation technology to confirm that users are accessing the app within Illinois and not from outside its borders.