The NBA Finals feature the Miami Heat against the Los Angeles Lakers. The NBA Finals also feature an excellent new user offer from DraftKings Sportsbook.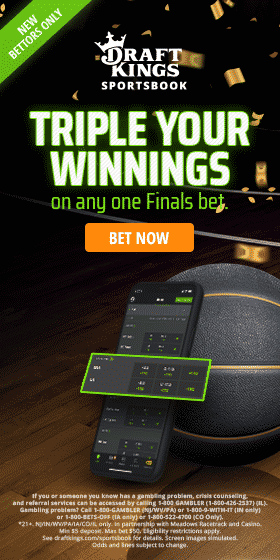 Let's start with the small print before we get into exactly what the offer entails. You must be a new user in Colorado, Indiana, Illinois, New Jersey, Iowa, West Virginia, or Pennsylvania. This is a promo for new users only, but it can be paired with the sign-up bonus here at ATS that gets you a sign-up bonus worth up to $1,000 with a deposit bonus and a risk-free bet.
This promotion counts for all games of the NBA Finals, so if you can't get signed up prior to Game 1, don't fret because you can use it at any point during the series.
Here is the Draftkings Sportsbook offer:
New users get a single-use TRIPLE WINNINGS 200% PROFIT BOOST to use on ANY NBA Finals market. You must select the boost in your Bet Slip before you place your bet in order to get the boost. The maximum bet amount is $50 and the maximum winnings are $500.
This must be a straight wager. It cannot be a parlay. It also cannot be a live bet. The bet must be placed individually on the Bet Slip and you cannot use free bets or any other bonus money. It must be a cash wager.
But, because you can use it on any NBA Finals market, that means you can use it on a series prop or an Exact Series Result. You can use it on a player prop or pregame spread or money line wager. It doesn't matter what you use it on, so long as you select the boost in the Bet Slip. The only stipulations are that you cannot use it on a live bet or on a parlay.
The Profit Boost expires at the end of the NBA Finals, so if you don't use it, you lose it. Again, this offer is for Colorado, Indiana, Illinois, New Jersey, Iowa, West Virginia, and Pennsylvania. Keep in mind that you don't necessarily have to live in those states, you just have to have the ability to get into those states before making your wagers. Most of those states offer remote registration, so you can sign up from anywhere and then deposit and bet when you are physically located in one of those legal betting jurisdictions.