In the United States, NFL betting is king, and DraftKings Sportsbook is one of the kings of the sports betting industry. Betting on the NFL at DraftKings is easy for both new and experienced sports bettors. Here, we will break down how to bet on the NFL at DraftKings Sportsbook, and what bettors can expect when they check out the NFL betting options at this industry-leading sportsbook.
Claim Your DraftKings Sportsbook NFL Bonus
The first thing bettors should do before betting on the NFL at DraftKings Sportsbook is to claim the new player promo that is up for grabs at DraftKings. This sportsbook regularly has some of the best bonuses in the sports betting industry, and right now is no exception. Just click on the Claim Offer button below and register at DraftKings using the code ATSBONUS in order to start your DraftKings NFL betting experience off on the right foot.
---
Register at DraftKings Sportsbook
The registration process at DraftKings Sportsbook is very easy, and only takes a few minutes in most cases. DraftKings requires some basic information to verify that you are the person creating a new account at their sportsbook. Some of that information includes the following:
Full name
Legal address
Email address
Requested digits from Social Security number
All of this information will be requested via prompts on your screen when signing up for an account at DraftKings Sportsbook, making it very easy for players to get started on the site.
---
Make Your First DraftKings Deposit
After creating a DraftKings Sportsbook account for NFL betting, bettors can make their first deposit. There are a great many banking options to choose from at DraftKings, with bettors able to use everything from credit and debit cards to options like PayPal and online banking transactions. Deposit minimums at DraftKings are as low as $5, depending on the payment methods used, which is all that is needed to take advantage of the site's new player promo as well.
---
Go to the DraftKings NFL Section
It is easy to find the massive menu of NFL betting options at DraftKings Sportsbook. On the home screen of their website and app, popular sports are listed in an easy to find fashion, with the NFL being one of those options almost all year long and especially during NFL season. Bettors can also go to the list of all sports, select the football option, where the NFL is always at the top of the list throughout the year.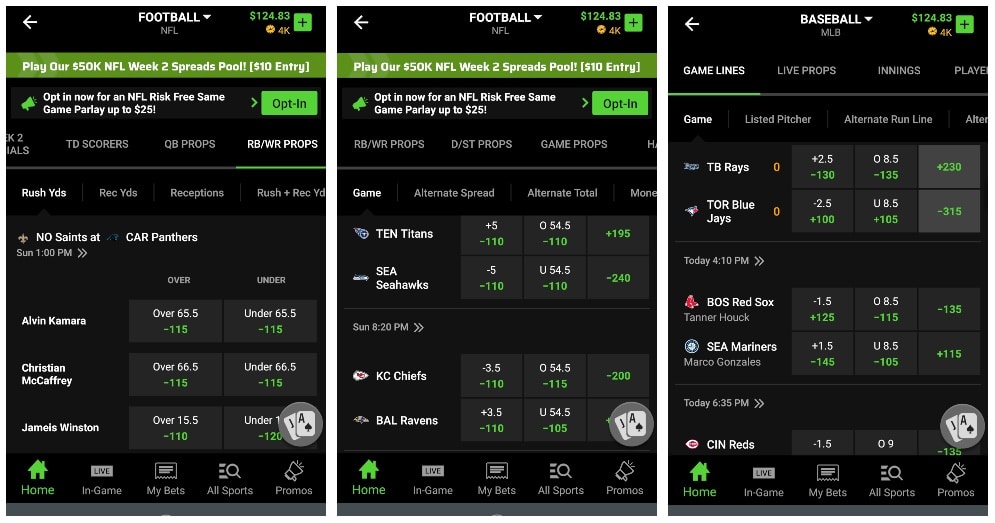 ---
Select Your NFL Bets
Now that you have found the NFL section of DraftKings Sportsbook, it is time for the fun to begin, as you can begin selecting which NFL bets you want to place. Each NFL game has a large number of betting options to choose from, including everything from spreads and totals to exotic NFL prop bets. To get that full list of options, bettors can click on each individual game to see which options are available.
After clicking on each game and looking at the available betting markets for each contest, bettors can click on the bets they want to make by clicking on the odds for the bets they wish to place. With so many options to choose from for each football game, bettors are limited mainly by their imagination when it comes to what they wish to wager on.
Once a bettor has chosen what they want to bet on ahead of each NFL game, bettors can choose how much they wish to bet on each wager. Payouts vary depending on a combination of how much a bettor wagers and what the odds are for each bet they place.
---
Verify and Finalize Your NFL Bets
Finally, bettors can verify that the selections they have made are accurate and lock in the wagers they have selected. It is of vital importance that players always double check the bets that they have entered to make sure that they are correct, as wagers are non-refundable once they have been finalized. While bettors can recoup some of the funds they have wagered in error via the Cash Out function at DraftKings in some cases, verifying that bets are accurate before finalizing them is a much better way to go.
---
DraftKings NFL Betting Strategies
Along with the actual process of how to bet on the NFL at DraftKings Sportsbook, bettors should also consider the strategy of how to bet on pro football there. Below are a few pieces of strategy that can help make your NFL bets more profitable, whether you are completely new to NFL betting or experienced and just looking to hone your craft.
Look at Live Betting Odds
Live betting is such an underrated form of betting on the NFL, as it can be way more profitable than pre-game betting. One score in the NFL can skew live betting odds one way or the other, and bettors should constantly keep an eye on the in-play odds for each game to find value betting opportunities. DraftKings has one of the best live betting interfaces in American sports betting, making it very convenient for bettors to hunt for in-play opportunities.
Get the Best Odds
DraftKings Sportsbook has some of the best NFL odds in the world of sports betting, but it never hurts to shop around for the best odds. Bettors should look at other sportsbooks to compare the prices on the bets that they wish to make. Doing so can benefit bettors in one of two ways, as finding more favorable prices can either result in increased payouts or reduce potential losses on each bet.
Bet Responsibly
Finally, bettors should make sure that they are doing everything they can to bet responsibly. In addition to intelligent operating procedures such as setting budgets and not chasing losses, bettors should also simply be sure to give plenty of thought to the bets that they make. Doing research to determine when odds are favorable or unfavorable can save bettors money in the long run or make them extra money in the long run, which is huge in a market as sharp as the NFL.
---
Other DraftKings Topics