DraftKings Sportsbook is one of the most popular and fastest-growing online betting platforms in the United States. Known for its user-friendly mobile app and wide range of betting options, DraftKings has managed to rise above the competition in recent years and establish itself as a leader in the industry. The DraftKings Cash Out option is one of the many special features that has helped contribute to the site's success.
In this article, we'll walk you through everything you need to know about the Cash Out feature offered by DraftKings Sportsbook. This includes how DraftKings Cash Out works, the advantages it offers, why it may be suspended or unavailable, and much more. So sit back, relax, and get ready to dive into the world of sports betting with DraftKings!
DraftKings Cash Out: How It Works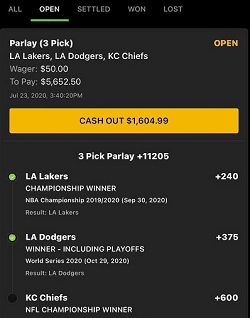 Like several other online sportsbooks in the United States, DraftKings allows customers to perform early cash outs on active wagers before the outcome has been decided. The DraftKings Cash Out feature allows you to secure winnings or cut your losses after the odds have been shifted in your favor or against you.
The early cash out option offered by DraftKings Sportsbook can be used on pre-game, live, future, and parlay bets covering many different sports and leagues from all over the world. The funds awarded may be greater or less than the amount of your initial wager depending on how things play out.
For instance, you may choose to place a wager on the Los Angeles Lakers to win a matchup against the Memphis Grizzlies. If the Lakers were ahead by 10 points going into the fourth quarter, you may opt for an early cash out in order to secure a partial profit that would not be earned if the Grizzlies managed to come back and win the game.
It is also worth noting that the DraftKings Cash Out option may be offered in some cases before the market goes live, meaning you may be able to cancel your bet after placing it. However, this option is not always available, so you will need to always make sure you make the correct wager before submitting it.
---
How To Cash Out Your Bets With DraftKings
You will be able to perform an early cash out with DraftKings Sportsbook by following the steps listed below.
Place a Bet: You will first need to log in to your account using the DraftKings website or mobile app and place a wager on any of the betting opportunities available. This includes point spreads, moneylines, over/under totals, parlays, and more!
Visit the "My Bets" Section: Click the "My Bets" tab near the top of the page to view all your open wagers.
Perform the Cash Out: Take a look at the amount that can be cashed out based on how the odds have changed in or against your favor. If you would like to perform an early cash out, click the yellow "Cash Out" button and confirm the transaction.
Receive Your Funds: The funds will be instantly credited to your DraftKings account. You may start placing other bets or perform another cash out by repeating the process.
---
What Does "Cash Out Suspended" Mean?
There will be certain times when you are unable to use the DraftKings Cash Out feature. Instead of the yellow "Cash Out" button, you will see "Cash Out Suspended" when looking at your active bet. When this is the case, it is either too late to perform a cash out or you will need to wait a few minutes before the feature becomes available again.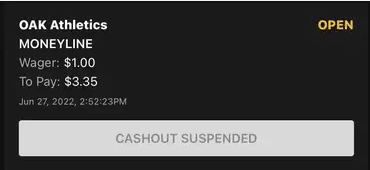 There are many reasons why DraftKings Sportsbook will make this option temporarily unavailable. For example, there may be a pending review on a touchdown in an NFL game or a safe/out call in an MLB game that could potentially swing the odds heavily one way or another. Or a college basketball team may go on a quick 10-0 scoring run, and a moment is needed to adjust the odds.
On the other hand, if you pick an NHL team to win a game and they're losing by five goals in the third period, you will more than likely not be able to cut your losses since it is all but certain the wager will be unsuccessful. No matter the specific reason, it is important to understand that the early cash out option offered by DraftKings Sportsbook will not be available to customers 100% of the time.
---
Benefits of the DraftKings Cash Out Feature
You will find that there are many advantages offered by the DraftKings Cash Out feature. Some of the greatest benefits are listed below!
Helps You Secure Profits: Early cash outs allow bettors to lock in their profits before the end of a game or event. For example, if you place a five-leg parlay and the first four legs are successful, you have the option to cash out a sizeable profit in case your luck takes a turn for the worst.
Allows You To Manage Risk: On the flip side, if a game is not playing out the way you expected, you can wait for the right moment when the momentum is on your side and cut your losses in order to prevent a bigger hit to your bankroll.
Offers Quicker Payouts: You will also be able to collect your winnings sooner and receive a payout before the game comes to an end. This is a great option for when you need to free up some funds for another wager or just don't feel like waiting around for the inevitable.
Gives You More Control: The DraftKings Cash Out feature ultimately gives users more control over their wagers and allows for greater flexibility when circumstances or odds have changed one way or another.
Improves Overall Betting Experience: Overall, the early cash out option makes for a more interactive and exciting betting experience. You will be able to constantly check the status of your bet over the course of a game and make decisions that can help you maximize profits and minimize losses.
---
Other DK Topics
---
DraftKings Sportsbook Cash Out FAQ
How Does DraftKings Cash Out Work?
DraftKings Sportsbook customers will have the opportunity to settle bets before the final outcome is decided. You can lock in profits or cut your losses depending on how the game or sporting event unfolds.
Why Is DraftKings Cash Out Suspended?
The DraftKings Cash Out feature may be unavailable at various points throughout a game. It may either be too late in the game to perform a cash out, or you may need to wait a few moments for odds to be updated based on a recent scoring run or play that was made by one of the teams.
How Can I Cash Out With DraftKings?
Visit the DraftKings website or mobile app, click on the "My Bets" tab, and select the "Cash Out" option on your open bet to perform an early cash out with DraftKings Sportsbook.