If you're a sports fan in the United States, then there is no doubt that you are familiar with DraftKings, one of the top dogs in the sports betting industry. DraftKings provides bettors all over the country with a top-tier sportsbook and fantastic daily fantasy sports (DFS) platform, and the company is constantly expanding its presence throughout the United States and beyond while also continually enhancing its overall user experience.
One of its best features offered is DraftKings Playbook, which provides sports bettors with a variety of valuable information such as player analysis, news updates, injury reports, new strategies to implement, and much more. In this guide, we will introduce you to DraftKings Playbook and take a closer look at what makes this resource so valuable to players everywhere. You will also get to learn more about the DraftKings sportsbook, casino and DFS platforms and what they have to offer!
What Is DraftKings Playbook?
DraftKings Playbook, also referred to as DK Playbook or DraftKings Nation, is one of the top resources available to American sports bettors and daily fantasy players. Created by DraftKings through a partnership with SB Nation several years back, DK Playbook provides daily articles and videos, news updates, and betting picks for a wide range of sports and leagues, including but not limited to the NFL, NBA, MLB, NHL, UFC, and PGA Tour.
The service includes analysis and commentary from experts, former players, and media personalities in the world of sports. Designed to be both informative and entertaining, DraftKings Playbook can help you improve your daily fantasy skills and give you the ultimate edge in all your sports betting endeavors. Although DK Playbook is intended for DraftKings customers in particular, the service will be beneficial to all online bettors who are looking to increase their overall knowledge and chances of success.
---
Benefits of DraftKings Playbook for DFS and Sports Betting
There is a variety of advantages that you will receive when you choose to use DraftKings Playbook. Some of the greatest benefits are listed and explained below.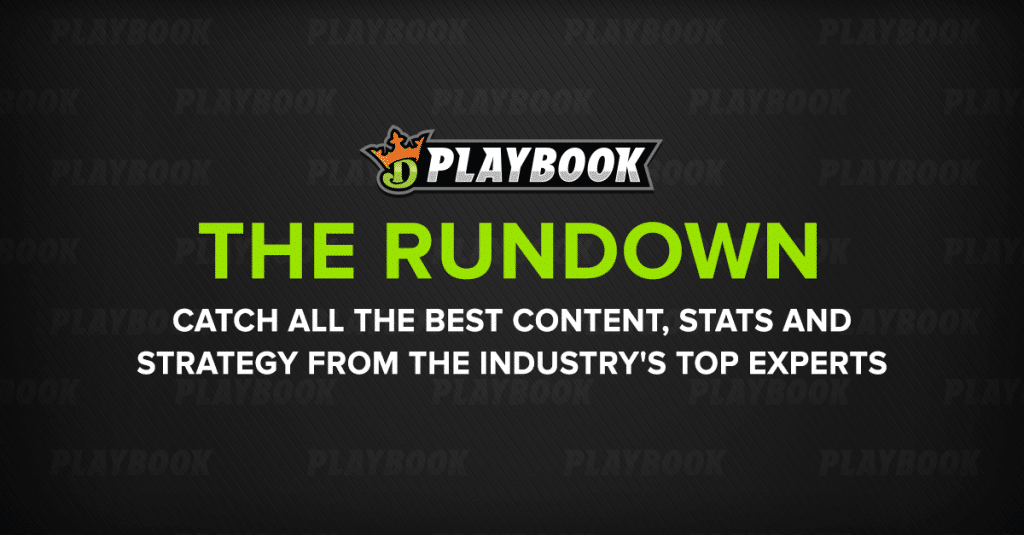 Expert Analysis: You can expect analysis from industry experts with decades of experience covering basketball, football, baseball, soccer, hockey, and many other sports as well as from the world's top sports betting consultants and handicappers who are ready to share their knowledge and expertise.
Breaking News & Real-Time Updates: All of the latest news involving your favorite players and teams will be provided, and you will get a better understanding of how injuries and recent trends may impact your daily fantasy lineups, spread picks, over/under total predictions, and other potential bets you plan to make.
Comprehensive Coverage: DK Playbook offers comprehensive coverage of all your favorite sports and leagues from around the world. All of the most popular tournament tournaments and events in the world of sports are sure to be discussed.
Betting Picks and Lineup Advice: Another benefit of DraftKings Nation is the betting picks and lineup advice you will receive for upcoming games and events. You can compare your own ideas and opinions with those of industry experts in order to consider different perspectives and help you make informed decisions on all your bets.
Creative & Innovative Strategies: You will also gain access to creative strategies and new ideas to implement on DraftKings or another online betting site. This may involve choosing legs for your same-game parlay, filling out the final spots of your weekly DFS lineup, or determining the best underdogs for moneyline bets.
Free To Use: It is completely free to use DraftKings Playbook. You are guaranteed to have full access to all articles, videos, podcasts, and other forms of content that are intended to benefit you and help improve your overall betting experience.
Community: Last but not least, DK Playbook will provide a sense of community, as you will be able to share your ideas and opinions while also connecting with other daily fantasy enthusiasts and sports bettors from all over the United States.
Overall, it is clear that DK Playbook has something to offer both new players and experienced bettors. You are certain to learn more about sports and the world of online gambling while also becoming a part of the DraftKings community and being entertained by some of your favorite writers, personalities, and figures in sports media.
---

About DraftKings Daily Fantasy Sports
Founded in 2012 in the state of Massachusetts, DraftKings is best known for its online daily fantasy sports (DFS) platform which has millions of active users and is widely available across the United States. DraftKings Daily Fantasy offers the perfect solution to those who always end up with managing a mediocre team in their season-long fantasy football, basketball, baseball, and hockey leagues.
DFS contests offered by DraftKings allow you to draft a new squad each day by choosing from a pool of players in your preferred league (NFL, NBA, MLB, etc.) and staying under the predetermined salary cap. You will then be able to enter your lineup into various contests, tournaments, and head-to-head matchups that provide a chance to win cash rewards, luxury experiences, bonus credits, and more!
How DraftKings DFS NFL Contests Work
Although DraftKings DFS NFL contests may vary in who you are competing against and the specific prizes offered, players will generally follow a similar lineup format and adhere to the same scoring rules.
The most common option for DraftKings daily fantasy players is NFL Classic, which includes a player pool covering multiple matchups and a salary cap set at $50,000. For NFL Classic, you will choose a total of 9 players: one quarterback, two running backs, three wide receivers, one tight end, one flex (RB/WR/TE), and one defense/special teams.
Each player's salary is set at the beginning of the week based on their expected production and recent performances. An offensive player will earn your team points by recording passing yards, rushing yards, receiving yards, touchdowns, two-point conversions, receptions, etc. Meanwhile, your defense/special teams will be awarded points for sacks, interceptions, fumbles, safeties, blocked field goals, touchdowns, shutouts, and a few other types of plays and results.
You may also choose to enter NFL Tiers, NFL Showdown Captain Mode, and NFL In-Game Showdown contests while using DraftKings Playbook to receive advice and updates that will help give you an advantage when creating your NFL DFS lineups.
How DraftKings DFS NBA Contests Work
The NBA DFS contests offered by DraftKings are not too different from those of the NFL. NBA Classic contests also have a $50,000 salary cap with players' salaries based on projected production, but your lineup will include only 8 players: one point guard, one shooting guard, one small forward, one power forward, one center, one guard (PG/SG), one forward (SF/PF), and one utility player (PG/SG/SF/PF/C).
Your team will be scored based on your players' total points, rebounds, assists, blocks, steals, three-pointers, and turnovers. In addition, double-doubles and triple-doubles will result in bonus points being awarded, and you will be able to edit your lineup at any point before your player's game begins. DraftKings also offers NBA Showdown Captain Mode and NBA In-Game Showdown contests to users.
---
About DraftKings Sportsbook
DraftKings Sportsbook is one of the most popular online sports betting platforms in the United States. It first launched online in Fall 2018 and has quickly expanded into over 20 states across the country.
You can learn more about DraftKings Sportsbook and its pros and cons by taking a look at the table below!
| | |
| --- | --- |
| Pros | Cons |
| Reliable & User-Friendly Mobile App | No Live Chat Option |
| Variety of Bet Types and Markets Covered | Low Maximum Bet Amounts for Odds Boosts |
| Fantastic In-Game Wagering Experience | No First Bet Insurance Provided |
| Competitive Odds | |
| Generous Bet & Get Welcome Offer | |
| Frequent Promotions & Bonus Opportunities | |
| Widely Available Across the U.S. | |
| Easy Registration Process | |
| Speedy Payouts | |
| Many Payment Options Offered | |
As you can see, there are many advantages and exciting features offered to DraftKings Sportsbook customers and only a few disadvantages. Overall, DraftKings provides a high-quality experience to users in qualifying states and is certainly worth considering for all your sports betting needs. It is also highly recommended that you use DraftKings Playbook in order to receive expert analysis and bet picks on all your favorite sports while placing wagers with DraftKings Sportsbook.
---
More On DraftKings