The NHL Playoffs officially start on August 1. While some teams play an extension of the regular season with a Round Robin format to determine seeding, most of the teams in the tournament will be fighting for their playoff lives in the Qualifying Round Series.
That sense of urgency could work out in your favor based on the promotion currently being offered at DraftKings Sportsbook. Opt-in to the promotion and bet at least $50 on any team to win its Qualifying Round Series and you will receive $5 in free bets for every goal that they score in the series.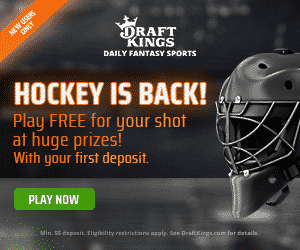 Quick Terms:
– 2020 NHL Playoffs Qualifying Series (round robin teams excluded)
– Opt-In and place a $50+ bet on any Qualifying Series Winner and get $5 towards a free bet for every goal your team scores the entire series
– Your first $50+ bet on a Qualifying Series Winner is your qualifying bet
– Promotion expires at the start of the NHL Playoffs
– One qualifying Bet per user
– Excludes live bets, parlays, cash out bets, free bets, and voided bets
This promotion is open to account holders in Indiana, Colorado, New Jersey, Iowa, Pennsylvania, and West Virginia in addition you can get up to $1000 in free bets and deposit bonuses if you sign up through us at ATS. Then you can take advantage of this NHL Qualifying Round promotion once your account is funded.
There are eight series that you can pick from. Just remember that once you opt-in to the promotion, your FIRST qualifying bet is the team that you will ride with for the goal-scoring Free Bet promotion. That means that you'll need to choose wisely with that $50+ wager.
The odds are sure to move around as the playoffs approach, but we'll just list the series out for you and you'll have to check the site for the current prices.
Winnipeg Jets vs. Calgary Flames
New York Rangers vs. Carolina Hurricanes
Arizona Coyotes vs. Nashville Predators
Florida Panthers vs. New York Islanders
Montreal Canadiens vs. Pittsburgh Penguins
Chicago Blackhawks vs. Edmonton Oilers
Columbus Blue Jackets vs. Toronto Maple Leafs
Minnesota Wild vs. Vancouver Canucks
Remember that all series will be played in either Edmonton or Toronto, so there won't be any home ice advantages, but the home team will rotate like a traditional series so that each team can have an opportunity with the last line change and the other perks of being "at home".
Also, these are five-game series for the qualifying rounds, so keep that in mind. Some series will be over quickly and others could go five games, which could enhance the number of goals scored for those $5 Free Bets.
On the other hand, you're still going to have a $50+ money line series bet on the line, so the less of a sweat, the better, right?
To recap –  your first $50+ series bet will become the team that you have for the Free Bet Promotion once you opt-in, so keep that in mind. If your team scores 10 goals in the series, you'll get $50 in Free Bets. The team that you bet on to win the series does not have to win and advance in order to get your free bets. You get those for each goal irrespective of whether or not your team advances.
You CANNOT bet on both teams to play both sides of the fence, so to speak. If you do, your promotional offer will be invalidated.
The NHL's tournament looks like it should be a whole lot of fun and you can make it even more enjoyable by rooting for goals for your DraftKings free bet promotion.