This Golden Ticket is worth a lot more than a trip to the Chocolate Factory.
The DraftKings $100 Million Golden Ticket Giveaway is live and you have the chance to win a free reward instantly and then a chance to get entered in the grand prize drawing for the $1 million top prize.
This DraftKings Sportsbook promotion does apply on the DFS side as well, but our focus is on the Sportsbook side. Here's how this works. You have to enter the $1 Million Football Survivor Pool. Once you reserve your entry, you can claim a free reward, ranging from $5 to $25,000 in value.
Once you are in the $1 Million Survivor Pool and have gotten your free reward, you can opt-in to the Free Golden Ticket Giveaway Sweepstakes. One person is guaranteed to win $1 million in cash on September 13.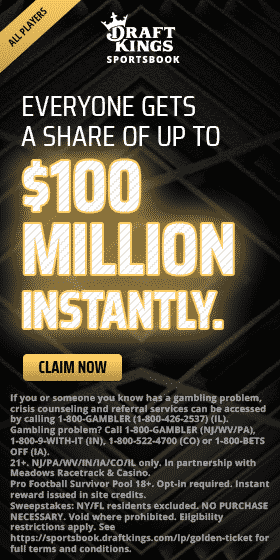 After the Free Golden Ticket Giveaway, it will be all about your Free Survivor Pool entry. The winner of that will also get $1 million.
In total, DraftKings is awarding up to $100 million with this NFL Survivor Pool and the accompanying contests.
Alright. Take a breath. Relax. Think of what you'd do with $1 million cash.
Now, let's get back to business. This is a FREE ENTRY into the $1 Million NFL Survivor Pool. All you have to do is enter.
When you enter, you will get an instant free reward. Amounts of $5, $10, $20, $50, $100, and $500 are awarded as site credit. Amounts of $1,000 and $25,000 are issued in cold, hard cash. The site credits expire on September 30, 2020 at 11:59 p.m. ET, so be sure to use those free bets and contest entries before they go to waste. If you win the cash, invest it, spend it, sit on it, make it rain, do whatever you want to do with that.
With your Free Golden Ticket Giveaway, you'll just have to wait and see if you are the winner of the $1 million on September 13 or not.
Your job is to position yourself to win as much money as possible in the $1 Million NFL Survivor Pool. Pick one team each week to win and keep you alive in the contest. You cannot double up on teams, so you'll have to choose wisely with the best of the best. If you make it through all 17 weeks, you will have had to use 17 different teams to get to that point.
To reiterate, entry into the $1 Million NFL Survivor Pool is FREE. Entry into the $100 Million Golden Ticket Giveaway is FREE. Your initial reward for signing up for the Survivor Pool is FREE.
This is literally free money with a chance at winning more free money. What could be better than that?
This promotion is open to both new and existing DraftKings users. If you don't have a DraftKings account, there is no time like now because, well, you're guaranteed to win something right away once you enter the $1 Million Football Survivor Pool.
You'll also get a sweet sign-up bonus with up to $1000 on your first deposit to pair with your free reward and maybe even your $1 million dollar Gold Ticket.
It will be virtually impossible to find a better sportsbook promotion for the upcoming NFL season, so if you don't have an account at DraftKings, the time to sign up is right now.