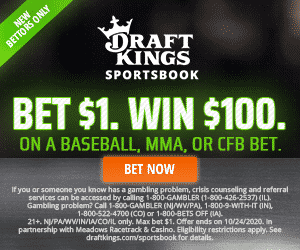 Big Ten football is back this week!
We can't really say that it's back and better than ever because, well, who knows how these teams will look coming out of the gate after a lot of time to practice and a lot of time wondering if the season will even be played.
We've got a few good games in the conference this week, but the spotlight seems to be on the East vs. West matchup between the Michigan Wolverines and the Minnesota Golden Gophers.
My colleague Vincent Senick already did a great job breaking down Michigan vs. Minnesota, so I won't step on his toes or go over what he already said.
What I will do instead is tell you about the top sportsbook promotion offer this week from DraftKings Sportsbook because it centers on Michigan vs. Minnesota.
As we know, DraftKings has pulled out all of the stops this week with a Bet $1, Win $100 offer on the World Series between the Rays and Dodgers and also a Bet $1, Win $100 offer on the main event of UFC 254: Khabib vs. Gaethje.
There is also a Bet $1, Win $100 offer on Michigan vs. Minnesota to be had at DraftKings Sportsbook as well.
The particulars are all the same as the other two offers, but we'll remind you about them right here. You must be a new user. This part is non-negotiable. If you already have a DraftKings Sportsbook account, you are not eligible. You must make a deposit of at least $5 into your account.
Once you make the deposit, you can check out the Sportsbook Promos page to select your boost. You'll click 'BOOST THIS EVENT' for either Michigan vs. Minnesota, the World Series, or Khabib vs. Gaethje. In this case, if you have a strong opinion on Michigan vs. Minnesota, choose that.
When you get to your Bet Slip, be sure to apply the boost. Bet $1 on the money line for the team that you want to pick and you'll win $100 if they are victorious. The max bet is $1.
This promotion applies to users in Indiana, New Jersey, Colorado, Illinois, Iowa, Pennsylvania, and West Virginia. You must physically be in those states when you make your deposit and place your bet. However, you can sign up for a DraftKings Sportsbook account for those states from anywhere because they are remote registration states with the exception of Iowa.
That means if you live in New York or Kentucky or Ohio or Michigan and want to partake in this promotion, you can sign up. You just have to be physically within the borders of Indiana or Illinois or one of the other states serviced by DraftKings before you make a deposit and use this promotion.
Good luck with your betting this week and good luck with your 100/1 odds on Michigan vs. Minnesota!