DraftKings Sportsbook is at it again. They are bringing back the Bet 1 to win 100 on any team promo!
The last two weeks, to celebrate the 2020 NFL season, DraftKings put together a $1 to win $100 promotion to bet on a team of your choosing. All you had to do was select the 'BOOST THIS GAME' option and all they had to do was win.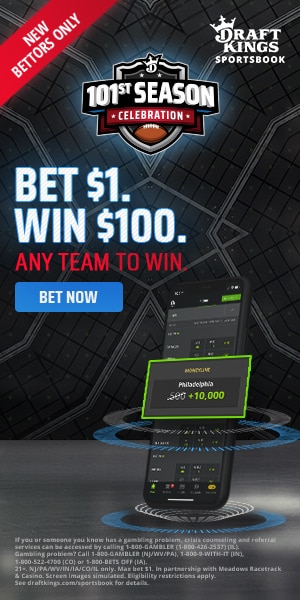 Well, if you decided not to take advantage of that offer from DraftKings Sportsbook, they have given you another opportunity. This promotion is for NEW users only, so if you already have a DraftKings Sportsbook account, you are not eligible.
If you do not have a DraftKings account, but live in Indiana, Illinois, Colorado, New Jersey, Pennsylvania, Iowa, or West Virginia, you should pay very close, very special attention to this promo offer.
The song remains the same for Week 3. Sign up for a DraftKings account. Make a deposit of at least $5. Go into your Sportsbook Promos/Rewards page and pick the team that you want to use by selecting the 'BOOST THIS GAME' option. You get a single-use odds boost to take that team's money line odds to +10000, which is also 100/1. That's your $1 to win $100 offer from DraftKings.
Only one qualifying bet per user is allowed. Also, you cannot use the Thursday Night Football game between the Browns and Bengals. However, all of Sunday's games and the Monday Night Football game between the Saints and Raiders is allowed.
The promotional period begins September 22 at 10:00 A.M. ET and runs through September 28 at 8:15 p.m. ET, so if you want the Monday Nighter, you can up until game time!
Remember, this is only for NEW users that sign up and deposit at least $5. You might as well make it worth your while though and sign up with as much money as you feel comfortable with to maximize our sign-up and deposit offer here at ATS, which includes up to $1,000 in free bets
Happy picking in Week 3 and good luck throughout the rest of the NFL season!