This new user promotion from DraftKings Sportsbook just might be the best one yet. We've probably said that a lot here at ATS, but when they keep raising the bar, what else are we supposed to say?
Beginning September 10 at 8:30 p.m. ET and running through September 13 at 10:10 p.m. ET, you have the chance to get 100/1 on any NFL team that you choose.
That's right. One hundred to one. The max bet is $1, so basically, you will bet $1 to win $100 on the team of your choosing. That will be in addition to the first deposit bonus that you will get by signing up for a shiny new DraftKings Sportsbook account.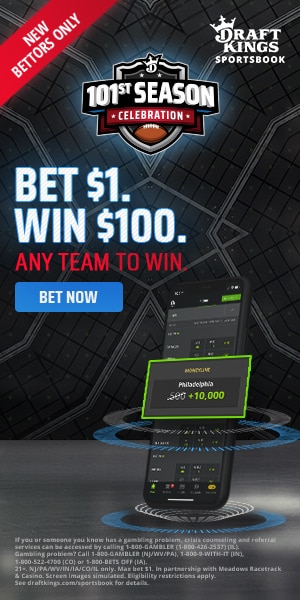 This promotion is valid in Colorado, Indiana, Illinois, New Jersey, Pennsylvania, Iowa, and West Virginia. Here's the way it works:
You must be a NEW USER. We cannot stress that enough. You have to sign up for a DraftKings account and not already have one. All NFL games on 9/13 and 9/14 are eligible to be used for the promotion.
In order to be eligible, you must make a deposit of $5 or more into your sports betting account. Remember, the size of your deposit dictates your welcome bonus, so don't go overboard if you can't afford it, but make sure that you get as much value out of your initial deposit bonus as you can.
After the deposit is made, you can visit the Sportsbook Promos/Rewards section at DraftKings and pick the game of your choice by clicking on "BOOST THIS GAME". You can only use it once and this is a one-shot deal, so the first team that you pick is the one that you get.
The boost applies to the MONEY LINE, so all that team has to do is win the game for you to get your 100/1. Bet $1, get $100. It's as simple as that, but make sure you choose wisely because your team still needs to win the game in order to get paid.
If the boost option does not appear in your Promos/Rewards, refresh the page or maybe close out and come back to it because it will be there. If not, DraftKings has a great customer service team to assist.
Remember, you only get this opportunity once and you must be a new user.
Like we said, the Bet $1, Get $100 is an awesome promotion and it will come in concert with your initial sign-up and deposit bonus, which is worth up to $1,000 if you sign up through us at ATS.
Don't let Week 1 of the NFL season go by without getting your boosted +10000 odds, which are only available at DraftKings Sportsbook.