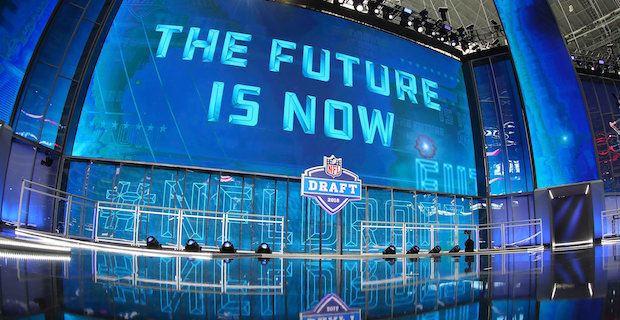 Now that the 2019 NFL Draft is done and over with, football fans can take part in one of their favorite past times—making way-too-early predictions.
The 2019 college football season is months away. We can make some educated guesses as to how it will go. We don't really know who is going to excel, who might get hurt, or who could emerge. But we like to make predictions way-too-early anyway.
That way, if we happen to be right, then we can say we knew it all along!
Some sportsbooks are offering odds on more players than others. BetOnline.ag is only giving odds on a handful of guys:
Tua Tagovailoa, quarterback, Alabama +200
Justin Herbert, quarterback, Oregon +350
Chase Young, defensive end, Ohio State +700
Jake Fromm, quarterback, Georgia +400
Derrick Brown, defensive tackle, Auburn +700
Jerry Jeudy, wide receiver, Alabama +900
The Westgate is giving fans a few more options:
Tua Tagovailoa (QB-Alabama): 1-7
Jake Fromm (QB-Georgia), Justin Herbert (QB-Oregon): +700
Chase Young (DE-Ohio St.): +1600
Jerry Jeudy (WR-Alabama), Derrick Brown (DT-Auburn): +3000
Raekwon Davis (DL-Alabama), Andrew Thomas (OT-Georgia), Walker Little (OT-Stanford): +4000
Tee Higgins (WR-Clemson), Grant Delpit (S-LSU), A.J. Epenesa (DE-Iowa), Dylan Moses (LB-Alabama): +10000
C.J. Henderson (DB-Florida), Travis Etienne (RB-Clemson), Laviska Shenault (WR-Colorado): +20000
J.K. Dobbins (RB-Ohio St.), Jonathan Taylor (RB-Wisconsin), Ceedee Lamb (WR-Oklahoma), Nick Coe (LB-Auburn): +3000
So—who is it going to be? Historically, quarterbacks have gone first more than any other position (32) followed by running backs (23), defensive linemen (15), offensive lineman (7), wide receivers (3), linebackers (3), ad defensive backs (1).
But in recent years, the top pick has been either a quarterback, defensive lineman, or an offensive lineman. Since 2000, there have been 14 quarterbacks taken with the No. 1 pick, including four of the last five. Four defensive ends have been taken and two offensive tackles.
Who will be taken will, of course, depend on who has the No. 1 pick. With the start of the season still months away, the best we can do is look at who is projected to win the least number of games.
While the number of projected wins varies depending on the book, the consensus is that the Miami Dolphins, Arizona Cardinals, Cincinnati Bengals, New York Giants, and Oakland Raiders are expected to compete for the No. 1 pick in 2020.
The Cardinals and Giants are unlikely to go with a quarterback after taking one this year. If Derek Carr has a terrible year, Jon Gruden may. Cincinnati might go that route since Andy Dalton isn't getting any younger. If Josh Rosen has a lackluster season, it wouldn't be shocking if the Dolphins go with a quarterback.
So—who's it going to be?
Tua Tagovailoa is the favorite by most books but be wary of selecting him. Alabama quarterbacks have not fared well in the NFL in recent years. While Tagovailoa has had a great career so far, he flopped in the national title game last year—isolated incident or potential pattern?
It is hard to say until this season gets underway. However, betting on Tagovailoa isn't going to win you much since he is such a heavy favorite.
If you really think it is going to be the Dolphins, Raiders, or Bengals and that they are going to go with a Q.B.—take Justin Herbert instead. At 6'6'' and 233 pounds, he is exactly what NFL teams picture when they dream about their next franchise quarterback.
Go with Herbert.