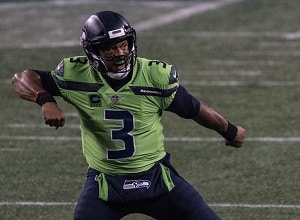 Many consider a travesty that Seattle Seahawks quarterback Russell Wilson has not won an MVP yet. He has been one of the best, most consistent quarterbacks in the league since entering it back in 2012. Not only has he not won MVP, but there has also yet to be a single ballot cast for him.
But that is expected to change this season.
He is the clear favorite to win MVP with how he has played through the first five weeks of the season. That is where most sportsbooks (if not all) have him listed. However, with 11 games still to come, isn't it a little soon to be crowning the man?
If you think that it is, than BetMGM.com is carrying a prop bet that may interest you:
NFL MVP Winner: Russell Wilson vs. the Field

Russell Wilson -110
The Field -125
This wager does not really mean anything for Wilson supporters. His odds of winning MVP are the same as beating 'the field' in this bet. So, they might as well just bet on him to win MVP rather than take this bet. No, this one is for those who do not think Wilson is going to win.
Rather than pick a different player to back, you get them all—and a much smaller payout if you are right since the odds are so short (relative to betting on Aaron Rodgers to win at +350 or Josh Allen at +1600).
The question you must ask yourself is whether Wilson can keep up the pace he is on and if the Seahawks will continue to win games. MVPs rarely come from teams not seeded No. 1 or 2 in the playoffs.
Five games in, Wilson is completing 72.8 percent of his passes for 1502 yards and 19 touchdowns with just three interceptions. At his current rate, he could easily be looking at 4800+ yards and an incredible 60 touchdowns.
However, there is one thing working against him. Seattle's defense is dismal, which has forced him to be heroic a few times already. But would it be reasonable to assume he can do it every time? Not really.
If he does fail a few times and the team record a few losses, his stats may not be enough. Aaron Rodgers will win if he continues at his torrid pace (4800+ yards, 50+ touchdowns). Patrick Mahomes is not far off the pace, and Josh Allen was having an incredible season until last week's loss.
So—how should you bet?
If Wilson can maintain his pace and win games, he is a lock to win a long-overdue MVP. However, while it is not hard to see him keep his pace, it is just as easy to see him fall short a few times because of his defense.
When viewed in conjunction with the kind of season Aaron Rodgers, Patrick Mahomes, Lamar Jackson, Josh Allen, or Ben Roethlisberger have, those losses will result in someone else winning.
The season Wilson is having is epic, but the Seattle defense cannot be trusted to hold up its end. Rodgers, Mahomes, Jackson, Allen—they all have better defenses. When it comes down to it, there are too many strong candidates not to take 'the Field' over Wilson