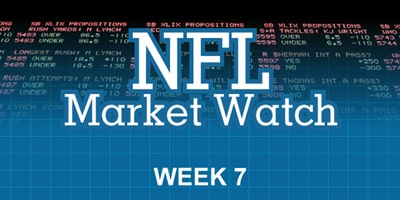 We've seen some pretty interesting developments in the NFL betting market over the last few years. A lot of influential money hits the market on Sunday night and Monday morning, as a lot of sharp bettors give up their positions very quickly. Then we see some massaging of the number throughout the week before another wave of heavy money hits the board on game day.
Perhaps it is a byproduct of so many different states with sportsbooks across the country. Usually sharp bettors with deep pockets wait until limits get higher so they can get enough money down. Early-week limits of $2000 or $2500 or maybe even $5000 usually aren't enough for sharp bettors to tip their hands, but with the ability to get $2000 down at 10-12 places across the market nowadays instead of the handful of operators in Las Vegas, it seems as though the markets take shape much earlier than they used to.
At least it helps for an article like this, where I examine games with clear indications of sharp money and those that appear to be sharp vs. public splits. Enough public action can hit the board to influence lines in the NFL, which is pretty unique to this market. As a result, it is vitally important to know what you are seeing and what it means.
With that, let's take a look through the Week 7 card to see what's happening in the wild world of betting. Lines are a consensus from DraftKings, BetMGM, PointsBet, and BetRivers.
BET $1, WIN $100 IF A TOUCHDOWN IS SCORED IN ANY WEEK 7 NFL GAME AT BETMGM SPORTSBOOK
Here is the Week 7 NFL Sharp Money Odds Report:
Cleveland Browns (-3, 50.5) at Cincinnati Bengals
Some Cincinnati money hit the board on Thursday after the Browns injury report came out. Wyatt Teller did not practice and JC Tretter is dealing with a knee injury. After seeing how poorly the Browns offensive line played against the Steelers without Teller, that injury is a major concern for bettors. As a result, the 3.5s that were in the market on Cleveland disappeared. There are more bets on Cleveland across the market, but it does appear that the sharper bets that carry much more weight are on Cincinnati for the time being.
Dallas Cowboys at Washington Football Team (PK, 46)
There don't seem to be a ton of concrete opinions on this game. Dallas did open a slight favorite, but the market is split with Dallas -1, Pick 'Em, or Washington -1. As bad as the Cowboys looked on Monday Night Football, the volume of bets still appears to be on them across the market, which suggests that some of the sharper money might be on Washington. Either way, this is a game that most people want no part of betting. The total has come down a little after how bad Dallas looked offensively last time out, but that doesn't seem terribly sharp in nature.
Detroit Lions at Atlanta Falcons (-2, 55)
This has been an interesting line to watch this week. Initially, we saw some pretty heavy Lions money hit the board with those that shape the market early in the week. This line went down as low as 1 and was threatening to maybe go to a pick 'em before Atlanta money came back in to bump the number to 2 or 2.5. Whether or not that was sharp money or just a market correction remains to be seen. It does suggest to me that there are sharp splits out there, where some groups and individuals like the road team and others like the home team. If the public splits the difference, then this line could go back down again, as the Lions seem to be taking more of the bets.
The total has also come down a little bit for this one, which is very much a sharp move down from 56 to 55 or 54.5. Public bettors aren't betting an under between these two teams.
Carolina Panthers at New Orleans Saints (-7.5, 51)
A lot of the .5s in this game are starting to dry up. The Saints had a negative injury report on Thursday that included Michael Thomas and that had some bettors scrambling to get that +7.5 on Carolina. We still see a few of them, but you'll be paying extra vig to get the Panthers +7.5. It still might be a good bet. With Sean Payton's Saints off of a bye and Carolina off of a dismal performance against the Bears, enough money has been on the Saints to hold some of the 7.5s and even hold this line at 7 with -115 or -120 on the favorite. I'm thinking we close 7 and 51 on this game. I think the markets have it dead on now.
Buffalo Bills (-12, 45) at NY Jets
If this line comes down, it will mean sharp money has come in on the Jets. The Bills dominated the first game, though the final score doesn't really suggest it. That game, and the body of work for the Jets, has been the reason why this line hasn't come down. Historically, double-digit favorites in the NFL are not popular. Over the last four seasons, though, they've been profitable at nearly a 60% clip. We'll see where this number goes, but sportsbooks, as usual, will be begging for the Jets to cover.
Green Bay Packers (-3.5, 57) at Houston Texans
Call it a sneaking suspicion, but I think sharp money is lying in wait to take Houston here. I think that those individuals and groups are hoping enough public money comes in to push this line to 4. I think they'll settle for 3.5. There are questions about the Packers, who stepped up in class last week and struggled. Also, a lot of people felt they were a fraud last season. The Texans look like a brand-new team under Romeo Crennel and with a new play caller. I'm guessing we see a sharp vs. public split in this game. We'll see over money from the public, though, so I don't think 57 will be high enough for the total.
Seattle Seahawks (-3.5, 56) at Arizona Cardinals
Something tells me that this game will mirror the Packers/Texans game. Public money on the favorite and sharp money on the dog. There is also a chance that this total goes up once again. Seattle is facing a pretty good pass defense this week and maybe the best secondary they've seen so far. When you get situations like this, one of the keys to being a sharp bettor is patience. Even 3.5 at -105 is better than 3.5 at -110. Those five cents matter when you are betting five and six figures. They matter towards your long-term bottom line. They'll wait as long as they have to in order to get the best of the number. I think we close 3.5 here, but with public bettors taking -3.5 at -115 and sharp money at +3.5 -105.
San Francisco 49ers at New England Patriots (-2, 43.5)
An ideal teaser candidate here with the 49ers. The line is Patriots -2 and we did see anything higher than that get bet down earlier in the week. You'll see differences across the board on this game depending on the book and the exposure. We see 2.5s in the U.S. market and 1.5s in the global market for example. The total has come down quite a bit in this game based on early-week sharp action. As far as the side, I have no idea which way this one goes. Bet counts seem to be pretty split and we already saw sharp money have a say. This line could very well stay right here, but the 49ers will be in every teaser under the sun.
Kansas City Chiefs (-9.5, 45.5) at Denver Broncos
We've seen some under money leak into the markets as a result of the weather report with wind, cold, and snow in Denver. It's getting to be that time of the year, so make sure you are checking the weather. Remember, wind is the biggest factor in totals betting. This line has bounced between 9.5 and 10 for the most part this week. With the total going lower and lower, we'll probably see 9 and maybe even 8.5 here. It is scary when you get a public dog against one of the NFL's elites, but Denver's defense is really, really solid.
Tampa Bay Buccaneers at Las Vegas Raiders
This game is off the board at a lot of places. Before it was taken down, continued Bucs money hit the number to drive it up to 3.5 and 4. The look-ahead line here was pick 'em, but the Bucs very publicly beat Aaron Rodgers and the Packers while the Raiders were on a bye and weren't seen. It's like everybody forgot that they just beat the Chiefs. Anyway, with Las Vegas's COVID issues, I'm not sure we'll see a lot of Raiders buyback, if the game is played at all.
Pittsburgh Steelers at Tennessee Titans (-1.5, 50.5)
This is the spotlight game of the week here in my opinion. Both teams are undefeated for this matchup in the Music City. We've seen a flipped favorite scenario based on some Titans money, but I'm not entirely sure that is a true movement or position. The Titans look much different with AJ Brown back, but he popped up on the injury report this week. Keep in mind that you will see "fakes" in the NFL market. When sharp bettors have a target line in mind, they'll nudge the market to get what they want and then come over the top for more when limits increase later in the week. I can't help but wonder if the goal here was Steelers at plus money on the money line. We're there now. This line keeps inching up, but I'm not sure it's a true position.
Jacksonville Jaguars at LA Chargers (-7.5, 49)
This line has come down a little bit throughout the week and I'm not entirely sure why. I think the perception is that you cannot trust the Chargers to blow somebody out. We've also seen some sharper money on the under and a lower-scoring expectation makes it harder to cover big numbers. The Chargers will be a very popular teaser candidate as well. I think this is a game that does ultimately go back up, but so far, we haven't really seen much in the way of sharp involvement.
Chicago Bears at LA Rams (-6, 44.5)
This line has done very little moving throughout the week. The total has gone down a couple of points, but the side has pretty much stayed the same. To me, this looks like a situation where we're going to end up with split action. Public bettors will take both sides and sharp bettors will take both sides. The Bears defense is legit. The Rams are better than last week's showing against a desperate 49ers bunch. We've seen some 5.5s out there with a low-scoring expectation in the game, so maybe the money hits Chicago, but I think this one stays about where it is.