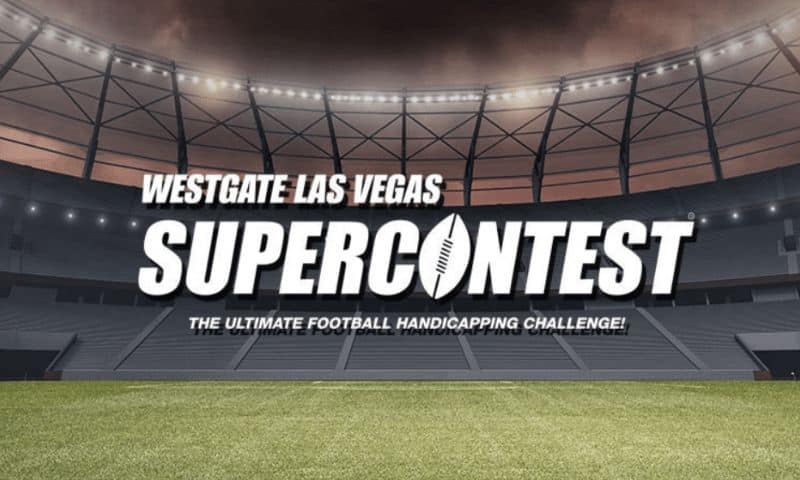 The Westgate SuperContest may have taken a back seat to the Circa Sports Million this season, but the contest is still pushing forward with its 1,172 entrants. Week 7 marks the third week of the second quarter, so there are a lot of contestants seeking out the $100,000 first prize for the quarter. The consolation prizes of $25,000 and $10,000 would be nice as well.
Just like the Circa, the prize for winning a quarter is higher than the prize for finishing in third place for the season. We'll see if there are any shifts in the SuperContest for next year, particularly with the lower entry count this season. In fact, this is the lowest entry count in several years for the SuperContest. The buy-in is $500 more than the Circa and the 8% Admin Fee leaves a bad taste in the mouths of those that are on the fence.
Nevertheless, some big money is still at stake, including over $435,000 for the winner. It is a pretty good return on investment, given that you pay $1,500 upfront to make 85 NFL picks. Most people in these contests are betting more than $17.65 on their NFL picks regularly, so in that respect, these contests are a good way to have some skin in the game, but get out fairly cheaply.
ODBMG2 holds the lead in the SuperContest going into Week 7 with 25 points. Goosbumps is second with 24 points. Squad Goals and Chatt Town 117 are tied for third with 22.5 points. Bet Mile High and AndrewScalzi round out the top five with 22 points.
The top 100 plus ties get something for their efforts in the SuperContest, but unlike past seasons, only the top 50 make more money than they paid to enter the contest. The Westgate Superbook added $100,000 of its own money to supplement the quarterly prizes, but the rake, the lower entry fee, and the $440,000 taken from the prize pool in quarterly prizes cut down the full-season rewards.
When Picks 31 through 35 go into the annals this week, over 41% of this year's contest will be completed. Given that we didn't even know if we would have an NFL season, the fact that it is flying by seems borderline unfair.
It takes five picks in the SuperContest to put together your entry for the week. The lines come out on Wednesday night and do not move regardless of what happens to the lines in the liquid betting market. To this point, the field has been right 51.68% of the time, though it is worth noting that any games not played by the early morning hours on Tuesday count as a loss for both sides. There was a smattering of those picks in Week 5.
Last week checked in at 53.43%. So far this season, the win percentages have been 52.68%, 53.52%, 46.08%, 46.21%, 57.79%, and 53.43%, so we've had two good weeks, two bad weeks, and two good weeks. We'll see if the field bucks that pattern and has a good showing here in Week 7.
We are not in the Westgate SuperContest this season, having entered several years in a row under the BangTheBook name. That hasn't stopped us from covering it here at ATS, as it remains one of the world's premier NFL betting contests.
Along with the traditional SuperContest, the SuperContest Gold is a winner-take-all race for $360,000. A lot of familiar names and longtime contest patrons are involved in that one, including BrettFavre 444, who trails AndrewScalzi2 by just a mere half-point. RightAngleSports is in a tie for third. Walter Cherepinsky is also hovering around the top 10 as another name you know as the proprietor of WalterFootball.com. There are a lot of noteworthy names in that field for sure.
The Gold field hit at 63.78% last week, which is one of the best cover rates I've ever seen in any contest format. For the full season, the Gold is at 54.83%.
In the traditional SuperContest, the top-five consensus, the five most popular picks of the week, sits at 15-15 through 30 picks. The consensus, the most popular side in each individual game, is 49-38-2 to this point, which is quite strong. We've seen a lot of seasons in which the consensus hovers around 50%, but recently, the wisdom of crowds seems to be wiser than it was in the past.
Here are the Week 7 lines, pick counts, and consensus (*denotes home):
1 Eagles* 58
2 Giants (+4.5) 23
3 Browns 353
4 Bengals* (+3) 92
5 Cowboys 234
6 Washington* (PK) 106
7 Falcons* 139
8 Lions (+2.5) 186
9 Saints* 81
10 Panthers (+7.5) 501 (consensus #1)
11 Bills 191
12 Jets* (+13) 189
13 Packers 422 (consensus #2)
14 Texans* (+3.5) 121
15 Seahawks 269
16 Cardinals* (+3.5) 247
17 Patriots* 356 (consensus #5)
18 49ers (+2) 137
19 Chiefs 151
20 Broncos* (+9.5) 231
21 Bucs 370 (consensus #4)
22 Raiders* (+3.5) 72
23 Titans* 158
24 Steelers (+1) 401 (consensus #3)
25 Chargers* 144
26 Jaguars (+8) 119
27 Rams* 131
28 Bears (+6) 333
The top-five consensus is the Carolina Panthers, Green Bay Packers, Pittsburgh Steelers, Tampa Bay Buccaneers, and New England Patriots.
None of the top-five plays are a huge surprise. Bettors love the Bucs and are looking to fade the Las Vegas COVID Raiders this week. The Bucs gained a lot of helium with last week's win over Green Bay and that has carried over to this week. It is also not surprising to see the Panthers there with a line that moved down to 7 by the time picks were due and was even threatening to move to 6.5. There was also some line equity in taking the Broncos with that line going down due to a poor weather forecast.
Those three games were all locks to be in the top-five consensus. The other two sides, Patriots and Steelers, were a little more of a question.
Something notable for those in both contests is that the rotation numbers are flipped with Titans/Steelers and Chargers/Jaguars for some reason. Hopefully everybody noticed that before putting their picks in and didn't just roll with the same numbers.
Be sure to check out our weekly SuperContest preview article every Sunday morning and our recap article every Tuesday at ATS.io.