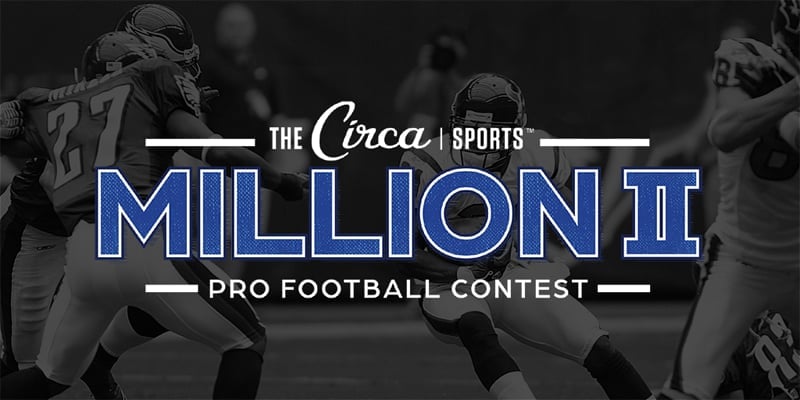 Whether this is Week 7 or Q2W3 in your mind for the Circa Sports Million II, picks 31 through 35 will go into the record books this weekend. The Q2W3 is shorthand for Quarter 2, Week 3, as everybody spends the October 22-26 games chasing Presence-1 and Goatmilk-1 in the standings for the $187,000 second quarter prize. Only 10 picks are left in that short sprint, which means that the margin for error is small and the goal is 10-0 over the next two weeks.
Both of our entries, ATS.IO-1 and ATS.IO-2, are 7-3 in the second quarter. Last week's results were a 4-1 for -1 and a 2-3 for -2, but things could have gone wildly different had the Texans covered against the Titans. Instead of a 5-0 week, the -1 entry just owes -2 another drink based on their side bets. The harsh reality in this contest is that 4-1 looks dramatically different than 5-0 and 2-3 looks substantially better than 1-4.
The ATS.IO-2 entry was one of 197 to post a perfect record in Week 5. The -1 entry had a yeomanlike 3-2 that week. That's how we've gotten to 7-3 for the second quarter and how the -2 entry has maintained a lead for bragging rights with an 18-11-1 record to this point. The -1 entry used that 4-1 last week to get over .500 at 16-14.
As far as the full season standings go, we're all chasing a strong Presence in the field. Presence-1 leads with 25.5 points, along with that tie for first for the second quarter. Presence-2 is second with 25 points. Presence-3 is such a disappointing entry that it is tied for third. Aaron White-1 is in that tie with 24.5 points. The official Circa Million page is headlined with the phrase, "Dominance by Presence". Seems like a fair assessment to this point.
SunnySanDiego-1 rounds out the top five with 23.5 points. Suited Aces-1 and Red Chip Mafia-2 are tied for sixth with 23 points. Mustwin-1, Bet Mile High-1, and Sheila's Boys-1 are tied for eighth with 22.5 points. So, yeah, the -1 entry is 18-11-1 and four points out of the top 10 and 2.5 points out of the money with a cover rate of over 62%. The margin for error in these contests truly is non-existent. Going into Week 7, a score of 18.5 points meant a tie for 347th out of the 3,148 entries.
Something interesting to follow this week is that 11 of the 14 games on the card had half-point lines. We often see a lot of contestants scooping up line value based on those half-points and full points relative to the fluid betting market. Remember, you're picking five games against stale spreads in the Circa with lines that come out on Thursday morning. Plenty of news breaks between Thursday morning and the deadline to submit picks.
The prize for the most points is $1 million, which is one hell of an ROI for making 85 picks with a $1,000 buy-in. Second place is worth $300,000. Third place is worth $100,000. The full-season prizes cover the top 50 plus ties and the last-place finisher will get the $100,000 Booby Prize for making all 85 picks and doing really poorly in the process.
Before we get to our picks, a few more refreshers regarding the Circa Million. You get one point for a win, a half-point for a tie*, and zero points for a loss. The asterisk is to signal that you also get a half-point for picking a team that does not play by Tuesday at 1 a.m. PT. In this COVID season, we've already seen that twice, with the Patriots/Broncos and Titans/Bills in Week 5. All entries that picked those four teams got a half-point out of the game not being played in time.
Our deadline to get our picks to the proxy is 4 p.m. ET, so the thoughts from host Adam Burke on ATS Radio for his ATS.IO-2 entry may have changed a bit over the period between recording the show and actually hitting send. Nevertheless, you should give his segment a listen.
After setting the best win percentage ever in Week 5 at 58.37%, the field went 50.32% last week, so things wound up on the plus side, but barely. To this point, the top-five consensus, the five most picked sides of the week, are 18-12 and the consensus, the most popular side in each individual game, is 51-38-3. The cover rate for the full season is 52.22%.
Let's see if we can add to that.
Here are our picks for Week 7 in the 2020 Circa Sports Million II:
ATS.IO-1 (16-14-0, 53.33%)
10 Panthers +7.5
12 Jets +11.5
17 Patriots -1.5
20 Broncos +9.5
21 Buccaneers -3.5
ATS.IO-2 (18-11-1, 62.06%)
3 Browns -3.5
10 Panthers +7.5
20 Broncos +9.5
23 Chargers -7.5
26 Steelers +1.5
We've got similar thoughts this week as the entries match on a couple of picks and the Browns were a strong consideration for the -1 entry. They made the cut for the -2 entry. The aforementioned line value actually worked against us a little bit, as the Broncos were a pick from the start, but that line tumbled on Friday, leading a lot of the field to take the two free points of line value with weather considerations.
The Michael Thomas announcement also bumped down the Panthers/Saints line and both entries are on the Panthers this week. Again, that was a pick prior to the line move, but holding 7.5 instead of 7 is appealing. Spoiler alert, it was appealing to a lot of the field.
Here are the Week 7 lines, pick counts, and consensus (*denotes home):
1 Eagles* 123
2 Giants (+4.5) 70
3 Browns 620
4 Bengals* (+3.5) 409
5 Cowboys 578
6 Washington* (PK) 300
7 Falcons* 440
8 Lions (+2) 473
9 Saints* 209
10 Panthers (+7.5) 1349 (consensus #1)
11 Bills 723
12 Jets* (+11.5) 323
13 Packers 1072 (consensus #3)
14 Texans* (+3.5) 366
15 Seahawks 696
16 Cardinals* (+3.5) 648
17 Patriots* 1016 (consensus #4)
18 49ers (+1.5) 356
19 Chiefs 365
20 Broncos* (+9.5) 672
21 Bucs 995 (consensus #5)
22 Raiders* (+3.5) 217
23 Chargers* 425
24 Jaguars (+7.5) 250
25 Titans* 426
26 Steelers (+1.5) 1110 (consensus #2)
27 Rams* 395
28 Bears (+6) 854
The top-five consensus is the Carolina Panthers, Pittsburgh Steelers, Green Bay Packers, New England Patriots, and Tampa Bay Buccaneers.
As mentioned, the line value on the Panthers was too much to overlook for a lot of entries, plus the Saints haven't really shown the goods for covering big numbers. We also see the Bucs eke into the top five with the line value and the COVID worries for the Raiders. The Steelers are a little bit of a surprise, but the popular Packers are not.
With a lot of games locked around key numbers again this week, just with half-points attached to them, it would be assumed that contestants would be unwilling to lay the -3.5, but the Browns, Bucs, and Packers games say otherwise, though the Bucs game has some extenuating circumstances with the COVID issues for the Raiders.
Listen for host Adam Burke's Circa Million picks and thoughts for the ATS.IO-2 entry every Friday on ATS.io Radio.