Free money is nice. We all wish we could get some free money every now and then. Even finding a quarter on the sidewalk feels like a win. Well, imagine finding 100 times that amount just lying on the ground.
You don't even have to bend over to pick up your free $25 from PointsBet Sportsbook on the Indianapolis Colts this week. The Colts moved from Baltimore to Indianapolis in 1984. To celebrate, PointsBet Indiana is offering a Boosted Odds promotion on the Colts. They are +84 this week against the Minnesota Vikings.
The actual line in the betting markets is Indianapolis -3. So you're getting 87 points of line value on this bet. Oh, by the way, the Boosted Odds also include odds of +100, so it is an even money proposition. Bet $25, get $25. That's all there is to it.
I might as well remind you that no team in the NFL has ever lost by 85 or more points. This is literally free money. Literally. You don't have to do anything to make $25 here except for a couple of mouse clicks.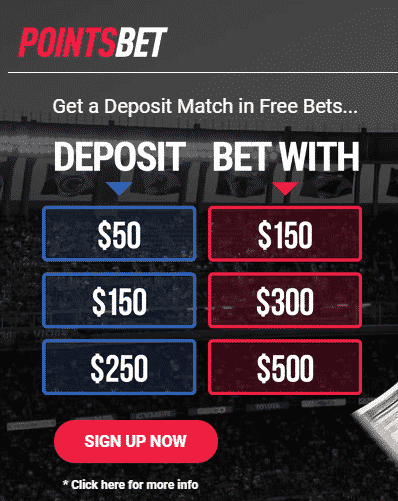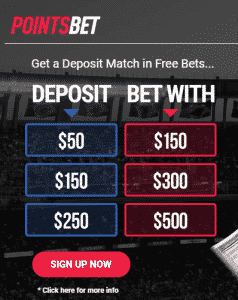 I guess that's not true. If you don't have an account at PointsBet Sportsbook, then you have a little more work to do. You have to go through their remarkably simple sign-up process and also fund your account.
The nice thing about that little bit of extremely easy work is that you will also get free money for doing that, too. There are two bonus offers here at ATS that we are able to extend to those that sign up for an account with PointsBet Sportsbook.
The first is the PointsBet Match Bonus. Deposit $50 and get $100 in free bets. Deposit $150 and get $150 in free bets. Deposit $250 and get $250 in free bets. You can get a deposit match in free bets up to $250. This is the sign-up bonus that will benefit new users the most. This is a really good promotion, especially for those that are just starting out.
While this Colts-specific promotion applies only to Indiana, the Deposit Match Bonus is available in all four states that DraftKings currently services – Indiana, Illinois, Iowa, and New Jersey.
The other option is to deposit and get two risk-free bets up to $1,500. The first part is a refund up to $500 if you lose your first fixed odds bet. The second is up to $1,000 back if you lose your first PointsBetting wager.
Basically, what we are telling you is that you can take advantage of one of these two bonus offers and then also get your free $25 from betting on the Colts +84 against the Vikings right here in Week 2. Then you'll be able to enjoy everything that PointsBet has to offer on a weekly basis, including fair odds, a great betting app, and the Make It Rain promotions.