The Tampa Bay Buccaneers and the Chicago Bears kick off Week 5 in the NFL with some Thursday Night Football action from Soldier Field. Early money seems to favor the Bears with a line move down from 6 to as low as 5 in some places across the sports betting landscape and the under has taken more interest than the over with the move down from 45 to 44.
Best Bet for Bucs vs. Bears
Usually the best bet comes at the bottom of a preview and pick article, but we'll just be honest and upfront with you. The best way to bet this game is at PointsBet Sportsbook in Illinois. Why? Because they are offering the Bears at +86. The line in the market is +5 or +5.5, but not at PointsBet. The line is +86. The maximum bet amount is $25, so you are basically getting a free $25 if you sign up and deposit over at PointsBet Sportsbook Illinois this week.
With the in-person registration requirement temporarily suspended, it means that you can sign up from anywhere for this exclusive promo only available in the state of Illinois. However, you MUST be in the state of Illinois to access your real money account and place bets with PointsBet Sportsbook.
If you sign up through us here at ATS, you'll have your pick of two bonus offers:
The first is a Deposit Match Bonus up to $250.
The second is up to $1,500 in risk-free bets, with up to $500 for your first fixed odds wager and up to $1,000 for your first PointsBetting wager.
If you are a smaller bettor, the Deposit Match Bonus is the option for you. If you plan to bet bigger or deposit more money, the second option would be best for you.
No matter how much you want to bet on this game or where you want to bet on it, you're getting a deposit bonus plus a free $25 at PointsBet Sportsbook, so it only makes sense to sign up prior to Thursday's game.
Bucs vs. Bears Preview
For a deeper dive, in case you want more than $25 on the game or want to bet the regular spread or total, let's dig a little more into this matchup. As much as it will hurt to hear this, there are a lot of people that do not believe in the Bears. They've had two really unexpected fourth-quarter comebacks to beat the Detroit Lions and the Atlanta Falcons. They stepped up in class against the Indianapolis Colts last week and came up well short. It was only a 19-11 loss, but the Bears managed just 4.6 yards per play and could not run the ball at all.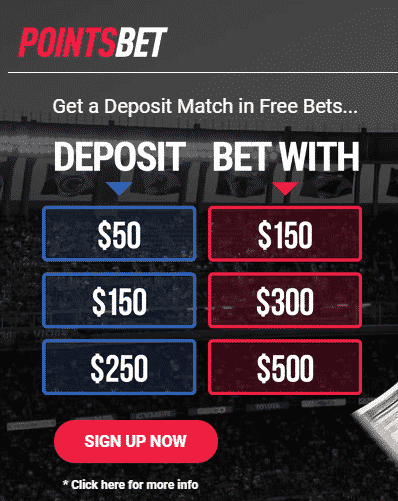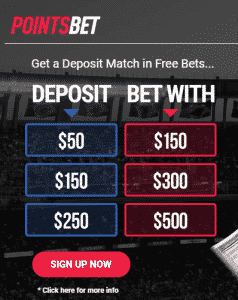 Head coach Matt Nagy came out on Monday and said that he wanted to get the run game going. Perhaps 1.8 yards per carry isn't what he's looking for, but forcing a bad running game against a Tom Brady-led offense seems like a bad idea, no?
Collectively, Nick Foles and Mitchell Trubisky are 18-of-45 passing on third down with five touchdowns against four interceptions. They've taken three sacks. The Bears have only averaged 3.82 yards per play on third down.
The Bears defense held up its end of the bargain against the Colts, though. Indianapolis managed just 4.2 yards per play and only 2.7 yards per carry on the ground. Indianapolis made four trips into the Chicago red zone and came away with one touchdown.
The Buccaneers are starting to look the part. They've scored on just shy of 42% of their possessions and the defense has held the opposition to 5.1 yards per play and a score on just 29.8% of possessions. Not put into bad situations with Jameis Winston turnovers, this defense has had a lot more success and actually ranks third in points per drive allowed.
The eight takeaways for the Tampa Bay defense have helped, as they've forced all of them in their last three games, all of which have been wins. Eight takeaways is tied for second in the NFL and the Bucs have held the opposition to 2.7 yards per carry, which also ranks second.
Pick
When you look at this matchup from all sides statistically, and consider the short week and quick turnaround, the Under 44 looks like the way to go. Unders have not been profitable in Thursday Night Football games to this point, but the Bears have stated a desire to run the ball against a stout run defense and the Buccaneers are stepping up in class defensively by facing a Bears team that has missed the fewest tackles in the league with 12.