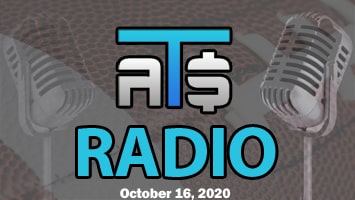 Another weekend in the NFL is here and that means another round of Circa Sports Million picks from ATS Radio host Adam Burke. Adam likes a lot of games this week and he talked about eight of them on today's show, with three very likely picks and five leans that will need to be whittled down to the magic five for this week's card.
Speaking of picks, we've got a lot of those at ATS.io to go along with the top sportsbook promotions in the industry, coverage of the news and notes of the legal U.S. sports betting world, and a whole lot more at our fine website. Take a look around. You are bound to find content that helps you today, tomorrow, and beyond.
It can be scary when there are a lot of games that you like on the NFL card, but host Adam Burke would rather have that problem than not liking anything at all. On the October 16 edition of ATS Radio, Adam talked about his picks and leans for Week 6 in the Circa Sports Million with stats, trends, and matchup analysis to justify and rationalize the games on his list.
After an update on the contest field as a whole and last week's results, which included a 5-0 from your favorite podcast host, Adam got down to it with his three very likely picks and five leans for Week 6. Some of the leans are based on injuries or just a confirmation of injury reports and others are based on the line that must be taken in the contest. Agree? Disagree? Fade? Follow? Whatever you want to do, the content and analyses are right there so give them a listen as you get ready for Week 6.
Join us on either Monday or Tuesday for a new edition of The Bettor's Box and then for sure on Tuesday for Week 7 NFL talk with Brian Blessing.
We're on Spotify, iHeartRadio, and Google Podcasts! Be sure to follow and never miss a show. You can easily stream right through the app or on your computer.
The best way to get all of our shows is right here at ATS.io, where you can listen right in the recap article. You can also subscribe to us on iTunes and get all of our podcasts downloaded instantly to your mobile device or computer. You can also find us on Spreaker, where we upload all of our individual radio show segments, as well as Soundcloud. Search "ATS Radio" to find us on TuneIn, Podbean, Overcast, and Stitcher and let us know if we're not on your favorite podcast app so we can get there as well.
Follow host Adam Burke on Twitter (@SkatingTripods) to know exactly when the shows have been posted or you can simply subscribe to any of the feeds above.