Are you a sports bettor who loves the thrill of the game but hates waiting for your payout? FanDuel Sportsbook has the solution with their incredible cash out feature. Say goodbye to the anxiety and annoyance of waiting until the end of a game to collect your winnings and hello to early payouts. In this article, we will take a look at FanDuel Cash Outs and show you how this cutting-edge feature can enhance your overall sports betting experience.
What Is the FanDuel Cash Out Feature?
The FanDuel Sportsbook Cash Out feature allows all users to settle their wagers early, locking in profits or cutting their losses based on the likelihood of the bet being a winner. Early cash outs can be used on a wide range of bet types, including but not limited to point spreads, over/under totals, moneylines, parlays, same-game parlays, and futures.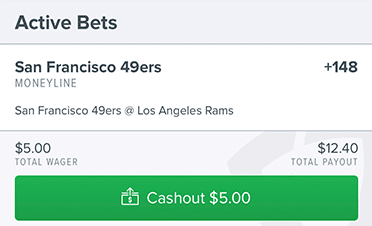 The amount of funds awarded using the FanDuel Cash Out option will depend on the status of your bet and its probability of being successful. For instance, let's say you bet on the Boston Red Sox to win in a matchup against the New York Yankees. If the Red Sox are leading by five runs going into the sixth inning, you will be able to cash out the majority of your winnings ahead of schedule and not have to worry about a Yankees comeback ruining your payout.
On the other hand, let's say you place a futures bet at the beginning of the playoffs on Steph Curry and the Golden State Warriors winning the NBA Finals. If they lost the first two games of a best-of-seven series in the first round, you could choose to cash out with FanDuel and collect a partial refund of your initial stake.
The FanDuel Cash Out amount that you can choose to claim will always increase as the odds swing in your favor and decrease as the odds shift against you. It is also worth noting that the Cash Out option is not available at all times and may be temporarily suspended for a number of reasons (e.g., odds are in the process of being updated, technical issues, or uncertainty due to a player injury or replay review) or completely unavailable near the end of games or if an outcome is all but certain.
---
How To Cash Out With FanDuel Sportsbook
You can complete an early cash out with FanDuel Sportsbook by following the detailed steps listed below.
Log In to FanDuel Sportsbook: Visit the FanDuel Sportsbook website or mobile app, and sign in to your account.
Place a Wager: Place a wager on a point spread, over/under total, moneyline, future, parlay, teaser, or any other betting option that is eligible for an early cash out with FanDuel.
View Active Bets: Open the "Active Bets" tab on your betslip, and you will find all your active bets that have not yet been settled.
Perform a FanDuel Cash Out: Take a look at the Cash Out amount being offered based on your chances of success. When you're ready, click the green "Cash Out" button and confirm the transaction.
Receive Your Payout: FanDuel Sportsbook will review your early cash out and transfer the funds instantly to your account once it has been accepted.
---
Pros & Cons of Early Cash Outs
In the table below, you will find an outline of the advantages and disadvantages of early cash outs.
| | |
| --- | --- |
| Pros | Cons |
| Offers More Control & Greater Flexibility | Can Lower Your Total Winnings |
| Provides Quicker Payouts | More Thinking & Strategy Required |
| Opportunity To Cancel Bets | Not Always Available |
| Allows You to Secure Profits & Manage Risk | |
| Creates a More Interactive Betting Experience | |
| Avoids Bad Beats & Late Rallies | |
As you can see, there are pros and cons associated with Cash Out features offered by sports betting platforms. You will benefit from the greater control and flexibility it provides while also enjoying near-immediate payouts without having to wait for the event to finish. In addition, early cash out features can potentially serve as a way to cancel a bet that you've changed your mind about or made by mistake.
Cash Out options offered by FanDuel and other sportsbooks will help you avoid bad beats and late comebacks that seem to happen quite frequently in all sports. They also create a more interactive betting experience that offers more fun and excitement to customers.
On the other hand, there are a few downsides of early cash outs. For instance, they can decrease your total winnings due to a lack of patience and cause greater stress to bettors since more thinking and strategizing are involved. It is also important to note that not all wagers allow cash outs, and this option may be unavailable at various times throughout any given game or event.
---
Other Sportsbooks With Cash Out Options
In addition to FanDuel, early cash outs are offered by several other online sportsbooks in the United States. Some of the most popular platforms are listed and described below!
---
More FanDuel Sportsbook Topics
---
FanDuel Sportsbook Cash Out FAQ
How Do FanDuel Cash Outs Work?
FanDuel customers can perform early cash outs on their wagers in order to secure winnings or minimize losses. The Cash Out value will depend on whether the odds of your bet have shifted in your favor or against you.
Is the FanDuel Cash Out Option Always Available?
No, only certain wagers placed with FanDuel Sportsbook will allow for early cash outs. In addition, the FanDuel Cash Out option may be temporarily suspended at various points throughout a game or matchup for a number of different reasons.
What Are the Benefits of FanDuel Cash Outs?
The early cash outs provided by FanDuel Sportsbook allow you to lock in profits, manage risk, avoid bad beats, and cancel bets made by mistake. In addition, they create a more interactive overall betting experience.