As online sports betting has grown across the US so has the number of options a bettor has when betting on a game or prop. Gone are the days of just being able to place a wager on a side with a spread, total or teaser. Sportsbooks like FanDuel routinely offer 100's of betting options on a single game!
What Does ALT Points Mean On FanDuel Sportsbook?
ALT points is short for "Alternative" points. When placing a bet on an Alt point line it allows you to bet on a different number than the main line currently being offered by the bookmaker setting the line at FanDuel sportsbook. By doing so you will either pay a higher or lower vig based on taking points in favor or against the main line offered. Let's take a look at some more popular Alt Point examples:
ALT Points When Betting On The Spread
Betting on the spread, also known as point spread betting, is the most popular form of sports betting where a bookmaker sets a margin of victory for a favored team in a game. A sports bettor then bets on whether the favored team will win by more than the set margin (cover the spread) or whether the underdog team will lose by less than the set margin (beat the spread). An Alt point spread further increases this margin or decreases it. For example in the NBA:
FanDuel Sportsbook sets the Miami Heat as a 2-point favorite with -112 vig against the NY Knicks as seen here:

A sports bettor can bet on the Miami Heat -2 and lay 112 to win 100. However, FanDuel sportsbook will also provide alternative point spreads on the game. For example, a bettor who believes the Heat will win by 6 points may be interested in placing a Miami Heat Alt spread bet of -5.5 +154, this means a $100 wager if won pays out $154. If you are new to betting take a deep dive on "How FanDuel Works".
On FanDuel bettors routinely have the option to bet an Alt line spread by as many as 20 points in the NFL, College Football and Basketball, NBA, and more! Here is a quick snapshot of some ALT spreads in the Knicks vs Heat game: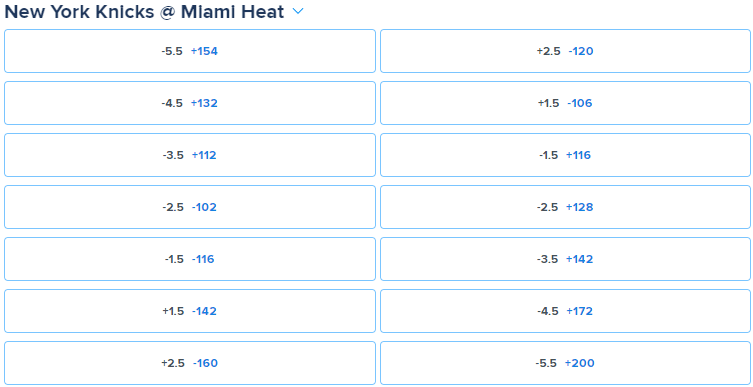 ALT Points When Betting On A Total
Betting on the over/under involves a wager on whether the total number of points between both teams scored in a game will be over or under a predetermined number set by the sportsbook. An Alt total follows the same idea however a bettor can wager on a lower or higher over-under total than what is currently set. Lets dive into an example in the NFL at FanDuel:
The Dallas Cowboys take on the Washington Commanders, FanDuel sportsbook set the over under total at 48 with -110 odds as shown here:

A standard over-under total bet would require the bettor to wager $110 to win $100 on whether or not the game would have more or less than 48 points scored. While Alt Total options would look like this:
Using an example from the above table, a sports bettor could place a wager on a ALT total of 40 points. If the bettor wagered that the game would go under 40, a $100 wager would pay $200, while going over 40 points would require a $400 wager to win $100.
ALT Points When Betting On A Prop
The third ALT point bet type we will review here is the ALT point prop bet which has gained in popularity over the last couple of years. A prop bet, short for proposition bet, is a type of sports bet that does not necessarily involve the outcome of a game but instead focuses on a specific event within a game. Prop bets can include things like which will a player score more or fewer points than a number set by FanDuel, or will a quarterback throw for more or less than a predetermined amount of yards.
Here is an example of an NFL player prop bet with a ALT line:
Patrick Mahomes will have over or under 300 yards passing in a game. Here a bettor must wager if they think the total number of yards Patrick Mahomes has will be more or less then the 300 yard market FanDuel has set. In general, a user will wager $110 to win $100 on either the over or under outcome. Using a ALT point for this FanDuel will give the bettor options like:
ALT Total Over 290 Yards
ALT Total Under 290 Yards
With each step up or down a different odds value will be assigned.
More About FanDuel