When it comes to NFL betting, BetMGM is one of the sportsbooks that has the best interfaces to choose from. With local teams showcased depending on which state a player is in, and an easy to navigate interface, wagering on the NFL at this site is easier than it is at most online sportsbooks. Here, we will look at how to bet on the NFL at BetMGM and what strategies bettors can employ to make the most of their NFL wagering there.
---
Claim Your BetMGM NFL Betting Bonus
The first thing all bettors should do when betting on the NFL at BetMGM is to claim the new player promotion available at the site. BetMGM's welcome bonus is great for providing bettors with peace of mind, which can really come in handy when betting on a sport as unpredictable and competitive as the NFL. To claim this offer, just click the Claim Offer button below and register at BetMGM using the promo code listed below.
---
Sign Up at BetMGM
Creating an account at BetMGM is incredibly easy, and is an essential step toward placing bets and claiming the above new customer offer. When bettors click the Register button at BetMGM, they will be asked to provide several pieces of personal information that can be used to verify their identity. Among the pieces of information requested by BetMGM will be the following:
Full name
Mailing address
Email address
Last four numbers of SSN
During the registration process, bettors must make sure that the information they are providing is accurate and up to date. Doing so will prevent any issues with verifying the identity of the new account holder and prevent problems with making deposits, withdrawals, and wagers.
---
Make Your First BetMGM Deposit
To bet on the NFL at BetMGM, bettors must first make a deposit so that they have funds to wager. There are plenty of banking options to choose from at BetMGM, as bettors can use their bank accounts, credit and debit cards, or countless other methods to make deposits and start betting on the NFL.
When making that first deposit at BetMGM, bettors will need to enter the above promo code in order to make sure that they are eligible to take advantage of the site's new player promotion. While this should fill in automatically after using the link above, it is worth double checking to make sure that there are no issues with claiming the bonus.
---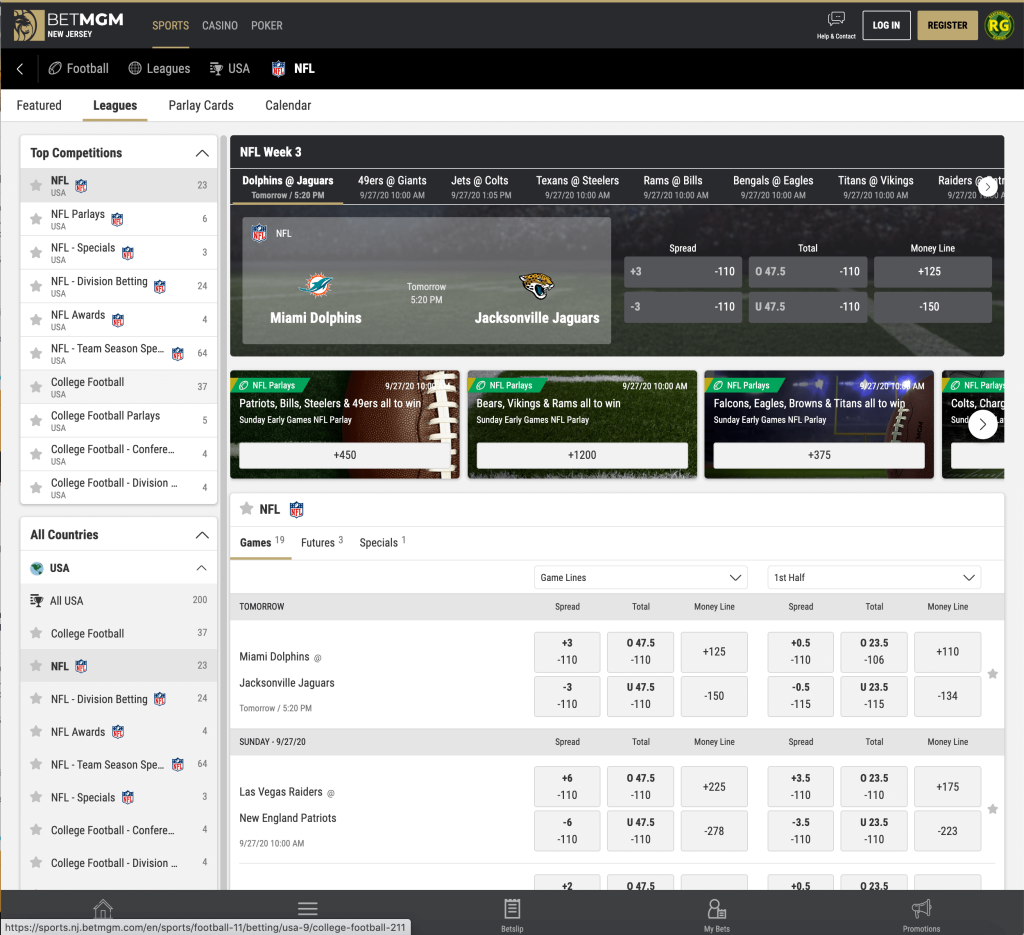 Find Your NFL Bets at BetMGM
After you have signed up for an account and made a deposit at BetMGM, the next step is to start the process of placing NFL bets there. The NFL section of BetMGM is always easy to find, as bettors can find the NFL listed prominently at the top of the home screen of their website and app throughout the year. Clicking on the NFL button will take players to that portion of the sportsbook, where bettors can find all upcoming games, and can click on each game to find the betting options for each one.
There are plenty of betting options to choose from for each game at BetMGM. Bettors can wager on markets such as spreads, totals, and moneylines, which have become commonplace in the world of NFL wagering. There are also prop bets, parlay bets, and many other markets to choose from ahead of each matchup.
Bettors can choose any amount of wagers they would like for each game each week, depending on a player's strategic approach. Once they have selected which bets they want to place, bettors can enter the amount they wish to wager on each selection. They will be shown the potential payout for each bet, which will vary based on the amount wagered and the odds for each pick.
---
Verify and Place Your Bets
There is one final step for bettors to place their NFL bets at BetMGM. That is to verify the accuracy of those bets and to press the Place Bet button to finalize those wagers. While it doesn't sound important, bettors should be sure to take a second look at any bet that they place before locking it in, as bets are not refundable after they have been placed.
From there, all there is to do is sit back and cheer for those bets, and hope that they win during each week of NFL action.
---
BetMGM NFL Betting Strategies
Now that you know how to bet on the NFL at BetMGM, there are a few things that bettors should consider from a strategy standpoint when placing their bets. The following recommendations can help bettors to make smarter wagers and make more money betting on the NFL over the long run at BetMGM.
Take Advantage of Odds Boosts
BetMGM is one of the sportsbooks that offer odds boosts more frequently than most, with odds boosts being showcased at the top of the NFL section of the site. Bettors should always take a look at what odds boosts are available, to see if there is some extra value up for grabs on bets that players may have already been considering before the boosts.
To Parlay Or Not to Parlay?
Parlay betting is so popular in the United States, and BetMGM has so many ways to place parlay bets. But bettors should be as judicious as possible when placing parlay bets at BetMGM, as there are plenty of times where they could be less profitable than placing straight bets. Bettors should avoid putting too much money on parlays to avoid draining their bankroll on those wagers.
Compare Odds With Other Sportsbooks
Finally, bettors should compare the NFL odds at BetMGM with the odds for those football games at other sportsbooks. Doing that can help bettors to find the most profitable prices on each bet they want to make, which can really add up over the course of each NFL season. While BetMGM often has some of the best odds on the market, it never hurts to look elsewhere to find the best option for each individual wager.
More On BetMGM