Bet $10 Get $200 Instantly In Bonus Bets
BetMGM Sportsbook
Claim Bonus
Gambling Problem? Call or TEXT 1-800-Gambler 21+
Sportsbook Bonus offer
Bet $10 Get $200 Instantly In Bonus Bets
MGM Sportsbook Promo Code
Casino Bonus Offer
$25 No Deposit + 100% Deposit Match Up To $1000.
MGM Casino Promo Code
Bonus Verified
September, 2023
US States Applicable T&C
AZ, CO, IL, IN, IO, KS, LA, MA, MD, MI, MS, NV, NJ, NY, OH, PA, TN, VA, WV, WY
In 2018, MGM Resorts International, one of the largest gambling companies in the world, joined forces with GVC Holdings to create a revolutionary sports betting platform – BetMGM. This partnership, known as "Roar Digital," aimed to transform the landscape of sports betting and online gaming in the United States.
Why We Like The MGM App: Ease of Logging In, Navigation, and App Speed
Logging In to BetMGM
While logging into the BetMGM app is generally smooth, there might be occasional hiccups with the Face ID function. If Face ID fails, you can easily log in by entering your pin or password. We're continuously working to improve this aspect of the app to provide a seamless login experience.
Navigating The MGM App
Navigating the MGM betting App is straightforward once you familiarize yourself with the layout. The app organizes bets using banners and cards such as "Events," "Futures," and "Specials." Sometimes, wagers for the same event may be spread across multiple screens. To navigate efficiently, we recommend using the "A-Z Menu" feature at the bottom of the home page. This feature provides a direct route to the events and markets you're interested in. Additionally, a horizontal scroll bar at the top showcases available markets for a specific game, making it easier to find your desired bets.
App Speed
The MGM betting app provides a smooth and responsive experience. However, some users may notice occasional lagginess or choppy animations. Our team is constantly optimizing the app to ensure a seamless mobile betting experience.
---
MGM Betting App New User & Weekly Promotions
The MGM sportsbook app really knows how to treat its new users with great welcome bonuses to get them off to a positive start. The Bet $10 Win $200 has expired, unfortunately, new users who join up on the MGM Sportsbook app through the special bonus code ATSRF1000 are in for a treat. The welcome offer provides an opportunity to receive up to $1,000 back in Bonus Bets if the first bet doesn't win. To take advantage of this promotion, simply sign up using any of the links on this page, enter the bonus code ATSRF1000, and make an initial deposit of at least $10. It's a fantastic way to kick-start your sports betting journey with BetMGM and enhance your chances of winning big.
Daily BetMGM Promotions
Stay engaged with MGM's daily promotions that offer unique betting opportunities. For example, NFRI Fridays, Golf Challenges, First Touch Insurance and more. Keep an eye out for every week for similar promotions that can add value to your wagers.
Protect your One Game Parlays
Opt in to One Game Parlay Insurance promotions. Place an One Game Parlay wager with four legs or more (up to a maximum of 10 legs). If you miss one leg on your first One Game Parlay of the day, you'll receive up to $25 back in Bonus Bets! This promotion adds an extra layer of protection to your parlay bets.
Refer a Friend Bonus
Invite a friend to join BetMGM with an exclusive invitation from your account. When your friend creates an account and makes a cash deposit, you'll receive a $50 bonus once they meet the $50 play-through requirement. Share the excitement of BetMGM with your friends and enjoy the benefits together!
MGM Casino – $25 Free No Deposit & 100% Deposit Match
Just for registering in the MGM casino, new users will get $25 in free bonus funds, and to top that off, you will also be eligible for a 100% deposit bonus match up to $1,000. Online casinos are available in Pennsylvania, New Jersey, Michigan and West Virginia.
Bet $10, Get $200 is expired – Check out Other Sportsbooks with Bet & Get Offers
If you were looking for the Bet $10, Get $200 offer, it has unfortunately expired with no set date for it to return. If you are looking for a similar bet and get offers, be sure to check out these other sportsbook offers from some of our top choices in the US market.
---
How To Use The MGM Sports Betting App
Time needed: 5 minutes.
To participate in sports betting at MGM, you must be 21 years of age or older, in accordance with legal requirements. New users can follow the steps below and open an account from any state within the U.S., but it's essential to note that wagering is only permitted in states where online sports betting has been approved and MGM holds a valid license. The safety and security of your betting experience are of paramount importance to BetMGM, and they take all necessary measures to ensure compliance with local regulations.
Create a Online Bet MGM betting account!

The way to unlock all of the features of the BetMGM app is to first create an account. To the easiest way is to first visit the Website by Clicking Here.

You'll have to click or push the Register button and put in the required personal information. Remember, you dont have to live in a state where sports betting is legal however, to place a bet you'll have to be physically located in an approved state where BetMGM is legal.

Download the MGM betting app

The BetMGM website is mobile friendly however if you want to install the app on your phone, doing so is very easy. Once your logged in scroll down to the bottom of the page in the footer you will find a link to the Sports Betting Guide, click that. Next again scroll down and here you will find links for both IOS and Droid.

Learning to use the MGM App

The best way to learn how a sports betting app like BetMGM works is to spend some time familiarizing yourself with the layout and all of the features. Click around for a while. Check out the odds on upcoming and popular events. Look through the futures market for the upcoming season. Get a lay of the land. There are dozens of sports betting options on the site, so it can be a bit challenging at first, but once you settle in, you'll be good to go.

With the BetMGM Sportsbook, all of the traditional bet types of are present. Each game in one of the major leagues will have Spread, Money Line, and Total odds. Most games will also have an additional set of prop betting lines. Once you select the line that you want to bet, it will show up in your Bet Slip, which is where you can enter the Win Amount or Risk Amount and then confirm your bet prior to submission.

Customer service agents are always available and BetMGM also has an extensive catalog of FAQs and helpful tips for those that are just starting out or those that can't find what they are looking for. There is also a Search feature so that you can enter the team name or the competition as a shortcut to get exactly where you want to go.

It would be wrong to say that the BetMGM mobile app is boring, because it isn't, but it doesn't have all of the distractions or the loud bells and whistles of some of its competitors.

As such, the BetMGM sportsbook app is a great starting point for anybody dipping a toe into the sports betting pool, those ready to do a cannonball and make a big splash, or those that are comfortable and confident going up to the high-dive platform. It is one of the easiest apps to master.

See for yourself how the MGM app works by signing up right here through ATS!
---
A Look Around The MGM Betting App
MGM has invested significant resources in developing a top-notch mobile betting platform, ensuring a seamless and enjoyable betting experience on the go. The app is available for both Android and iOS devices, allowing users to access a wealth of features and betting options with ease. While the app's loading times may vary, stability remains uncompromised, offering uninterrupted betting sessions. With its intuitive layout, one-hand accessibility, and convenient bet slip management, the BetMGM mobile app sets the standard for excellence in mobile sports betting.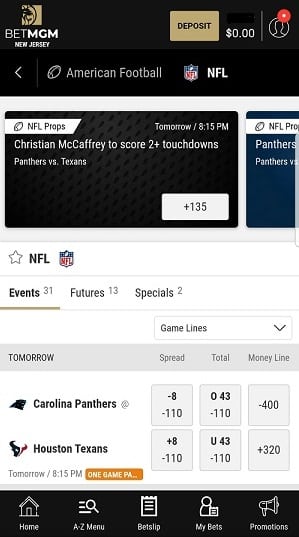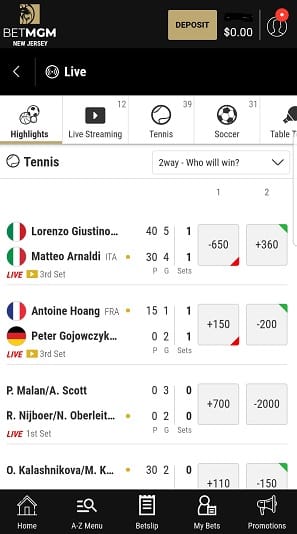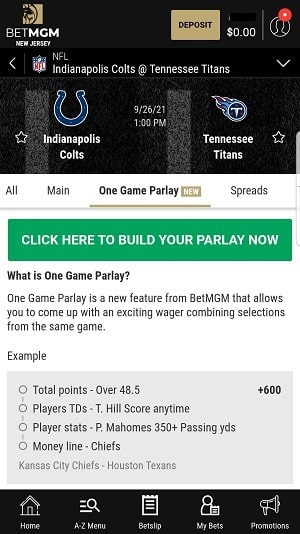 Use The Web-Based MGM Platform
For those who prefer the convenience of web-based betting, MGM delivers a user-friendly mobile responsive platform that prioritizes functionality and wagering opportunities. The interface showcases a sleek design with a focus on simplicity, ensuring a seamless betting experience without compromising on the essential elements required for successful wagering. Whether you choose the web-based platform or the mobile app, BetMGM puts the player first and provides a platform tailored to meet your betting needs.
---
What Sports Betting Markets Are Available On The MGM App?
BetMGM sets itself apart from the competition with its outstanding sports odds, providing a competitive edge to bettors across a wide range of sports. Let's take a closer look at the top five sports covered by BetMGM and the odds they offer.
Football: BetMGM offers comprehensive football betting options, including moneyline bets, point spreads, and totals. The margins for NFL moneyline bets are impressively low, ensuring favorable odds for bettors.
Basketball: Whether you're a fan of the NBA or college basketball, BetMGM has you covered with a diverse range of betting options. Keep an eye out for special boosts and enhanced prices to maximize your potential winnings.
Baseball: BetMGM caters to baseball enthusiasts with a variety of betting markets, including moneyline bets, runlines, first-five innings, props, NRFI/YRFI and totals. Take advantage of the excellent odds to capitalize on your baseball predictions.
Soccer: With its global appeal, soccer enjoys widespread popularity in the sports betting world. BetMGM offers an array of soccer betting options, allowing you to wager on matches from various leagues and tournaments.
Exotic Sports: BetMGM's commitment to providing unique betting experiences extends to exotic sports such as cricket, rugby union, and Aussie Rules. Embrace your passion for these sports and explore the diverse range of betting choices available.
What Props are available on the MGM App?
Click any matchup on the BetMGM sports betting website to find the best props for each game. The number of props available for a match will vary by event, but you could find dozens. The bigger the game the more props you will find. From alternate spreads to margin of victory bets to wagers on specific players, you've got a full array of wagering choices here.
What's the Lion's Boost at BetMGM?
You find plenty of fair odds throughout the BetMGM Sportsbook, but some props have more appealing odds than others. The Lion's Boost feature is a special you'll find for select leagues. The Lion's Boost provides high-paying odds for specific props or other events that take place. There's a different boost each day, so check out what's open before you start.
Build Your Parlays Fast With the Parlay Generator
You could find some great payouts on a parlay bet at BetMGM. The BetMGM Parlay Generator will help you produce the best parlay ticket. The generator is on the right-hand side of the screen under the bet slip area.
You can use the Parlay Generator with a few steps:
Select the range of sports betting odds you're looking for with your bets or how much money you want to win on your ticket. The initial payout on the generator will be based on a $50 bet.
Select whether you want to stick with one league, or you're open to accepting parlay items from multiple markets. You could select that you want an NFL-only parlay ticket, for instance.
Choose which of the three betting formats you would prefer using on your ticket. You can stick with spread, money line or total wagers.
The Parlay Generator will provide up to five items. You can remove any of them if you wish.
Check the total payout you'll get on the parlay based on a $50 wager.
Click the Add to Betslip option and then review how much you're going to wager. You can bet more or less than $50 on that parlay if you wish.
Finalize the bet, and your parlay is ready to go.
Don't Forget the Easy Parlay Feature
Maybe you'd rather have more control over your parlay. You might have more interest in sticking with certain parlays. You can use the Easy Parlay feature to help you create parlays with ease. The Easy Parlay feature is on the top of the screen and will bring you to a menu where you'll find the best odds for every match.
Here's how you can set up your parlay with the Easy Parlay:
Select the sport you want to utilize. The sports you find will vary throughout the year.
Identify what bet types you're interested in the most, including spreads, money lines, and totals.
Click the items you want to add to your parlay. You can jump between sports and bet types here.
Check the possible payout based on your picks and your wager amount.
Confirm your bet when you're ready.
Live Sports Betting at MGM!
You've got an opportunity to get in on live bets throughout the world with BetMGM. The sportsbook will show what events are taking place right now and what bets are available.
You can even watch some of these live sports betting events through the BetMGM website. Some live sports betting events feature links to streaming sites where you can watch the action in real time. You can watch it directly through a media player on the BetMGM online sports betting site, so you don't have to leave the website to watch something for wagering purposes.
---
Deposit And Withdrawl Options
| Deposit Method | Minimum Deposit Amount | Deposit Time |
| --- | --- | --- |
| Visa/MasterCard/Amex | $10 | Instant |
| Debit Card | $10 | Instant |
| Play+ Card | $10 | Instant |
| Bank Transfer | $10 | Instant |
| Paypal | $10 | Instant |
| Cash At Casino Cage | $10 | Instant |
| PayNearMe | $10 | ~15 Minutes |
| Skrill | $10 | Instant |
| Withdrawal Method | Minimum Withdrawal Amount | Withdrawal Time |
| --- | --- | --- |
| Check | $10 | ~ 5 Days |
| VIP Preferred E-CHeck | $10 | 1-5 Days |
| Play+ Card | $10 | ~2 Hours |
| Bank Transfer | $10 | ~2 Hours |
| Cash At Casino Cage | $10 | Instant |
| Paypal | $10 | ~2 Hours |
| Skrill | $10 | ~2 Hours |
---
What Is BetMGM?
BetMGM is an extraordinary partnership between MGM Resorts International and Entain Holdings, bringing together a legendary global entertainment company and the world's largest online betting technology company. This collaboration has captured the attention of the gaming world, redefining sports betting and online gaming in the United States. BetMGM stands as the exclusive sports betting division of MGM, both online and in their renowned casinos nationwide. Moreover, BetMGM serves as the headline brand for online casino gaming, alongside sister brands such as Borgata Online (New Jersey), Party Casino, and Party Poker.
History Of BetMGM & MGM Resorts
Joint Venture Deal (7/30/2018)
On July 30, 2018, MGM Resorts International and Entain Holdings embarked on a groundbreaking joint venture deal, paving the way for the birth of BetMGM. This historic collaboration set the stage for the reimagining of the U.S. gaming market.
Welcoming a Visionary CEO (10/23/2018)
In a pivotal moment for BetMGM, we welcomed Adam Greenblatt as our CEO on October 23, 2018. With his visionary leadership, we embarked on an ambitious journey to establish a prime position in the rapidly evolving U.S. gaming market.
Moneyline Sportsbook at Borgata (6/28/2019)
Continuing our commitment to delivering unparalleled gaming experiences, BetMGM opened the Moneyline Sportsbook at Borgata on June 28, 2019. This expansion injected over $12 million in development into the renowned casino-resort, further elevating the gaming landscape.
Opinions Advertising Campaign (9/04/2019)
On September 4, 2019, BetMGM launched Opinions, an engaging and captivating broadcast advertising campaign. This campaign showcases some of the biggest personalities in sports culture, emphasizing our dedication to providing a platform for diverse opinions and experiences.
BetMGM Relaunch and Rebranding (9/05/2019)
To incorporate the new Entain sportsbook platform into our app and solidify its position as the core mobile platform for future rollouts, BetMGM relaunched and rebranded its pinnacle product on September 5, 2019. This strategic move further enhanced our digital gaming offerings.
Partnership with Buffalo Wild Wings (9/05/2019)
Recognizing the immense potential of expanding our reach, BetMGM forged a strategic partnership with Buffalo Wild Wings sports bar on September 5, 2019. This collaboration enables us to introduce the BetMGM digital gaming platform to a broader audience across the United States.
Technological Advancements (10/03/2019, 10/08/2019)
BetMGM introduced state-of-the-art technology to enhance customer experiences at two prominent properties in Mississippi. On October 3, 2019, we unveiled cutting-edge technological advancements at the Gold Strike property. Soon after, on October 8, 2019, we extended these innovations to the Beau Rivage property. These advancements represent our commitment to providing our players with the most immersive and technologically advanced gaming experiences.
Historic Partnership with Yahoo Sports (10/29/2019)
In a landmark move, BetMGM formed an historic partnership with Yahoo Sports on October 29, 2019. This exclusive sports betting collaboration allows us to leverage Yahoo Sports' expansive reach and engage with a wider audience of sports enthusiasts.
---
Can You Use The MGM Betting App Anywhere? Find Out What States is BetMGM Legal In?
BetMGM has been making waves in the U.S. sports betting market by expanding its reach to numerous states. Currently, online wagering at Betmgm is legal in New York, New Jersey, West Virginia, Illinois, Iowa, Indiana, Colorado, Tennessee, Pennsylvania, Michigan, Virginia, Wyoming, Arizona, Louisiana, Maryland, Massachusetts, and Washington D.C. In Nevada, while BetMGM holds a mobile betting license, the registration process must be completed in-person at a BetMGM Sportsbook in Las Vegas.
Furthermore, BetMGM has established geofencing measures in certain locations to ensure compliance with local regulations. For instance, in Washington D.C., betting is limited to Nationals Park and the surrounding area, while Mississippi residents can place wagers only within the borders of the brand's two casino properties.
There is a lot going on with both the app and the BetMGM online website, but everything is organized efficiently and intelligently to enhance the user experience. Betting on sports, even for the most experienced bettor, can be overwhelming when there are a lot of leagues and a lot of events in action.
The BetMGM mobile app also seamlessly integrates the MGM Casino and the poker client to create a cohesive, all-encompassing gaming experience and that is one of the biggest selling points of the MGM resorts international family of apps.
Given the immense resources and reach of MGM and GVC, it's highly likely that BetMGM will continue to explore opportunities for expansion into other sports betting states in the near future. Keep a lookout for the arrival of BetMGM in your area, as this exceptional sportsbook continues its quest for nationwide coverage.
Find Out More About MGM
---
BetMGM Sports Betting App FAQ
What Is The BetMGM First Bet Signup Bonus?
BetMGM first bet promotion is pretty simple they will refund your wager of up to $1000 if your first real money qualifying wager you place loses. If it wins you get your normal return on your first bet. The refund comes in the form of bonus bets.
I Don't Live In A Legal State Can I still Download The BetMGM Sports App?
Anyone, anywhere can signup and download the app. However, to place a bet you must be within a legal state that has a sports betting market available.