How does the BetMGM sports betting app work? Like a charm. The MGM betting app got its early start as the PlayMGM App with the legalization of sports betting in New Jersey, then through a joint venture between GVC Holdings and MGM Resorts International the rebranding and relaunch as BetMGM. The BetMGM sports betting app utilizes GVC's sportsbook platform that gives customers "a seamless betting and gaming experience, and a best-in-class mobile technology."
MGM Betting App New User Bonus Offers
The exciting thing about the MGM betting app is they offer sports bettors multiple new user promotions to choose from when signing up. Currently, BetMGM has multiple promotions available depending on what you are looking for, in the table below are the current BetMGM bonus codes with the corresponding promotional offer:
| BetMGM Bonus Code | Sport | Promo Information | Claim Offer |
| --- | --- | --- | --- |
| ATSRF1000 | Any Sport | $1,000 Risk Free Bet | ATSRF1000 Claim Now |
| ATS25 | Casino Only | $25 No Deposit + $1,000 Deposit Match | ATS25 Claim Now |
21+, Gambling Problem? Call 1(800)-GAMBLER
MGM Betting App Weekly Promo Review & Details
The MGM sportsbook app really knows how to treat its new users with great welcome bonuses to get them off to a positive start. The Bet $10 Win $200 has expired but new users now get a huge $1000 Risk-free bet promo on the BetMGM betting app. Those in New Jersey, Michigan, and Pennsylvania can also take advantage of their casino promotions.
#1 BetMGM Promo – $1000 Risk Free Bet
The final new user welcome promotion in the MGM sportsbook offers is a risk-free first bet up to $1000. As with the other promo simply register and then make your first wager. This wager will be refunded up to $1000 if it loses. If it wins you can potentially double your account up to $1000! Available in all states except New York.
#2 MGM Casino – $25 Free No Deposit & 100% Deposit Match
Just for registering in the MGM casino, new users will get $25 in free bonus funds, and to top that off, you will also be eligible for a 100% deposit bonus match up to $1,000. Online casinos are available in Pennsylvania, New Jersey, Michigan and West Virginia.
Bet $10, Get $200 is expired – Check out Other Sportsbooks with Bet & Get Offers
If you were looking for the Bet $10, Get $200 offer, it has unfortunately expired with no set date for it to return. If you are looking for similar bet and get offers, be sure to check out these other sportsbook offers from some of our top choices in the US market.
How To Use The BetMGM Sports Betting App
Create a Online Bet MGM betting account!

The way to unlock all of the features of the BetMGM app is to first create an account. To the easiest way is to first visit the Website by Clicking Here.

You'll have to click or push the Register button and put in the required personal information. Remember, you dont have to live in a state where sports betting is legal however to place a bet you'll have to be physically located in an approved state where BetMGM is legal, currently, those states are Arizona, Colorado, Illinois, Indiana, Iowa, Louisiana, Maryland, Michigan, New York, Nevada, New Jersey, Pennsylvania, Tennessee, Virginia, Washington DC West Virginia, and Wyoming.

Download the MGM betting app

The BetMGM website is mobile friendly however if you want to install the app on your phone, doing so is very easy. Once your logged in scroll down to the bottom of the page in the footer you will find a link to the Sports Betting Guide, click that. Next again scroll down and here you will find links for both IOS and Droid.

Learning to use the MGM App

The best way to learn how a sports betting app like BetMGM works is to spend some time familiarizing yourself with the layout and all of the features. Click around for a while. Check out the odds on upcoming and popular events. Look through the futures market for the upcoming season. Get a lay of the land. There are dozens of sports betting options on the site, so it can be a bit challenging at first, but once you settle in, you'll be good to go.

With the BetMGM Sportsbook, all of the traditional bet types of are present. Each game in one of the major leagues will have Spread, Money Line, and Total odds. Most games will also have an additional set of prop betting lines. Once you select the line that you want to bet, it will show up in your Bet Slip, which is where you can enter the Win Amount or Risk Amount and then confirm your bet prior to submission.

Customer service agents are always available and BetMGM also has an extensive catalog of FAQs and helpful tips for those that are just starting out or those that can't find what they are looking for. There is also a Search feature so that you can enter the team name or the competition as a shortcut to get exactly where you want to go.

It would be wrong to say that the BetMGM mobile app is boring, because it isn't, but it doesn't have all of the distractions or the loud bells and whistles of some of its competitors.

As such, the BetMGM sportsbook app is a great starting point for anybody dipping a toe into the sports betting pool, those ready to do a cannonball and make a big splash, or those that are comfortable and confident going up to the high-dive platform. It is one of the easiest apps to master.

See for yourself how the MGM app works by signing up right here through ATS!
A Look Around The Bet MGM Betting App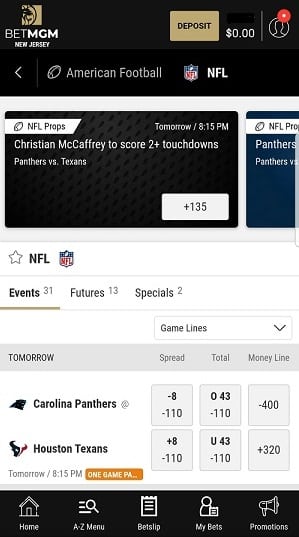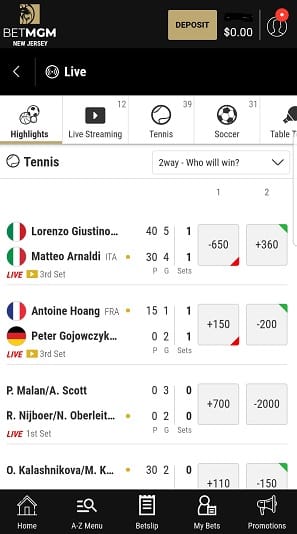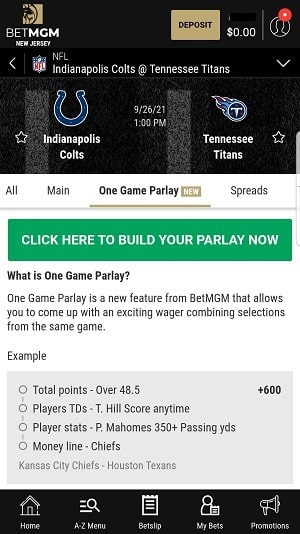 Can you use BetMGM Betting App anywhere? What states can you use MGM App?
Sports betting enthusiasts can use both the MGM App and BetMGM online sportsbook from anywhere however users must be located in one of the following states to place bets: Arizona, Colorado, Illinois, Indiana, Iowa, Maryland, Michigan, Mississippi, Nevada, New Jersey, New York, Pennsylvania, Tennessee, Virginia, Washington DC, West Virginia, and Wyoming with more on the way! How does that work? Take for example a user lives in NY, they can signup at BetMGM sportsbook from home then anytime they want to place a bet go across the board make their bet and go home and enjoy the game!
There is a lot going on with both the app and the BetMGM online website, but everything is organized efficiently and intelligently to enhance the user experience. Betting on sports, even for the most experienced bettor, can be overwhelming when there are a lot of leagues and a lot of events in action.
The BetMGM mobile app also seamlessly integrates the MGM Casino and the poker client to create a cohesive, all-encompassing gaming experience and that is one of the biggest selling points of the MGM resorts international family of apps.
How To Deposit & How Does BetMGM Payout?
BetMGM Deposits Options:
ACH e-check
BetMGM online Play+
Credit card: Mastercard, Visa, or American Express
Online banking transfer
PayNearMe
PayPal
Retail casino cashier
Skrill
VIP Preferred
BetMGM Payout Options:
So you have won your MGM bet and now want to cash out? MGM has many options. You can make at withdrawal with BetMGM in the following ways. First in person at any MGM resorts international property IE the Brogata. Or using Play+, Paypal, VIP Preferred, Check by Mail, Skrill or ACH/Wire Online Banking.
What Is BetMGM?
BetMGM in a revolutionary casino and sportsbook app made possible through a partnership with MGM Resorts International and Entain Holdings that offers sports betting and online gaming in the United States.
What sports betting markets are open for betting?
You'll find just about every sport betting option under the sun at the BetMGM Sportsbook. Check the column on the left-hand side of the screen to see what sports are available for wagering. Options include: NFL, NBA, College Football and Basketball, MLB, NHL, Soccer, Darts, Nascar, Rugby and more. To make it easy the MGM app allows you to search for an event in the search bar if you need extra help.
What Type Of Sports Bets Are Available?
You'll need to find smart sports betting choices when wagering, and the BetMGM app has them all. Look at what you'll find when checking on what bets are available:
The football section will show all the game lines and first-half lines for NFL and college events alike. You'll find the spread, money line, and total bets for each. Click on a game and see the prop market, odds boosts and more.
You'll find similar bets for basketball and ice hockey, including full-game and first-half or first-period lines.
BetMGM's baseball bets feature, NFRI, props, full-game and first-five innings wagers.
You'll see the three-way money line bets for soccer matches, over/unders, and various additional bets like the Handicap 0:1 and Double Chance wagers.
Two or three-way bets for golf tournaments are available. These let you pick which golfer out of a pairing of two or three will do the best.
Click the sport of interest and check out the specific sections for each sport. You can find the leagues you wish to wager and more.
What Props are available on the MGM App?
Click any matchup on the BetMGM sports betting website to find the best props for each game. The number of props available for a match will vary by event, but you could find dozens. From alternate spreads to margin of victory bets to wagers on specific players, you've got a full array of wagering choices here.
What's the Lion's Boost at BetMGM?
You find plenty of fair odds throughout the BetMGM Sportsbook, but some props have more appealing odds than others. The Lion's Boost feature is a special you'll find for select leagues. The Lion's Boost provides high-paying odds for specific props or other events that take place. There's a different boost each day, so check out what's open before you start.
Build Your Parlays Fast With the Parlay Generator
You could find some great payouts on a parlay bet at BetMGM. The BetMGM Parlay Generator will help you produce the best parlay ticket. The generator is on the right-hand side of the screen under the bet slip area.
You can use the Parlay Generator with a few steps:
Select the range of sports betting odds you're looking for with your bets or how much money you want to win on your ticket. The initial payout on the generator will be based on a $50 bet.
Select whether you want to stick with one league, or you're open to accepting parlay items from multiple markets. You could select that you want an NFL-only parlay ticket, for instance.
Choose which of the three betting formats you would prefer using on your ticket. You can stick with spread, money line or total wagers.
The Parlay Generator will provide up to five items. You can remove any of them if you wish.
Check the total payout you'll get on the parlay based on a $50 wager.
Click the Add to Betslip option and then review how much you're going to wager. You can bet more or less than $50 on that parlay if you wish.
Finalize the bet, and your parlay is ready to go.
Don't Forget the Easy Parlay Feature
Maybe you'd rather have more control over your parlay. You might have more interest in sticking with certain parlays. You can use the Easy Parlay feature to help you create parlays with ease. The Easy Parlay feature is on the top of the screen and will bring you to a menu where you'll find the best odds for every match.
Here's how you can set up your parlay with the Easy Parlay:
Select the sport you want to utilize. The sports you find will vary throughout the year.
Identify what bet types you're interested in the most, including spreads, money lines, and totals.
Click the items you want to add to your parlay. You can jump between sports and bet types here.
Check the possible payout based on your picks and your wager amount.
Confirm your bet when you're ready.
Live Sports Betting at MGM!
You've got an opportunity to get in on live bets throughout the world with BetMGM. The sportsbook will show what events are taking place right now and what bets are available.
You can even watch some of these live sports betting events through the BetMGM website. Some live sports betting events feature links to streaming sites where you can watch the action in real time. You can watch it directly through a media player on the BetMGM online sports betting site, so you don't have to leave the website to watch something for wagering purposes.
What States is BetMGM Legal In?
Sports betting legalization is sweeping across the US and BetMGM has been along for the ride. Currently, it is legal to place a wager at BetMGM in the following states: Arizona, Colorado, DC, Illinois, Iowa, Indiana, Louisiana, Maryland, Michigan, New York, New Jersey, Pennsylvania, Tennessee, Virginia, West Virginia, and Wyoming.
BetMGM Sports Betting App FAQ
What Is The Risk Free Bet Signup Bonus?
BetMGM risk-free bet promotion is pretty simple they will refund your wager of up to $1000 if your first real money qualifying wager you place loses. If it wins you get your normal return on your first bet. The refund comes in the form of free bet credits
I Don't Live In A Legal State Can I still Download The BetMGM Sports App?
Anyone, anywhere can signup and download the app. However, to place a bet you must be within a legal state that has a sports betting market available.