BetMGM Sportsbook is widely available in the United States today and is your go-to betting site for player prop bets. Continue reading to learn everything you need to know about BetMGM Player Props, including how they work, what options are offered, and how to get started today!
In recent years, BetMGM Sportsbook has really stepped up its game, becoming one of the top sports betting sites not only in the United States but also around the world. They've got you covered with a wide range of sports and leagues, and there are plenty of exciting ways to bet on your favorite teams and events.
One area where BetMGM Sportsbook truly stands out is in the world of player prop betting. These player prop bets, also known as "proposition bets," have become a real hit among bettors lately. They let you take your betting experience up a notch by allowing you to wager on specific player performances and stats.
In this article, we're going to take a deep dive into BetMGM Sportsbook Player Props. We'll explore the different types of player props BetMGM offers, break down how they work, and answer any questions you might have along the way. So, let's get started and see what the excitement is all about!
---
Does BetMGM Have Player Props?
Absolutely, BetMGM Sportsbook is one of the best in the industry when it comes to player props. They've got a fantastic variety of betting markets for individual player performances, and they cover just about every sport you can think of. So, whether you're into football, basketball, baseball, hockey, soccer, MMA, golf, tennis, or anything else, you can always find plenty of player props to bet on.
For instance, in an NFL game, you can bet on things like how many passing yards a quarterback will throw or the number of receptions a wide receiver will make. If it's the NBA, you can wager on a player's total points or assists. There are endless possibilities, and it's a blast for those who really know their players and teams.
What's also great is that BetMGM Sportsbook makes it super easy for player prop bettors. Their website and app are very user-friendly, with all the statistics and information you need right at your fingertips. Plus, they even let you create parlays with player props. This means you can combine several prop bets into one, potentially boosting your payout if they all hit. It's everything you could hope for and more!
---
Best BetMGM Player Prop Bets
The best BetMGM player prop bets for you will depend on a number of different factors, including your sports expertise, favorite athletes, and personal betting style. Fortunately, BetMGM offers a little bit of everything, making sure that everyone can find something that suits their taste.
Here are a few of the most popular player props offered by BetMGM Sportsbook today:
NFL Player Props
BetMGM is your go-to destination for thrilling NFL player prop bets. Whether you're a seasoned football fanatic or a casual observer, there's something for everyone. You can wager on a wide range of player performance metrics, such as passing yards, rushing yards, and receiving yards for quarterbacks, running backs, and wide receivers.
The excitement doesn't stop there – touchdown-related props are a hit, allowing you to predict if a player will find the end zone at any point during the game. BetMGM doesn't forget the defensive side of the ball either, offering unique NFL player props like tackles, sacks, and interceptions.
NFL betting on player props at BetMGM is a football fan's paradise, providing endless opportunities to engage with your favorite players and teams.
NBA Player Props
BetMGM is also your one-stop shop for exciting NBA player prop bets. Basketball fans can immerse themselves in the action by betting on various individual player performances. You can wager on points, assists, rebounds, steals, and blocks for star players like LeBron James, Kevin Durant, and Giannis Antetokounmpo, among others.
For those who enjoy a bit more complexity, you can explore props like three-pointers made, double-doubles, and even triple-doubles. These bets add an extra layer of excitement to the game, as you're not only rooting for your team to win but also for your favorite player to reach specific statistical milestones.
BetMGM offers a wide variety of NBA player props to cater to every type of basketball fan, from the casual viewer to the hardcore statistician. Overall, BetMGM player props for NBA betting are an excellent way to enhance your viewing experience and potentially profit from your knowledge of the game.
MLB Player Props
When it comes to MLB betting, fans will find a wealth of baseball player prop bets at BetMGM. Whether you're a die-hard fan who knows every stat or a casual viewer just looking to add some extra thrill to the game, there's sure to be something for you. You can bet on player performance metrics like hits, home runs, RBIs, and strikeouts for batters and pitchers.
Furthermore, BetMGM offers unique MLB player props like the first player to score, total bases in a game, and even how many pitches a team's starting pitcher will throw before getting pulled. These props make every pitch and at-bat more exciting as you watch your chosen players strive to meet these specific goals.
NHL Player Props
Hockey fans can also easily get in on the action with NHL betting on player props at BetMGM Sportsbook. You can wager on player statistics like goals, assists, and shots on goal for star players like Connor McDavid, Sidney Crosby, and Nathan MacKinnon.
If you're looking for even more excitement, BetMGM offers unique NHL props like the first player to score, power-play goals, and even the number of blocked shots in a game. Overall, NHL player props at BetMGM are a fantastic way to enhance your hockey viewing experience. Whether it's a regular-season matchup or a high-stakes playoff game, player props provide another dimension of fun and anticipation.
Soccer Player Props
Last but not least, in the fast-paced world of soccer betting, BetMGM offers a great selection of player props for all your favorite leagues, including the MLS, Premier League, Bundesliga, La Liga, UEFA Champions League, and more!
You can bet on player performance metrics like goals, assists, shots on target, and even yellow cards for top footballers like Lionel Messi, Cristiano Ronaldo, and Neymar. And if you're looking for even more action, BetMGM offers unique soccer prop bets like the first player to score, total corner kicks in a match, and the exact minute of the first goal.
---
How To Place a Player Prop Bet on BetMGM Sportsbook
Time needed: 4 minutes
Are you ready to start placing player prop bets with BetMGM Sportsbook? Just follow the six simple steps outlined below!
Visit the BetMGM Website or App

To get started, you can click or tap here to visit the BetMGM Sportsbook website on your smartphone, tablet, or another device of your choice. Or, if you'd prefer, you can download the BetMGM Sportsbook mobile app from the App Store or Google Play Store.

Sign Up or Log In

If you're a new user, you'll need to sign up for an account by providing your personal information, creating a username and password, and agreeing to the site's terms and conditions. If you're an existing user, simply log in with your username and password to access your account.

Make a Deposit

To place bets, you'll need to fund your account. This involves adding money to your BetMGM account using one of the available payment methods, such as credit/debit cards, e-wallets, or bank transfers. Also, be sure to check out the latest BetMGM Promo for new users to add some extra value to your online betting experience!

Choose a Player Prop Market

Once you're logged in and have a funded account, navigate to the sports betting section and select the specific sport or league you're interested in (NFL, NBA, etc.). Within that sport, choose the player prop market that you want to bet on.

Adjust Your Bet Slip

After selecting your preferred player prop, you'll need to adjust your bet slip. Here, you can specify the amount you want to wager, review the odds associated with your bet, and see the potential payout based on your chosen stake.

Place Your Bet

Once you've configured your bet slip and are satisfied with your selections, click the "Place Bet" button to confirm your wager. Good luck!
---
BetMGM Player Props: Everything You Need To Know
Do you still have questions about BetMGM Player Props? Well, don't worry! We've got all the answers. Here is a general overview of everything else you'll need to know before getting started:
Where Are Player Props on BetMGM Sportsbook?
Finding the player prop bets on BetMGM Sportsbook is a very straightforward and easy process. You'll just need to open the BetMGM website or mobile app, choose your preferred sport or league from the options provided (NBA, NHL, Soccer, etc.), select the matchup or sporting event you're interested in, and find the specific player prop that you'd like to bet on.
For example, if you wanted to bet on wide receiver CeeDee Lamb to score a touchdown in an upcoming game between the Dallas Cowboys and the New York Giants, you could do so by taking the following steps:
Find your way to the home page on the BetMGM Sportsbook website or mobile app.
Select "NFL" from the list of sports and leagues covered by BetMGM.
Choose the New York Giants vs. Dallas Cowboys matchup from that week's slate of games.
Click or tap the "Players" subheading near the top of your screen. It is typically located between the "SGP" and "Spread" tabs.
Find the "Touchdown Scorers" section, and locate CeeDee Lamb's name listed along with other players on the Dallas Cowboys and New York Giants. The odds for this wager will be located directly next to CeeDee Lamb's name.
Place Your Wager. Then, sit back, relax, and see how things play out!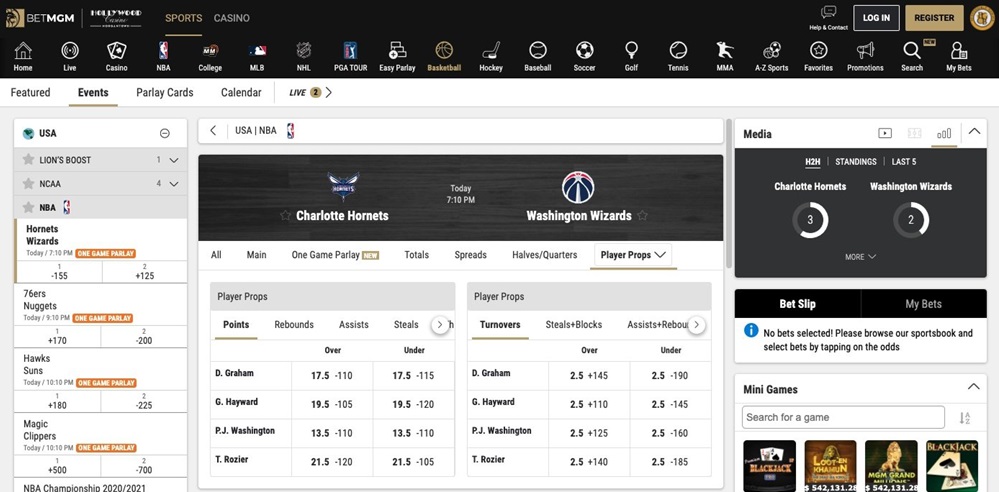 How Do Player Prop Odds Work on BetMGM?
Player prop odds on BetMGM are a way to bet on specific outcomes related to individual player performances in various sports, such as football, basketball, baseball, hockey, and soccer. These odds represent the likelihood of a particular event happening during a game, and American odds (i.e., moneyline odds) are the most common format utilized by BetMGM Sportsbook.
In American odds, you'll come across both positive and negative numbers. When you encounter positive odds (e.g., +200), it means that a successful $100 bet could potentially bring you an additional profit of $200. These positive odds are typically linked to underdogs or less likely outcomes.
Conversely, negative American odds (e.g., -150) indicate how much you need to wager to potentially win $100. For instance, with odds of -150, you'd need to bet $150 to potentially win an additional $100. Negative odds are commonly associated with favorites or more probable events.
These odds are determined by various factors, including the player's track record, the strength of the opposing team's defense, and the sportsbook's analysis. It's very important that you understand these odds in order to evaluate the potential risks and rewards of your player prop bets on BetMGM.
Can You Parlay Player Props on BetMGM Sportsbook?
Certainly! Yes, you can absolutely parlay player props on BetMGM Sportsbook. Parlaying player props is a way to combine several individual player performance bets into a single, customized wager. It adds an extra layer of excitement to your betting experience, as you're not just rooting for one game but multiple games or events, with each player's performance contributing to your potential payout.
To win a parlay of player props, you must get all your selected prop bets correct. If even one of your chosen player props doesn't come through, the entire parlay will be considered a loss. While parlaying player props can offer larger potential winnings, it also carries a bit more risk, as each added selection makes the parlay less likely to win.
---
Other Types of Sportsbook Prop Bets
In addition to player props, online sportsbooks like BetMGM offer several other types of prop bets that add even more excitement to your sports betting experience. Here are some of the other types of prop bets you can explore:
Game Props
Game props open up a world of thrilling opportunities beyond individual player performances. These bets focus on specific events or outcomes within a single game, allowing you to immerse yourself in the finer details of the match.
For example, you can wager on which team will score first, adding an extra layer of anticipation to the game's start. Predicting the exact margin of victory can turn even a one-sided contest into a nail-biter, as you consider the potential outcome down to the last point or goal.
And for those games that seem destined for extra drama, you can bet on whether or not the game will go into overtime, intensifying the excitement as you watch the clock tick down. Game props are a fantastic way to elevate your sports betting experience by diving into the heart of the game's dynamics and unpredictability.
Team Props
Team props are all about the collective performance of a team during a game. They offer you the chance to wager on various aspects of a team's performance, whether it's points, rebounds, assists, or turnovers. For example, in an NBA game, you could bet on whether the Los Angeles Lakers will score more or fewer than 110 points.
In a soccer match, you might predict whether Real Madrid will receive more or fewer yellow cards than a certain number. Team props provide an excellent way to get immersed in the group dynamics of a game, letting you engage with the overall performance or output of the team.
Novelty Props
And last but certainly not least, we have novelty props. These props bring a delightful touch of fun and unpredictability to your sports betting journey. They're not about the game's final score or how players perform; instead, they revolve around those unexpected and often entertaining moments that can happen during a sports event.
Think of novelty props as a way to add a bit of joy and amusement to your betting experience. You can bet on things like which team's mascot will make its debut first during a timeout, whether a fan will catch a foul ball, or even if a famous celebrity will make a cameo appearance in the stands.
Novelty props are all about the element of surprise and those delightful moments that can pop up during a game, making your sports betting adventure even more lively and fun.
---
Further Reading: More About BetMGM Sportsbook
---
Frequently Asked Questions (FAQ)
What are player props on BetMGM?
Player props are bets on specific events or outcomes related to individual player performances in sports. They allow you to wager on aspects like a player's points, assists, rebounds, or other statistics during a game.
What types of player props are available on BetMGM?
BetMGM provides a wide range of player props, such as points scored, assists, rebounds, goals, touchdowns, and more. You can also find unique props related to specific player achievements.
Can I create parlay bets with player props on BetMGM?
Yes, you can create parlay bets by combining multiple player props into a single wager. Parlays offer the opportunity for higher payouts if all your selections are correct.
What are some tips for successful player prop betting?
Successful player prop betting involves research, bankroll management, understanding odds, and keeping track of team and player trends. Set a budget, avoid chasing losses, and make well-informed selections.