What Is The Bet $1, Win $100 BetMGM Sportsbook Promo Offer?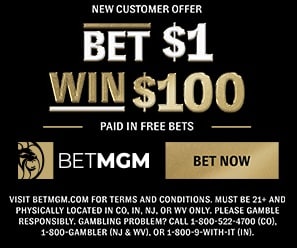 Bet $1 to Win $100 at BetMGM Sportsbook. That has been a recurring promotion from the fine folks over at BetMGM and they've applied it to the NFL and NBA to this point and more sports will likely follow as we go forward.
The $100 comes in the form of free bets, but as a new user offer, it is the perfect complement to a BetMGM Sportsbook sign-up bonus, which is a risk-free bet up to $500. When you really boil it down, these two promotions from BetMGM Sportsbook are designed to help you get a head start on your bankroll.
The $100 in free bets have been on prop bet wagers that have a microscopic chance of losing. Something like Bet $1, Win $100 if the Packers or Saints score a touchdown in a game. Notice the "or". Not "and". "Or". Either team has to score a touchdown. Simple. Easy. Free money.
We've seen them on things like Bet $1, Win $100 if the Lakers or Nuggets make a three-point shot. We've even seen Bet $1, Win $100 if ANY NFL team scores a touchdown.
These promotions are designed to get you in the door. There are no strings attached. BetMGM simply wants your business in a crowded sports betting landscape and they're willing to give you some incentive by offering up $100 in free bets on things that have a 99.9999999999% probability of happening.
Current Bet $1 To Win $100 Promos At BetMGM
We weren't really sure if the 2020 World Series would actually take place, but it is here and BetMGM Sportsbook is ready to celebrate the
Read More »
Parlays are a big part of the sports betting equation for both sides of the counter. Bettors like to play them because they can be
Read More »
During a week in which nothing seems certain in the NFL, there is one certainty. You can pick up $100 in free bets for the
Read More »
BetMGM
BetMGM is known around the world as a hub for all things gaming. MGM has resort and casino properties strewn across the globe and they operate legal sports betting in the United States in Colorado, Indiana, New Jersey, Michigan, West Virginia, and Nevada, with more soon to come. This is a trusted and reputable betting outfit.
In a buyer's market, which the world of sports betting is right now as it grows at a fever pitch across the country, sportsbooks are doing everything that they can to increase sign-ups and market shares. The beauty of that for you is that it means a whole lot of beneficial and useful promotions, like Bet $1, Win $100 on a variety of easy-to-win wagers.
Like we said, this is basically free money. The irony is not lost that it comes in "free bets" at BetMGM, which do have additional stipulations compared to betting with cash, but they are not prohibitive in the least. You just can't withdraw free bets like real money or anything like that. You have to adhere to some very reasonable guidelines, like not wagering your free bets on extreme favorites or lottery ticket parlays.
To this point, BetMGM Sportsbook has had a different Bet $1, Win $100 promotion each week and some weeks have even had multiple promotions. These only apply to new users. If you already have a BetMGM Sportsbook account, you cannot use these. If you don't have a BetMGM Sportsbook account, these truly are a great way to get started, especially when paired with the sign-up and deposit bonus here at ATS.
Remember, for now, these promotions apply in Colorado, Indiana, New Jersey, and West Virginia, but Michigan will be launching online sports betting within the next six months and they will likely be added to this list.
Keep an eye on our Sportsbook Promotions section at ATS to see what the latest Bet $1, Win $100 promotions are at BetMGM and then take that chance to sign up and see what this top-rated sportsbook has to offer.