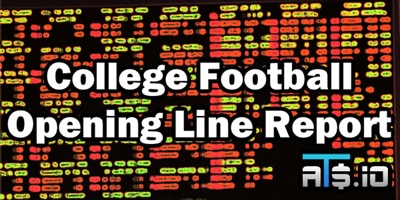 I marvel at it every week, but when your sense of what's normal gets thrown off as badly as what we have seen in 2020, the idea that we keep getting new rounds of college football games is such a blessing. In fact, I was texting with my boss and the owner of ATS before putting together this intro and I'll never take for granted a full stadium or even just attending a sporting event again.
Anyway, Week 9 of the college football season starts on Thursday night with the Fun Belt and the Mountain West. The Mountain West started last week and we have already seen some overreactions in the betting markets and we are seeing the same with the Big Ten. Those games will be highlighted here in the Opening Line Report.
You want to watch the progression of the line throughout the week. Think of each game as a living organism with phases to go through during the week. Birth on Sunday. Adolescence on Monday and Tuesday. Young adults on Wednesday and Thursday. Adults on Friday and Saturday. Then we remember them and consider them as we go throughout the season before we put them to rest when the season is over. The betting markets go through that maturation process in phases.
Is it an exaggeration or a sensationalist point of view to think about games in that way? Not in my opinion because what happens throughout the week impacts your view of these teams. It impacts the efficiency of the betting market. It tells us a lot of what we need to know. That's why we need to stay on top of everything happening on the betting board if we want to get the best number that we can and win as many bets as possible.
Lines are a consensus from BetMGM, DraftKings, BetRivers, and PointsBet.
Here is the College Football Opening Line Report for Week 9:
Colorado State (-1.5, 57) at Fresno State
Here's one of those overreactions. The market bet Fresno State down several points against Hawaii and the Bulldogs lost. They were also -3 in TO margin, so things could have probably gone a little bit better. Colorado State did not play. They were supposed to be a three-score favorite against New Mexico and the game was canceled. Teams that have not played have done extremely well against teams that have played, which may be fueling the movement here, but it seems as though perception is very low on Fresno State.
Minnesota (-20.5, 60.5) at Maryland
Minnesota did not have a good opening salvo against Michigan, but it paled in comparison to the epic beatdown that Maryland received at the hands of Northwestern. This line opened 18 at the Circa in Las Vegas, but did get bet up and got released higher in the marketplace at other shops. It's hard to see this line coming down too much, but that is a big spread.
Hawaii (-2.5, 57.5) at Wyoming
This is a game where I think the wrong team is favored and this line has come back down a little bit from 2.5 to 2. Hawaii opened -1 on the global openers at Circa. Wyoming has QB issues and the defense was not good against Nevada. I don't know if we see Wyoming become a favorite, especially after so much money hit Hawaii last week. Somebody with influence is high on Hawaii for this season.
Michigan State at Michigan (-25.5, 51.5)
Poor Sparty. Last week's loss to Rutgers was not pretty by any means, but the box score was a little misleading. That hasn't stopped bettors and oddsmakers from adjusting, as this line is 25.5 and growing. Michigan was -24.5 back in Week 9 2016, but this is the biggest line since October 10, 1992 when Michigan was -28. Michigan State has actually only been favored six times head-to-head, with -17 their biggest favorite role back in 2014.
North Carolina (-6.5, 59.5) at Virginia
This line is a bit of a head-scratcher for me. The global opener of -4 at Circa was an even bigger one. Perhaps Virginia is better than expected. North Carolina's offense has been everything and then some. The defense has been the worrisome part. Still, this line got up to 7 and has since started to come back down to 6.5. It has settled there. We'll see if there is more movement to be had.
Kansas State at West Virginia (-3.5, 51)
We're seeing West Virginia money in the markets. Kansas State throttled Kansas, but special teams played a huge role. West Virginia lost on a defensive score against Texas Tech. Pay attention to box scores. They'll help you find some games that will have line moves. Based on the box scores from last week, and the bodies of work for these two teams, this game fits the criteria as early Kansas State money has been erased by West Virginia support.
Virginia Tech (-2.5, 65) at Louisville
This is a hard game to line and to handicap. Louisville hasn't looked the part much this season, but they did last week against Florida State. Virginia Tech has also been something of a Jekyll and Hyde team. This line has hit 3 at some places, but others are showing 2.5 and extra juice. Neither one of these teams has a trustworthy profile, but Virginia Tech is rightfully a road favorite here. We'll see if the market starts moving this line or not.
Coastal Carolina (-4, 64) at Georgia State
The market started lighting up on Game 129/130 as I started writing. Coastal Carolina was without starting QB Grayson McCall last week and the line against Georgia Southern moved as a result. With McCall likely back this week, it would appear that bettors believe this line is a little bit light with Coastal Carolina on the rise. The Circa opener even had Georgia State favored, but that was incorrect based on what we've seen so far.
Ohio State (-13, 59.5) at Penn State
Circa got caught on this one, as Ohio State opened -8. The rest of the market started to pop around 10 and 11 and the line still went up to Ohio State -13. I would expect it to sit here for right now. Sportsbooks will be reluctant to move all the way to 14 this early in the betting process and the numbers grabbers have already isolated line value on Ohio State, who will also get public support. Maybe 13.5 shows up here, but no 14. At least not right now.
Memphis at Cincinnati (-6.5, 60)
Let's see what happens with this line. My guess is that Memphis money comes in fast and heavy at some point early in the week. The market bet against Cincinnati twice in the last two weeks. The market got burned by SMU, but the Tulsa game was canceled. Either way, what we saw from those two games is that the market was not keen on the Bearcats. Now they're laying almost a touchdown against a high-powered Memphis offense? I'd be shocked if this line doesn't come down.
Purdue (-7.5, 47.5) at Illinois
Interestingly, if this line holds at 7 or lower, it will be the lowest favorite role for Purdue in this head-to-head matchup in the last four years. And many people really like this Purdue team. Illinois was waxed by Wisconsin in the first game of Big Ten play in a very public spot on Friday night. Purdue beat a consistently solid Iowa program. This is probably a sharp vs. public split game here if I had to guess. I think this is a little big of a number for Purdue, but the public will play it. Sharp money may like Illinois to fare better against a team they match up stronger against.
Nevada (-13, 58.5) at UNLV
This line went up like it had a rocket attached to its back on Sunday night into Monday. Nevada beat Wyoming outright and UNLV had 2.91 yards per play against San Diego State. Circa opened this one under 10 and so did a few other sportsbooks in the market before a lot of Nevada money came calling. The consensus here is 13, but it is all around that number in the markets.
Texas at Oklahoma State (-3.5, 57.5)
The fact that we are seeing a hook on Oklahoma State early in the week surprises me a bit. This looks like the type of game that will move down to 3 or under as the week goes along. This is also the lowest total we've had between these two teams since 2014. Circa opened the line 4, so we've seen a little Texas investment to this point. We'll see what we see as we move down the line here and also which side the public likes. Also, we'll see which side sharp money likes because you can make lots of cases for Tom Herman as an underdog, but bettors also genuinely like what Mike Gundy brings to the table.
Wisconsin (-8, 55) at Nebraska
It would seem based on the line movement we saw on Monday that news came out that Graham Mertz's COVID case has been confirmed. This line has fallen pretty substantially and it was already relatively low in the marketplace anyway, at least per my power ratings. With Jack Coan likely out, Chase Wolf will get the nod for Wisconsin. It looks as though big adjustments need to be coming to Wisconsin and Nebraska power ratings for me, but this line and total are likely to continue to drop until the dust settles.
UCF (-3, 78) at Houston
Keep an eye on this line. We've seen tons of support for Houston in the betting markets so far this season. UCF is a team that may be falling out of favor with some. Their box score last week against Tulane was very misleading, but we've got a massive total here and a game on a key number early in the week. Some of the U.S. books have already seen a move to 2.5 on Houston. This will potentially be a sharp vs. public split game.
LSU (-3, 64) at Auburn
Early money favors LSU here. Auburn opened a pick 'em or -1 in some places and now LSU is either at -3 or threatening to go there. The markets have spoken pretty loudly early in the week on this game. Consumer confidence in Auburn is very low and we're seeing that play out pretty obviously with the line movement in this matchup.
Missouri at Florida (-12.5, 63.5)
Let's keep an eye on this game. Missouri's dominant defensive performance was obscured last weekend by the fact that the offense had tons of problems turning long drives into points. Florida has had major COVID issues for a few weeks now, so we don't even know who will be available. I wouldn't be the least bit surprised to see this line come down gradually as the week goes along.