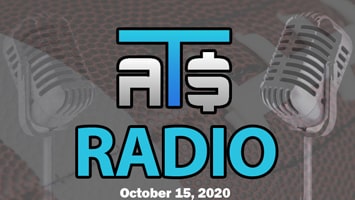 There are a lot of podcasts out there in the sports betting space, but we'd be willing to stack ours up against any one of them. The reasons why were on display on this October 15 edition of the show, as host Adam Burke and pro bettor and handicapper Brad Powers talked all things college football for Week 7 and NFL for Week 6.
We talk all things NFL and CFB at ATS.io, to go along with additional picks, predictions, and betting tips for the MLB, soccer, and all of the other major sports betting markets in action. We also cover the U.S. sports betting landscape with sportsbook reviews, industry news, sportsbook promotions, and so much more.
Host Adam Burke and pro handicapper and bettor Brad Powers opened up the show by talking about bankroll management and everything that goes into the betting process, including market entry, being organized, and the philosophies behind being a successful bettor. After hitting on those important topics, the guys talked college football with picks, predictions, and breakdowns on Georgia State vs. Arkansas State, SMU vs. Tulane, BYU vs. Houston, an overview of the ACC, a highlight video on Auburn vs. South Carolina, UCF vs. Memphis, and then another highlight video for Georgia vs. Alabama.
On the NFL side, the guys discussed key numbers and how they fit in with all of the big totals that we've seen this season. The guys also talked about whether or not cards with shorter lines are easier or harder to handicap. Then they looked deeper at Texans vs. Titans, including a side bet between the guys, Browns vs. Steelers, Chiefs vs. Bills, and then a highlight video on Cardinals vs. Cowboys.
Join us on Friday for the Circa Sports Million picks of ATS Radio host Adam Burke for Week 6.
We're on Spotify, iHeartRadio, and Google Podcasts! Be sure to follow and never miss a show. You can easily stream right through the app or on your computer.
The best way to get all of our shows is right here at ATS.io, where you can listen right in the recap article. You can also subscribe to us on iTunes and get all of our podcasts downloaded instantly to your mobile device or computer. You can also find us on Spreaker, where we upload all of our individual radio show segments, as well as Soundcloud. Search "ATS Radio" to find us on TuneIn, Podbean, Overcast, and Stitcher and let us know if we're not on your favorite podcast app so we can get there as well.
Follow host Adam Burke on Twitter (@SkatingTripods) to know exactly when the shows have been posted or you can simply subscribe to any of the feeds above.