Root, root, root for the home team at PointsBet Sportsbook. There are some excellent local promotions being offered by the team over at PointsBet and you certainly don't want to miss their Opening Day and return of baseball offers.
Crowd boosters are a really popular betting approach for PointsBet. They are like Odds Boosters that other sportsbooks offer, but the more, the merrier is the approach with these. Consider that PointsBet Sportsbook has been up and in operation in New Jersey for quite a while. If you bet on sports and live in the Garden State, you already knew that and you should have an account at PointsBet.
If you don't, well, you can get up to $1,500 in free bets by signing up through us here at ATS and you can use some of that newly-deposited bankroll to bet on the New York Yankees on Opening Day against the Washington Nationals.
With this region-specific Crowd Booster, if you have a PointsBet NJ account, you can bet on the Yankees at boosted prices. Here's how it works. For every 100 bets placed on the Yankees money line, the odds get boosted. If you add your bet to the list, maybe you will be the user that pushes the line up once again.
We're sure you're saying to yourself, "Why would I bet it now if I can wait and let everybody drive up the price?" PointsBet has an answer for that. Every bettor that puts a bet on the Yankees for July 23 against the Nationals will be paid out at the absolute top of the market if the Yankees win. So even if you bet it at +100 or +120 or +140, it doesn't matter. If the Yankees win, you might win at +200 or +250.
The promotion on this game is exclusive to New Jersey PointsBet users.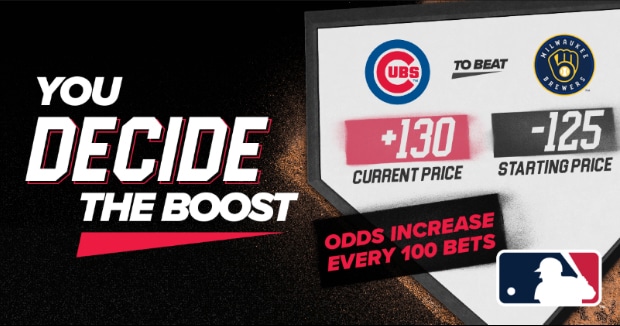 However, PointsBet doesn't want to leave anybody out. If you live in Indiana or Iowa and are a PointsBet user, or sign up to be one, the Chicago Cubs are your team to watch on July 24. The Cubs are taking on the Milwaukee Brewers on Opening Day and the exact same promotion applies to them.
For every 100 bets placed on the Cubs, the money line will go up. It started at -125 and is now well into the +130 range. No matter what line you bet, if the Cubs win, you will be paid out at the final closing odds. So it could be +200. It could be +250. It could be +300. The sky is the limit with so many PointsBet users in Indiana and Iowa. This promotion is exclusive to users from those two states.
Two great offers so that you can buy lots of peanuts and Cracker Jack to root, root, root for the home team. If they don't win, it will be a shame, but you've got a great chance at some Crowd Boosted prices for Opening Day at PointsBet Sportsbook.