Big things are happening in the Sports Interaction Casino.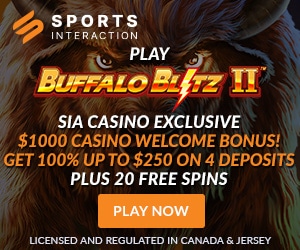 New games and sizable jackpots would be the cliff notes version of this story, but what's the fun in that? We'll tell you which games and what those jackpot amounts are from games that SIA has exclusive rights to host in its casino.
We're still waiting for most sports to return and online casinos can be a really good way to pass the time. The SIA Casino is way more than just a time-waster. It is one of the top online casinos in the world and Canada's most-trusted spot for slot machines, table games, and everything in between.
In the month of June, SIA celebrated some new additions to the casino. They became the only casino in Canada to release Buffalo Blitz II and will be releasing a new Age of Gods title and a new version of Gods & Giants in the near future. SIA is also the only place that offers the full range of DC Super Hero Slots.
$22 million. That is how much the SIA jackpots across the site currently hold for the lucky winners that are sure to come. There are over $924,000 worth of jackpots for the four DC Super Hero Slots. The Age of Gods jackpots are up over $400,000 for the Ultimate Power prize and the Epic Jackport in Kingdoms Rise is over $400,000 as well.
Four new titles and some exclusive games are the highlights of the recent adds at the SIA Casino. Age of Gods – Gods and Giants is exclusive to SIA with its Giant Respin and Trigger Free Games bonuses. Age of the Gods – Glorious Griffin is also a new favorite with 4,096 ways to win.
Fire Blaze – Jinn's Moon boasts 50 lines and plenty of chances to get the magic lamps for free spins. Kingdoms Rise – Legend of Elevenstone is only 10 lines, but the wilds are plentiful in this game. Be sure to check out Gold Digger and Fu Fortunes Megaways, which have recently been added to the Games page as well.
New titles aren't the only happenings at the SIA Casino. Some potentially lucrative promotions are taking center stage as well. The 777 Promo in the SIA Live Casino looks like the best one. If you receive three sevens, suited or unsuited, you are a winner. Unsuited 7-7-7 runs will equate to $50 in cash and suited 7-7-7 runs will be good for $500 cash on both tables.
One more targeted promotion for the new and old Age of Gods slots is that you'll get 10 free spins for any slot if you spend $10 or more in the Age of Gods slots on Mondays. The AOG Gods promotion runs every Monday.
Also, if you bet $10, you will get 10 free spins across the most popular slots on the site. More details can be found on individual promos by heading over to SIA.
Some great opportunities and some great new titles await in the Sports Interaction Casino.