Expanded gambling is coming to the state of Illinois. Given all of the money that Illinois has been losing to Indiana, first with the retail sportsbooks and now with mobile betting, it is rather astonishing that the process is taking as long as it is. Residents from the Chicago metro area have been quite content to brave the traffic and bet in the state of Indiana.
Indiana just added online sports betting in October through DraftKings, BetRivers, and FanDuel. Up to that point, Chicagoans were just making the trip down I-94 to bet at the Ameristar or the Horseshoe Hammond. Sometime in 2020, that drive will no longer be necessary because Illinois will be up and running.

Legislation was actually signed in June 2019, but the process has been slow. The Illinois Lottery Commission wants to stay involved and it will be given that chance with parlay-only wagering at lottery retailers and kiosks. What will really create revenue for the state is when the existing casinos get retail sportsbooks and then when the major online operators get involved.
There are still going to be hurdles when Illinois goes live, which is expected to be in the spring of 2020. SB 690, the bill that outlined the sports betting laws and provisions, carries a high licensing fee with it. That hasn't stopped Pennsylvania from doing quite well in the sports betting world, so that may not be as much of a problem as originally thought.
The second hurdle is that, much like the state of Iowa, the bill in Illinois requires interested parties to sign up in-person for the first 18 months of the new law in order to register and download an app. It is a modest inconvenience, all things considered, assuming that prospective users live close to a casino. In some cases, it may just be simpler to bet in Indiana.
It shouldn't hold back the state too much. After all, many people have wanted to bet for years and have found ways, whether they have used a local, an offshore, or simply relocated to Las Vegas. Having to sign up in-person will be a hassle early in the process with some long lines to get registered, but the hardships will die down exponentially from that point forward.
Each state's legislation has its own spin on what is allowed and what is not. A very interesting provision in Illinois is that the sports venues can have licenses to run sportsbooks. Imagine placing your bets at Soldier Field during halftime or during the first intermission at the United Center. Seventh-inning stretch to make some bets at Wrigley Field. It will be really fascinating to see how the stadiums and the operators take advantage.
Like the state of New Jersey, Illinois bylaws will prohibit wagering on college sporting events that take place within the state, so home games for Illinois, Purdue, Northwestern, Illinois-Chicago, Loyola-Chicago, and the other schools in the state will be verboten. Furthermore, that means that something like the Big Ten Conference Tournament would be off-limits at the United Center, which is ironic because you will be able to bet on just about anything else at the likely sportsbook inside of the arena!
As far as the online-only sportsbook operators, like DraftKings, FanDuel, and PointsBet, they'll have to partner with existing casinos. Illinois currently has a Rivers Casino in Des Plaines, Hollywood Casinos in Aurora and Joliet, and then a Harrah's (Caesars) property in Joliet as well. There is also the Par-A-Dice Casino in East Peoria and the Grand Victoria in Elgin. Each casino will be able to carry three licenses, so it won't be hard for the online-only operators to get involved.
For now, those that live in the state of Illinois and want to bet on sports still have to go to Indiana or Iowa to do so, but that will be changing in the near future. When it does, we will update this page with the available sportsbooks, more clarification on the rules and regulations, and a whole lot more.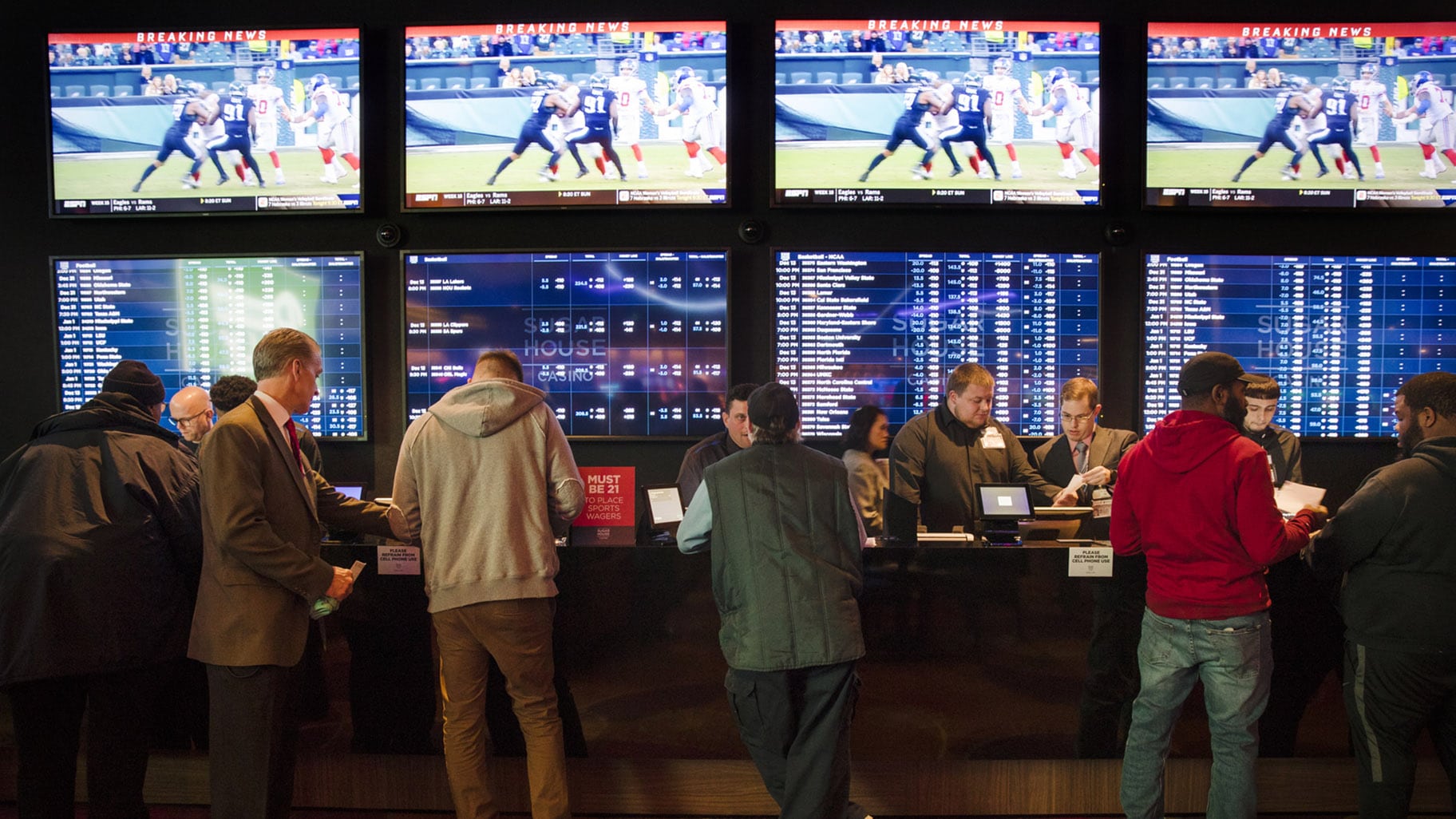 Is Sports Betting Legal in Illinois? Where Can I Bet On Sports?
Is Sports Betting Legal in Illinois? How long until Illinois is tired of missing out on legal sports betting? With Indiana and Iowa accepting wagers, both at the casinos and on mobile sports betting apps, Illinois legislators are going to have a hard time standing idly by while their constituents just go across state lines […]
Illinois Legislation Going to Overtime for Sports Betting
The legislative session for the state of Illinois was supposed to end this past Friday, but instead will be stretched over the weekend so lawmakers can discuss a few key issues. One of the most notable topics involves sports betting, which now has another chance of seeing legalization. The original sports bill that had some […]
Sports Betting Growing in West Virginia, Possibly Illinois
The state of West Virginia was one of the first to legalize sports betting following the U.S. Supreme Court's overturning of the ban. Now they're handing out even more gambling licenses for sportsbooks with access to mobile betting. Illinois still hasn't legalized the act yet, but a few key bills may change that in the […]