100% Welcome Bonus
Best Teaser Odds
Daily Profit Boosts
Licensed in the United States
SUGARHOUSE SPORTSBOOK APP & SPORTS BETTING SIGNUP PROMO & WELCOME BONUS
About Sugarhouse Sportsbook
Sugarhouse Sportsbook is an online casino and betting site that is run by Sugarhouse Casino in Philadelphia, Pennsylvania. Their online casino is based in New Jersey and has a huge range of sports betting options in both NJ and CT to choose from. It's available both on their desktop site or through their mobile app, which is available for both iOS and Android. Here's everything you need to know about Sugarhouse Sportsbook before placing your first bet.
Sugarhouse Sportsbook was started in New Jersey on August 23rd of 2018. As a relatively new online sportsbook and casino, Sugarhouse is continually growing, but already offers solid betting options for New Jersey players. The site is a collaboration between Pennsylvania-based Sugarhouse Casino and the Golden Nugget, which is based in Atlantic City. The sportsbook operates under the Golden Nugget's New Jersey gambling license and the CT Lottery in Connecticut. The online sportsbook and casino also collaborate with Rush Street Interactive and Kambi Sports to create fun and accessible online gambling games.
Sugarhouse Pros
Best Rewards Program
Only Sportsbook With A Deposit Match
Weekly Profit Boosts
Excellent Teaser Odds
Beat The Spread Challenge
Sugarhouse Cons
No Casino For CT Yet
Dull Looking Website
Betting Site: Sugarhouse
Website:
playsugarhouse.com
Established: 2018
Deposit Bonus: 100% Match
Bonus Code: 250MATCH
Min Deposit: 5
Max Deposit: NA
Sugarhouse Sportsbook Promo Code & Bonus
| Sugarhosue Sportsbook Sign up Offer & Bonus Code | Promo |
| --- | --- |
| Sugarhouse Bonus Code | 250Match |
| Deposit Bonus | 100% Up To $250 |
| Platforms | Desktop/Android/IOS |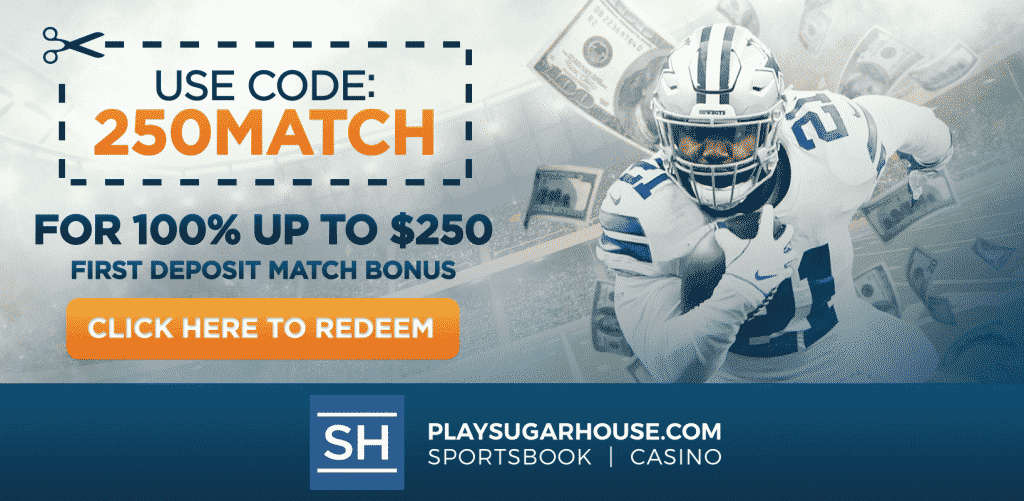 Sugarhouse Sportsbook offers a variety of promotions that you can take advantage of as you are placing your bets. When you make your first deposit, you can enter the code '250MATCH′ to get a full match up to $250 on your first deposit. New casino members can also play a Spin to Win game for up to $250 on top of their match bonus. This is one of the most generous promotions available on any sports betting site.
You can also join the iRush rewards program, which is a loyalty program for New Jersey & Connecticut sports betting. You will earn points based on the bets that you place, and the points can be cashed out later on for rewards. There are various tiers within the reward system, and as you earn points and bonuses, you can work your way up. Sugarhouse also has their own bonus store where you can play scratchcards, spin the wheel, or play bingo for additional rewards. The highest tiers of the reward system will earn free plays, birthday presents, multipliers on wagers, and even invite-only dinners. Additionally, the Sportsbook will offer Odds Boosts on certain prop bets. Keep an eye out for the Odds Boost while you are making your bets. Overall, Sugarhouse Sportsbook has excellent rewards and promotions – there's always something you can take advantage of if you're paying attention.
To learn more about the promotions that Sugarhouse Sportsbook offers, visit the Promotions page on the desktop site. They also share promotions on their social media pages, so it's worth giving them a follow for live promotions that you can take advantage of. Keep in mind that when you receive a bonus, you must meet wagering requirements within 30 days, otherwise the bonus money will expire. You also need to wager your bonus money before you can withdraw it.
How to Register at Sugarhouse Sportsbook and Claim Promo Code
The account creation process at Sugarhouse is pretty streamlined. To register an account, fill the out the 3 step registration and verification form on the betting site. Only basic information is needed, and as usual, you have to agree to the operator's terms and conditions. After that make your deposit!
You can then claim the welcome bonus by following the steps provided on the website.
Fill the registration form with accurate details
Activate your new Sugarhouse account
Make your first deposit
Start betting
What Kinds Of Bets Can I Make At Sugarhouse Sportsbook
As you might expect from a major sports betting site, Sugarhouse Sportsbook offers a large menu of sports options to choose from. You can place:
Spread bets
Moneyline wagers
Over/Under Totals
Props,
Futures
Parlays
Teasers & Pleasers
Live In-Game
Totals are bets on a team, quarter, or half of a game and whether their score will be over or under a certain number. Props are bets on a player, team, or scoring prop, which is an event that doesn't directly affect the game's outcome. Futures are bets on who will win a certain championship or another future event. Sugarhouse Sportsbook also gives you the option for live and in-game wagering.
The navigation for placing bets on Sugarhouse Sportsbook is quite user-friendly, and you should be able to get the hang of it quickly. The site has a streamlined design that is intuitive to follow. When you select your bets, they will pop up in a menu at the bottom of your screen. You can easily close bets you are no longer interested in, or if you want to keep the bet and select more, you can simply click the down arrow to move on and repeat the process. Sugarhouse Sportsbook uses a money line feature for football and basketball bets, and you can make spread and moneyline bets in one menu. The interface usually will consolidate these bets to make them easier to navigate through. When making teasers and parlay wagers, your odds are updated in real time, which makes it easier to keep track of the payout you can expect. Once you're done selecting the bets you want to make, all you need to do is select the Place Bet button. The entire process is very quick, which is excellent since they have a huge range of live betting options.
BEST PRICING AND FEATURES AT SUGARHOUSE
The pricing for Sugarhouse Sportsbook is competitive when compared to other New Jersey and Connecticut based Sportsbooks. Most bets are 20 cents or -110 on both sides for spread bets. This varies depending on the game, but the costs are generally predictable once you've been using the platform for a bit. There are a few unique features that make the betting experience on Sugarhouse Sportsbook a pleasurable one. For example, Sugarhouse has some of the best teaser pricing on the market with their Teaser+ feature. They have many alternative price lines for their teasers when compared to other betting sites. When placing multiple teaser bets, you can select the Teaser+ option at the bottom and then select from 6 to 7 point teasers.
Another unique feature that can be very convenient is Sugarhouse's Cash Out option. This essentially gives you insurance if you place a bet you don't like. Once you've placed a bet, Sugarhouse will give you an option to cash out for a designated amount instead of placing the bet. This is a very convenient option to have in instances where the game you bet on changes drastically and you no longer like your odds. There are a few ways to approach the cash out feature – you can use it to minimize losses if you don't think your bet will be successful, but you can also use it to make a profit if the game is going favorably for you and you want to quit while you are ahead. Finally, there's a fun Odds Boost feature, which is essentially a promotion on certain prop bets that you may be interested in. These pop up periodically and can be a fun way to increase your payout if you are confident in the bet being offered.
The app has a few more functional features that can be very helpful. For example, there's a search feature that makes it easy to quickly find the game you are looking for without having to scroll through a huge number of options. You can also check your sports bet history at any time to review past bets you've made or look at your bets that are still open. There is also a chat box available at the bottom left of the screen on both the mobile and desktop site. This feature will connect you to a live customer support agent if you are having issues with your bets. Unlike other sports betting sites, the chat box connects you to a real person instead of a bot, which is a nice plus. Finally, there is a news feed feature that shows you recent wins by other users in the community. While this can be a fun feature, in most cases it just distracts from your own bets.
There are a few different payment options for deposits and withdrawals, and you can use them on both the mobile app and the desktop site. Some of the more mainstream options include:
Visa
MasterCard
PayPal
online ACH/eCheck, which connects directly with your bank account.
Wire transfer
Online bill pay option.
Some of the less well-known payment options include:
Sugarhouse's pre-paid cards,
Cash at Cage – the Golden Nugget cage in Atlantic City
Neteller e-wallet
7-11 Pay Near Me, which allows you to pay with cash at a local convenience store.
Although payment times vary depending on which option you are using, they typically take less than two days to go through. The payments are very reliable and secure, and you never have to wait too long before receiving your withdrawals. Keep in mind that there is an identity verification for each payment method. You should also keep in mind that some banks block online gambling transactions, so it may help to check with your financial institution before getting started. If your bank does block these transactions, an easy solution is to make them through PayPal instead. You can connect your PayPal account to your bank, and it's a very reliable and trustworthy payment method.
What We Think About Sugarhouse Sportsbook
Overall, Sugarhouse Sportsbook is an excellent sports betting platform for those living in New Jersey and Connecticut. Their sports betting mechanism is one of the best out there, with so many different bets to choose from, many of which are very unique when compared to those offered by other betting platforms. You can also choose from virtually every sport and every game out there, so it's completely comprehensive. The only games that you won't be able to bet on are college games that are taking place in New Jersey or Connecticut or that involve colleges based in those states. This is due to a state laws.
One of the other reasons Sugarhouse Sportsbook is so excellent is because it's very easy to use. You will pick up the betting mechanisms quickly, and the layout is very clear, so you can find what you are looking for easily. If you've never made sports bets before, this is a great place to start, because it's so easy to figure out how it works. There's also excellent customer service, and you can easily talk to a real employee through the chat box if you are having any problems. You can also go to the Help Center on the desktop site, which is very comprehensive and is likely to have answers to any questions you may have. If you want to chat with a real person, you can also call their 24-hour help phone line.
The software on Sugarhouse Sportsbook loads very quickly, so it's rare that you should encounter any issues while you are betting. The interface loads very quickly, and you can place live, up to the minute bets, which adds an element of excitement. The banking with Sugarhouse Sportsbook is also very reliable, so you never have to worry about the security of your money. When compared with other New Jersey sports betting platforms, Sugarhouse Sportsbook has the most user-friendly app and desktop site. Even if you've never made sports bets online before, it is quite easy to figure out how to use this site.
Another benefit of using Sugarhouse Sportsbook is that they offer great promotions. Their promotions are always changing, and following them on social media will alert you to any new promotions right away. There's also a good bonus structure that rewards regular players for coming back frequently. Sugarhouse is one of the first casinos to also offer a comprehensive sports betting option, so it's great if you want to use both, because everything is in one place. You can use the money you deposit for both casino and sports betting games.
There are very few downsides to using Sugarhouse Sportsbook. There are a few features on the mobile app that can be a bit distracting. For example, there is a rotating carousel at the top of the screen and a news feed that sometimes pops up, showing other winning bets. Since the screen on a mobile phone is small, this just ends up being overwhelming and annoying instead of fun. Another downside is that you must be located in New Jersey to play, unlike some other sports betting sites that are licensed in multiple states.
Sugarhouse Mobile App Review
The mobile app of Sugarhouse Sportsbook is available for both iOS and Android. It is very similar to the desktop site in appearance and functionality. When you first log in, you will see a tab on the side, which you can open and select the type of bet you are interested in. You can choose from sports games happening around the world. You will see the most popular games on the front page, and then you can click the 'more sports' tab to see their entire selection of games available for bet. There's also a large yellow tab that will take you directly to live betting. Once you select a sport, you can scroll down and choose from bets for all the games happening within that sport. Everything is very clear and easy to read, and although you're betting on a small mobile phone screen, it doesn't feel too cramped. The one place where the mobile app can feel cramped is at the top of the screen, where there's a rotating carousel showing various promotions. This extra movement can be quite distracting when you're placing your bets.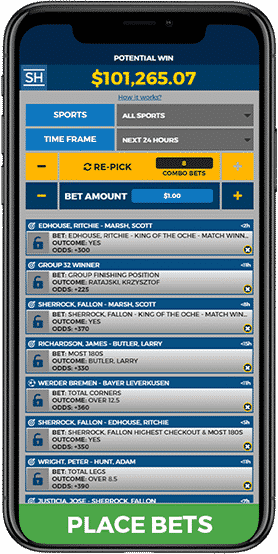 Sugarhouse Desktop Website Review
The layout on the desktop site is very similar to the layout on the mobile site. It's very intuitive and easy to find the games you are looking for. One of the benefits of using the desktop site as opposed to the mobile app is that the menu stays in place the entire time, instead of moving back and forth like it does on the mobile app. It's also much easier to find the help options if you are looking for them. Overall, the user experience is slightly smoother on the desktop site, and it's the best place to start if you aren't particularly tech-savvy.
Sugarhouse Sportsbook is one of the premiere sports betting sites in New Jersey, with betting options on virtually every game you can imagine. The connection with Sugarhouse Casino allows them to offer great rewards and promotions, and it's easy to play other online games as well all in one place. While there are a few small inconveniences, overall, all of the features at Sugarhouse Sportsbook are top notch, from the betting options to the interface to the customer service. The betting is immersive, fun, and easy to get into. This should be a go-to sports betting site for anyone in New Jersey, and Pennsylvania residents should keep their eyes out for a local version coming out sometime in the next year or so.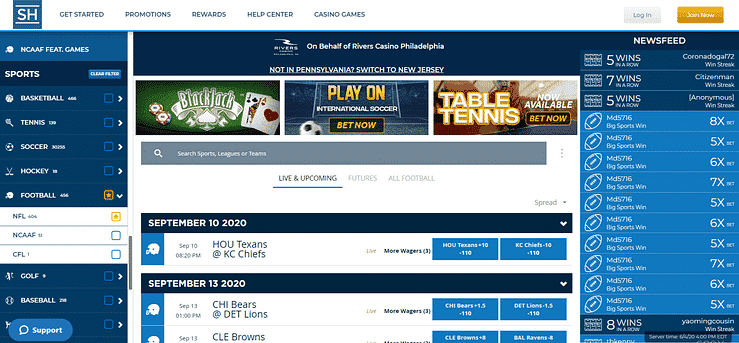 How to use Sugarhouse bonus
You can use the Sugarhouse bonus like you do a regular bet as it is added directly to your betting account
Who owns Sugarhouse sportsbook?
SugarHouse Sportsbook and Casino is owned and operated by Rush Street Gaming
How does Sugarhouse deposit bonus work sportsbook?
New users when you sign up at Sugarhouse, make a deposit 100% of that will be matched up to $250 instantly into your betting account