Pleasers are a relatively new form of bet that's similar to teasers; they can actually be thought of as a reverse teaser. The big difference is that the point spread now moves against you. Pleasers are much more popular with online sports bettors, as evidenced by the fact that only a few us sportsbooks offer them. This is probably because they're a little strange to the casual gambler – and they're hard to win. The attraction is that bettors receive a much bigger payout than with teasers or parlays. A traditional two-team 6-point pleaser returns +600 or 6-to-1 odds. As with teasers, all of your teams in a pleaser must win or your bet is considered a loss.
Pleaser Betting Example
As with teasers, bettors have the option of which team they wish to move the point spread against. If the Carolina Panthers are -10 over Tampa Bay, a 6-point pleaser could move the line to Carolina -16 or Tampa Bay +4.You can see that Carolina now becomes a huge favorite or Tampa Bay becomes much less of an underdog. You will also find situations where you are taking a small underdog and making them a favorite. If you use Cincinnati +2.5 in a pleaser, you will now have the Bengals -3.5 points, meaning the sportsbook now has a favorite (Cincinnati's opponent) in the role of an underdog.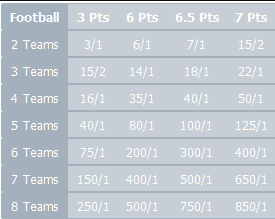 One reason pleasers are difficult to beat is that the oddsmakers are sharper than ever and more and more games are landing within a few points of the spread. Anytime a game falls within six points of the spread, all pleaser wagers on that game will be losses. But that also works against the sportsbook a little bit because it also means everybody who wagered on a teaser will win.
The more points you move the spread against you, the higher your payout stands to be. While a two-team 6-point pleaser pays 6-to-1, a two-team 7-point pleaser pays 7-to-1, or +700. Due to the higher payouts, most sportsbooks limit the number of teams in your pleaser between six and eight.
While traditionally used for football, many football betting sites also allow basketball pleasers, but instead of the 4, 4.5, or 5 points you can move the line in your favor in a teaser, you're frequently required to move the spread against you a minimum of 5.5 points for an NBA game and 6 points for a college basketball game. Basketball totals may be even higher, such as 7 points.
---
More On Sports Betting