Ready to get going on PointsBet? To kick things off, let's start with the most exciting part: the PointsBet sign up code. By using the exclusive sign up code 5X50, you can unlock an array of fantastic offers. This sign up code is your gateway to an incredible five $50 bonus bets with up to $250 as well as PointsBet Power Hour this May! Yes, you read that right. PointsBet is not holding back when it comes to rewarding their players.
PointsBet Sign Up Code Information
| PointsBet | Promo Information |
| --- | --- |
| ? PointsBet Sign Up Code | Click To Claim |
| ? PointsBet Bonus Offer | Get Five – $50 Free Second Chance Bets |
| ? ? Platforms | Desktop/Android/IOS |
| US States Applicable T&C | CO/IA/IL/IN/KS/LA/MI/MD/NJ/OH/PA/WV/VA |
New customers are in for a treat with PointsBet's generous sign up bonus. Players can enjoy up to $250 worth of second-chance bets during their first five days on fixed odds wagers as well as Power Hour, Lightning bets, and an industry-leading rewards program. If your wagers happen to lose, we'll credit your account with up to $250 in PointsBet bet credits within 24 hours. You have seven days to utilize these funds, and you can even split your bet bonus up to four ways.
Claim The PointsBet Sign Up Promo
Are you ready to dive into the ultimate sports betting experience? Here's how you can claim the PointsBet sign up bonus, Power Hour promo, lightning bets and start enjoying the benefits Pointsbet has to offer:
Sign Up For PointsBet: If you don't already have an account, sign up for PointsBet by completing a quick and easy registration process. Provide PointsBet Sign Up Code 5×50 and personal details, including your date of birth, address, and SSN, for verification and eligibility.
Make A Deposit: To be eligible for the PointsBet promotions, making an initial deposit of at least $10 using any of the banking methods offered by PointsBet.
Claim Your Daily Bonus Bets & Sign Up Bonus: New users can place a wager up to $50 each day and get a second chance bet if it loses for the first five days as well as take part in Power House by logging into your account between 6-7 pm ET during the 60-day Power Hour promo, you'll automatically receive a Bonus Bet credited to your account.
Wager During the Power Hour: Armed with your Power Hour bonus, you can now place your daily bonus bets on any Same Game Parlay market with 2+ legs! The choice is yours, but remember to place your bets during the Power Hour to ensure they don't expire.
What Can Players Who Sign Up At PointsBet Expect?
The great thing about Pointsbet is they never stop giving to their players, they have one of the best loyalty programs, bigger payouts on their same game parlays, and other daily player promotions but our two favorite things is the PointsBet Power Hour and Lightning Bets.
PointsBet Power Hour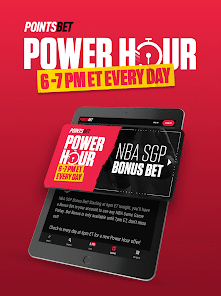 The PointsBet Power Hour is an exciting promotion that rewards you for being part of the PointsBet sports betting community. During this 60-day extravaganza, PointsBet will be giving out over $100 million in Bonus Bets to its players. The best part? There's no catch! You only need an active, registered account with PointsBet and at least one deposit. Once you meet these requirements, a bonus bet will be added to your account each day before the start of the Power Hour, ready to be wagered on the sport and event of your choice!
With the PointsBet Power Hour Bonus, you'll receive daily bonus bets between 6-7pm, giving you the opportunity to boost your winnings. And that's not all! As part of PointsBet Sign up bonus, you'll also receive 5x $50 Second Chance Bets. So whether you're a new member or an existing one, you can take advantage of both promotions and enhance your chances of winning big.
The PointsBet Power Hour couldn't have come at a better time. With major events like The Masters, NBA and NHL playoffs, and Premier League Soccer on the horizon, our promotion opens up a world of betting possibilities. While these events serve as a great starting point, don't limit yourself! The PointsBet Power Hour promo is open to all sports as long as you can create a 2+ leg Same Game Parlay. Whether you're a fan of NBA, MLB, Premier League Soccer, NFL, or other sports, we have you covered.
Lightning Bets At PointsBet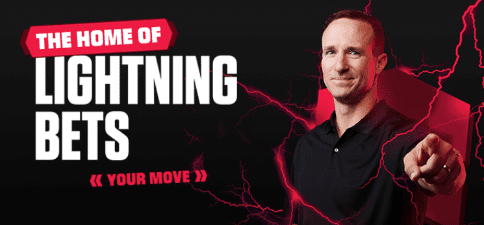 If you're unfamiliar with lightning bets, allow us to shed some light on this thrilling form of live betting. Lightning bets offer a unique and fast-paced betting experience that goes beyond traditional in-game wagering. Unlike regular live bets, lightning bets are designed explicitly for knowledgeable sports bettors who are well-versed in the game, players, or teams they are betting on. These bets are characterized by their rapid pace, with results being determined within minutes; bettors can bet on the next hit, three pointer, play, and more providing multiple opportunities to bet on additional markets throughout the game.
PointsBet, one of the prominent players in the North American sportsbook market, has been at the forefront of introducing lightning bets to sports enthusiasts. Since its introduction in late 2022, lightning bets on PointsBet have gained significant popularity, particularly in NFL and NBA markets. The company's commitment to innovation has enabled them to expand their lightning bet offerings to include college basketball, with potential future expansion into tennis and Major League Soccer.
According to Johnny Aitken, the CEO of PointsBet USA, he predicts that lightning bets and live wagering will constitute over seventy percent of all sports bets in the near future. This sentiment is shared by Mark Tatum, the Deputy Commissioner of the NBA, who believes that this new form of live wagering will dominate the sports betting landscape.
Final Thought On Signing Up At PointsBet
PointsBet, strives to provide its users with a top-tier sports betting experience. The PointsBet Sign Up Bonus & Power Hour promotion is their way of rewarding you for being part of the PointsBet community. With over $100 million in Bonus Bets to be given out during the 60-day extravaganza, the opportunities to win big are endless.
Log in between 6-7pm ET, claim your daily bonus bets, and immerse yourself in the thrill of Same Game Parlays. Take advantage of the extra perks, boosted odds, and special prizes we have in store for you throughout the Power Hour promo. Don't forget to combine the Power Hour Bonus with our Welcome Offer to maximize your rewards.
Experience the ultimate power hour with PointsBet and discover a world of betting possibilities. Sign up today and let the excitement begin!