The Kentucky sports betting market is set to become more exciting with the expected introduction of the WynnBET Sportsbook. Slated for an online launch on September 28, 2023, and a retail unveiling three weeks prior on September 7, 2023, Kentucky bettors are in for a thrilling season. Stay tuned as we delve into what the WynnBET KY app may offer in terms of promo codes and bonuses.
Welcome to our comprehensive guide to WynnBet Sportsbook's upcoming launch in Kentucky in 2023! We are thrilled to provide you with all the essential information you need to know about WynnBet, its features, and the exciting bonuses it offers.
In the United States, the WynnBET Sportsbook is fast becoming the platform of choice for seasoned bettors and novices alike. This is largely due to the team's deep industry knowledge, garnered over five decades of exposure to the evolving landscape of sports betting.
Exceptional Bonus Offers at WynnBet Kentucky
While we await the unveiling of the WynnBET Kentucky promo code, we anticipate the welcome bonus to echo the offerings in states where WynnBET is already operational. Such a scheme typically rewards new users who make a qualifying bet of $100 or more at odds of -120 or greater, with a $100 Bet Credit, split into two bonus bets.
Claiming Your WynnBET Kentucky Promo Code
Once available, users can claim their WynnBET Kentucky promo code by downloading the mobile app or through the desktop version of WynnBET Kentucky. During the registration process, they will enter the desired promo code, complete registration formalities, and opt in to receive WynnBET Kentucky promotions via text messages.
What to Expect from WynnBET Kentucky Promo Code
Terms and conditions for the WynnBET Kentucky promo code will likely align with those of other states, but do pay close attention to the specific details.
Minimum Bet: $100
Maximum Bet: No Limit
Minimum Odds: -120
Offer Validity: Bet credit expires 10 days later
Maximum Win: $100 in Bet Credit

---
Daily Users Bonuses Kentucky Players Can Expect At WynnBet
Beyond the initial welcome offer, existing users can enjoy a range of WynnBET bonuses:
Multi-Sport Parlay Bonus
Kentucky users can potentially earn a $10 bet credit on Thursdays by placing a four-leg parlay on any sport between Monday and Wednesday.
Live Bet and Get
Live betting enthusiasts can expect a "Live Bet & Get $10" offer, allowing users to earn a $10 bet credit on Monday by placing two live bets of at least $50 on any weekend day.
WynnBET Win Hour
Keep an eye out for Wynn Hour promotions, which may offer reduced juice on select big events on Thursdays.
Build Your Own Bet
Create your unique betting experience with the "Build Your Own Bet" bonus. Place three $25+ three-leg parlays with minimum odds of +400 on Sunday games to receive a $10 bet credit the following Monday.
Odds Boosts
Enjoy daily odds boosts on various markets, giving you a better profit potential for winning bets.
WynnBET Rewards Program
As you wager on WynnBET Kentucky, you'll be enrolled in Wynn Rewards, a tiered loyalty program that rewards users with Tier Credits, FreeCredit, and CompDollars.
---
WynnBet Lines and Juice: Where Strength Resides
One of the highlights of WynnBet is their lines and juice, with a unique offering of a true dime-line on MLB games – a feature few US sportsbooks provide. This provision could result in substantial savings for baseball betting enthusiasts over the course of a season.
For NFL and CFB lines, WynnBet maintains parity with its competitors, offering a standard juice of -110, barring NFL Preseason, which levies -115 on all sides.
---
WynnBET: The Sportsbook Experience at Your Fingertips
The WynnBET Sportsbook app offers a seamless betting experience across various devices. No matter whether you're an Android or an iOS user, the user-friendly app ensures you have a smooth sports betting journey. With a focus on functionality, the app prioritizes efficient navigation, helping you discover sports markets and betting types without hassle.
WynnBET Android App
Downloading the WynnBET Android app is a simple process:
Visit wynnbet.com and click on "Register"
Select "Download for Android"
Install the wynnsports.apk file
Open the app and enable location access
Log in and start placing bets!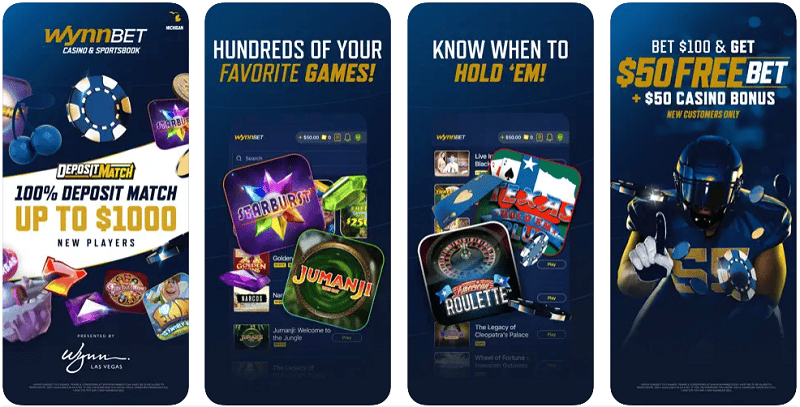 WynnBET iOS App
The WynnBET iOS app can be downloaded with ease:
Go to wynnbet.com and click "Register" to create your account.
Click on "Download for iOS" to be directed to the iTunes app store.
Choose your state's app and press "GET".
Download the app, log in, and start betting!
Both the Android and iOS versions offer identical designs and features, making the betting experience consistent across different devices.
---
How to Create a WynnBET Kentucky Account
Time needed: 5 minutes.
Creating an account at WynnBET Sportsbook is a hassle-free process:
Visit WynnBet Kentucky using any link on this page to start the registration process

Visit wynnbet.com and click on "Register"

Registering your new account at WynnBet Kentucky

Provide your personal details such as name, date of birth, address, email, phone number, and Social Security number. Choose a username and password and set a security question. Confirm your legal gambling age and agree to the sportsbook's terms and conditions

Visit the cashier

WynnBet offers all the standard banking options such as Paypal, Bank Transfer, Visa, Mastercard and more.

Start Wagering

Bet with your head and not over it.
Although you can create an account from anywhere in the US, betting is restricted to states where WynnBET is licensed. This is verified through geolocation checks to ensure compliance with local laws.
---
Understanding the Significance of Bonus Codes
Bonus codes, also known as promo codes, play a crucial role in offering special Kentucky bonuses and promotions to both new and existing customers at online gambling sites like WynnBet Sportsbook. By entering a promo code during sign-up or depositing, you unlock exclusive rewards and benefits, such as bonus bet credits or enhanced promotional offers. Keep an eye out for the latest promo codes, as they can significantly enhance your betting experience.
---
Is WynnBet Kentucky Legit?
As of September 2023, the status of WynnBET Sportsbook in Kentucky is non-operational, which means it's currently not legal for Kentucky residents to place bets using this platform. However, WynnBET maintains its legitimacy in a multitude of states across the United States including Arizona, Colorado, Indiana, Louisiana, Massachusetts, New Jersey, New York, Tennessee, and Virginia. Therefore, while the WynnBET online sportsbook app is not yet approved in Kentucky, it remains a reliable and legally authorized betting app in various other jurisdictions. Users are urged to stay updated on regulatory changes, as the legalization of WynnBET in Kentucky might be under consideration.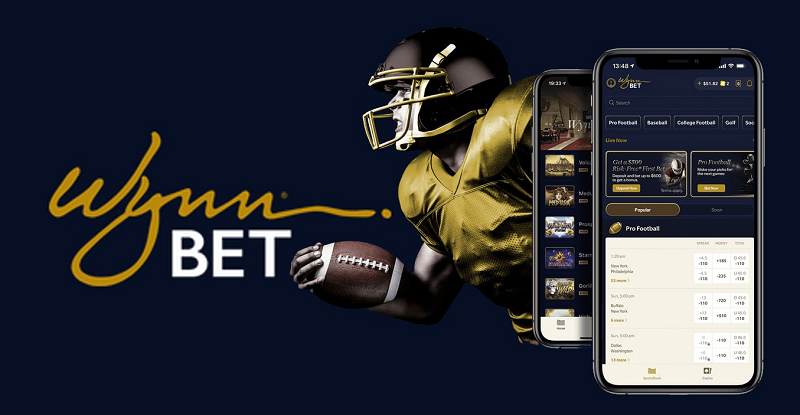 Customer Satisfaction: WynnBet's Top Priority
Our analysis of WynnBet's customer feedback from platforms such as the App Store, Play Store, and Trustpilot, offers a compelling picture of its overall performance.
WynnBet App Store Rating: 4.6 (Based on 738 Reviews)
Play Store Rating: 4.2 (Based on 1,216 Reviews)
Trustpilot Rating: 3.6 (Based on 7 Reviews)
Aggregate Rating: 4.3 (Based on 785 Reviews)
Impressively, its strengths include top-notch customer support and rewarding programs. The primary area of improvement is expanding their Player Props and SGP options.
---
About WynnBet Sportsbook
WynnBET Sportsbook, owned by Wynn Resorts, extends the legacy of its parent company in the realm of sports betting. With roots in the heart of the Las Vegas gambling scene, Wynn is a name synonymous with integrity, trust, and superior quality. Wynn Resorts operates two of the most iconic casinos on the Las Vegas strip – Wynn Las Vegas and Encore Las Vegas, carrying forward this rich experience into the online world.
Notably, WynnBET has a robust standing in the sports betting industry, fueling its competitive spirit and readiness to stand against well-established counterparts. A strategic decision to acquire BetBull in 2020 has further enabled WynnBET to offer a unique social betting experience, disrupting the monotony that often characterizes the industry.
Exceptional Customer Service
WynnBet distinguishes itself with superior customer support, offering efficient live chat and email options. Their swift response times are commendable. An extensive FAQ list is accessible on their website or app, which can quickly address common questions.
While they do not currently offer phone support, their fast responses via live chat and email more than compensate for this.
---
WynnBET Kentucky: A Timeline of Legislative Developments
Kentucky's road to legal sports betting is fascinating. Here's a snapshot of important milestones that have shaped the landscape:
July 10, 2023: The Kentucky Horse Racing Commission announces retail sports betting launch on Sept. 7, 2023, and online sports betting on Sept. 28, 2023.
June 28, 2023: HB 551 officially comes into effect, giving the state six months to prepare for a legal sports betting market.
March 31, 2023: House Bill 551 passes on the final day of the legislative session and receives Gov. Andy Beshear's signature.
March 13, 2023: The House of Representative approves HB 551, forwarding it to the Senate.
February 22, 2023: Rep. Michael Meredith introduces House Bill 551, aiming to legalize sports betting under the Kentucky Horse Racing Commission's purview.
March 17, 2022: A sports betting bill passes the Kentucky House for the first time. HB 606 moves onto a vote in the Senate, but the bill does not get voted on.
April 2021: Three separate sports betting bills are presented to reignite the momentum for legal sports betting stalled by Covid-19. None of these bills are passed.
April 2020: The global Covid-19 pandemic puts a halt to HB 137 due to shifting legislative priorities.
January 7, 2020: HB 137 is proposed by Representative Adam Koenig. Despite initial concerns around betting on college sports, the bill gains considerable support.
April 1, 2019: A bill endorsing legal sports betting, online poker, and daily fantasy sports is presented to the Kentucky House. HB 175, however, finds little support.
May 14, 2018: The US Supreme Court overturns the Professional and Amateur Sports Protection Act, allowing states to legalize sports betting. Kentucky immediately sets up a panel for legalization deliberations.
---
Final Thoughts On The Imminent WynnBet Kentucky Launch
WynnBet's imminent launch in Kentucky is an exciting development for sports betting enthusiasts in the state. With its trusted reputation, user-friendly platform, and diverse betting options, WynnBet is poised to offer an exceptional betting experience to Kentucky residents. From its attractive welcome bonus to ongoing promotions and rewards, WynnBet ensures that bettors are well-rewarded for their loyalty.
So gear up for an exhilarating sports betting adventure with WynnBet Kentucky as it brings the thrill of betting to the Bluegrass State. Don't miss out on the excitement and start planning your betting strategies today! Remember, WynnBet is more than just a sportsbook; it's a gateway to a world of endless betting opportunities and unforgettable moments.