WynnBet Sportsbook Review
What we have found in the sports betting industry since PASPA was overturned on May 14, 2018 is that an aggressive approach with an eye on expansion is the best way to succeed for an operator.
WynnBET got off to a little bit of a late start in terms of the expansion part, but with an aggressive approach and a reliable sports betting app that checks a lot of boxes for users, the sky is the limit for this rapidly-growing sportsbook.
Born from the Wynn Las Vegas and Encore properties in Las Vegas, Nevada, WynnBET is the kind of app that you cannot put down once you sign up for an account. A clean, no-frills approach with ease-of-use in mind, the WynnBET app lets you find what you want right when you want so that you can get the best odds.
WynnBET also includes a casino component in states where that is legal. One of those states is New Jersey, where Wynn interactive has its overall U.S. headquarters in Jersey City. There are a lot of exciting things about this app, including its focus on creating more of a social experience for its users. That will be fostered over the years through a partnership with BetBull, a company that Wynn Resorts holdings acquired in 2020 right as the WynnBET app was gaining more traction across the nation.
It's fair to say that 2021 marked the turning point for WynnBET, as the company acquired several states and secured licensing deals, partnerships, and approval in others. Getting a sports betting market share with so many well-defined operators in a highly-competitive environment is a challenge, but WynnBET is clearly equal to the task.
Don't believe us? Read on to find out more.
You Can Be A "Wynner" With WynnBET
A very talented team of traders is the cornerstone of what WynnBET is trying to achieve. Too many operators in the United States shy away from taking on risk and exposure. WynnBET is trying to be one of the limited number of sports betting apps that allows a lot of different players with a lot of different skill levels and bankroll sizes.
As long as you are staying within the rules, terms, and conditions of the sportsbook, you have a great chance at continuing to have an account with reasonable limits. What WynnBET may lack in terms of promotions and marketing, the Wynn Interactive more than makes up for by being a fair, honest, and reasonable sportsbook. You actually have the chance to win with WynnBET. Other apps aren't as welcoming in that regard.
It is an important distinction to make. Each new kid on the block has to have some sort of selling point to secure a market share. While Wynn Interactive has some level of visibility with the Wynn Las Vegas resorts and some other resort and casino properties speckled across the nation, standing out among the crowd is imperative.
Wynn Interactive is trying to do that through its fairness and transparency with customers. You have to admire that sort of courage in an industry where not every operator is willing to do that.
The reality is that every app does a lot of the same things. You'll have all the sports betting odds laid out. Some will be organized better than others. Some are boilerplate and even share technology partners with others in the space. Each bettor is different. Each bettor prioritizes different characteristics of a sportsbook or online casino.
WynnBET is currently running in New Jersey, Indiana, Colorado, Michigan, Tennessee, and Virginia. You can obviously use the Wynn las vegas app in Nevada as well. Pennsylvania and Iowa are coming soon. When Pennsylvania hits the market, the online casino for Wynn will be active there to go along with its existing usage in New Jersey and Michigan.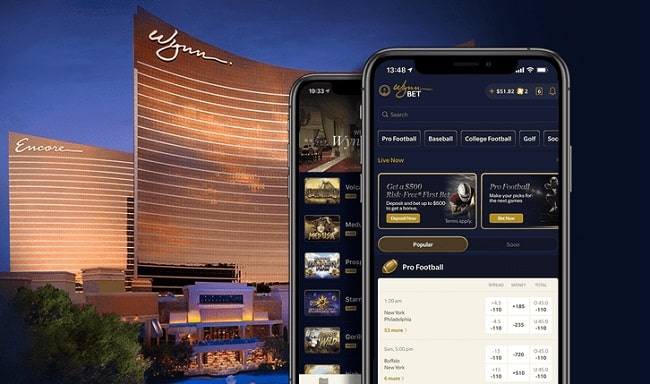 All elements of the WynnBet App and the online casino work seamlessly. When you want it, you'll find it. It isn't a messy app or a crowded mobile webpage like so many others that are out there. It can be extremely overwhelming, especially for new bettors just starting out, to keep everything together in an orderly fashion. There are a lot of numbers and plus signs and minus signs and drop-down menus and so many things that can frustrate users.
Not with WynnBET. Everything is organized, neat, and tidy. Some sports bettors just want action and they'll get it wherever. Others prioritize the experience and the experience at WynnBET is definitely up near the top as far as sports betting apps go.
Eventually we'll stop these win/Wynn puns, but not yet. Wynn Interactive promotes a social experience with sports betting. You can celebrate your friends' wins and empathize with your friends' losses. You can share what's happening with your bankroll and some of the best sports bets that you've recently made.
Basically, WynnBET brings that Wynn Las Vegas experience to you. There's nothing quite like sitting around with your buddies or your gal pals at the sportsbook to watch the big game or a crazy NFL Sunday. That edge-of-your-seat feeling is something that you can get with WynnBET because you can share your successes and your failures with your people.
You wouldn't think so by looking at how businesslike and to-the-point the layout of the app is, but there's that old saying about a book and its cover. Don't judge WynnBET until you really take a deeper look at what the sports betting app has to offer.
Sign Up, Deposit, and Withdrawal
As mentioned, WynnBET currently takes wagers for users of legal gambling age in New Jersey, Indiana, Colorado, Michigan, Tennessee, Virginia and obviously Wynn Las Vegas. Pennsylvania and Iowa are soon to come. Others will follow shortly thereafter.
All of those states are called Remote Registration states, which means that you can sign up for a Wynn Interactive betting account from anywhere. Geolocation technology will ensure that you are physically located in the state in order to process transactions and make wagers. You don't have to live in one of the Wynn Interactive states to get an account, but you do have to be in a legal state to place bets, make deposits, and request withdrawals.
Like everything else with WynnBET, the layout and the sports betting platform is designed with you in mind. Registering an account and making a deposit is remarkably easy. Basic personal information is required to sign up and that info, along with your financial info, is protected by state-of-the-art encryption technology and cybersecurity measures.
Depending on the state, deposit methods will vary. Across the board you can deposit with debit or credit card, ACH or e-check payments, and online bank transfers. Most states also allow PayPal or other third-party payment processors like PayNearMe or Skrill. If you live in a state with a Wynn Interactive brick and mortar sportsbook, you can deposit there or at the casino cage. If you are in a mobile betting state only you can use any of the online depositing options like Paypal.
Withdrawals are just as easy and are typically done based on your method of deposit where available.
Sign-up bonuses will vary by jurisdiction and can be even more special offers for new states as they get going. For the most part, WynnBET depending on the state is going to offer up to a $500 Risk-Free Bet or $1000 Risk Free Bet, which is in line with most of the industry in that regard.
The "Bet and Spin" promotion is largely what WynnBET does to determine promotional offers and opportunities for existing customers. That can include boosted parlay odds, general odds boosts, Parlay Insurance, or other special offers, including accommodations at a Wynn resorts holdings property.
Well, there we go doing it again, but it is really easy. You have to admit.
Anyway, the heading here is suggestive of the industry-leading live betting interface for WynnBET. Because live betting has been popular in the United States for several years, and because Wynn interactive mobile app was able to have a thriving platform for in-play mobile betting in Wynn resorts holdings in Nevada, users from across the country are able to take advantage of a robust, reliable, lightning-fast live betting interface.
Live sports betting is the wave of the future in this business. As full-game lines get tougher to beat and as we see more and more players sitting out across all sports for load management or bumps and bruises, bettors are going to be more and more interested in seeing what is actually happening with a game before betting on it.
The fact that WynnBET has such a popular and upstanding live betting platform is a really big selling point to many players.
Don't you want to..ahem…win? We'll spare you one final win/Wynn pun here in what we feel has been a thorough review of everything that WynnBET has to offer. With an experienced team of traders that comes from a betting background, this is a casino and sportsbook app for the players by the players that know what you are looking for when you sign up and make a deposit.
Sports betting is a battle of wits and wills. WynnBET takes that seriously by having a higher degree of risk tolerance and more interest in writing as much action as possible, regardless of whether or not it comes from the hardened sharp or the rookie players just starting out. That is why they've pushed so hard with their expansion plans and why the future is as bright as can be.
Sign up at WynnBET now!
WynnBet Sign Up Bonus and Promo Code
| WynnBet Sign up Offer & Bonus Code | |
| --- | --- |
| WynnBet Bonus Code | ATSUS |
| First Deposit Bonus | Risk Free First Bet up to $500 |
| Michigan First Deposit Bonus | Risk Free First Bet up to $1000 |
| Mobile Platforms | Desktop/Android/IOS |
How To User Your Wynnbet Risk Free Bet
The minimum $20 first sports bet required to be eligible for the Risk Free Sports Bet must be wagered as one single minimum $20 sports bet. If a player wagers more than $500 on the eligible first sports bet, the maximum amount of the Risk Free Sports Bet reward will be $500.
The sports bet can be a straight bet (one selection/leg) or a parlay bet (two or more selections/legs), but cannot include a boosted parlay, or a bet that has odds boost or insurance applied.