Sunday May 17 is a big day in the betting world. After celebrating the return of the UFC last Saturday, we can now celebrate the returns of NASCAR and golf. Maybe not in the way that we are used to seeing those two sports, but the Darlington Raceway 400 signals the restart of the NASCAR season and the TaylorMade Driving Relief skins game between the team of Rory McIlroy and Dustin Johnson vs. Rickie Fowler and Matthew Wolff will be the first live golf we have seen since the PLAYERS Championship started and stopped in March.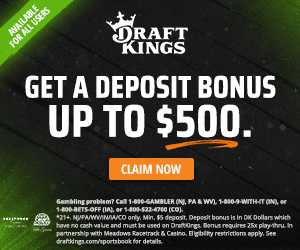 DraftKings wants to celebrate with us. Profit Boost Sunday will be a one-bet only offer for these two events on May 17. The maximum you can bet is $25 and all users that opt in will get a single-use Profit Boost to get a 50% increase on their winnings.
The Profit Boost applies to bets on the TaylorMade Driving Relief event or the NASCAR Cup Series race at Darlington. This promotion does include live bets and also parlays, but the small print does note that $250 in additional winnings is the maximum that you can receive from this offer. For example, you won't be able to parlay Fowler/Wolff with some long shot NASCAR driver and get a 50% boost on whatever exorbitant Win Amount that ticket has. No matter what you bet, the maximum for your additional winnings is $250.
Still, this is an awesome opportunity from DraftKings.
Betting odds are not limited to just picking the winning team in the TaylorMade Driving Relief. There are lots of prop bets available for the Skins game format, including the most money earned on a group of holes or the winner of the two longest drive holes. Similarly, the bet is not limited to picking the winner of the NASCAR race. You can also pick the highest finisher in Group Matchups or choose from any of the other props being offered for the race.
In order to take advantage of this promotion, you will need to opt in when asked. When you select what you want to wager on, be sure to check the box for the Profit Boost in your Bet Slip so that it gets activated. Remember, this is a one-shot deal, so choose wisely with the bet that you want to increase your winnings with.
The 50% Profit Boost will only be on winnings, not on your original bet amount. It does include live bets and parlays, but will NOT include free bets, cash out bets, voided bets, and odds boosts.
This is the second promotion for DraftKings this week after doing the Free to Bet Day on May 14 with a $5.14 free bet credited to users in states that are approved for DraftKings. Those states are New Jersey, Indiana, West Virginia, Pennsylvania, Iowa, and Colorado and this promotion applies to those states as well.
Also, if you sign up using our exclusive ATS bonus code to get free bets and bonuses upon your first deposit, you can use the money you deposited to also take advantage of this Profit Boost offer and maximize your winnings.
There is no better time to sign up for DraftKings than right now.