BetMGM is helping MLB bettors get in on the excitement of NRFI betting every Friday for the entire MLB season with their $25 NRFI prop insurance. New users can sign up now with MGM promo code ASTRF1000 and also get BetMGM first bet offer up to $1000.
How To Claim Your NRFI BetMGM Promo
Time needed: 6 minutes.
Follow these quick steps to get your Friday NFRI promo at BetMGM
Visit BetMGM

Head over to BetMGM by clicking here now, new users be sure to sign up with the promo code ATSRF1000 to lock in the first bet offer up to $1000 as well as the NFRI Promo

Complete the Registration Form

Fill in the quick new user form, fill out Name, Address, email and verify your location. Current players can login and skip to step #3

Deposit at BetMGM

Using one of BetMGM many secure methods make a deposit of atleast $10, however it is suggested to deposit atleast $25 to take full advantage of the BetMGM NRFI promo

Find your NFRI prop for tonight

On the sports betting menu, select baseball to see every game in action

Click All Wagers

This will bring up every mlb betting market available on the game as well as the NFRI/YFRI for the game

Place a wager

Player your NFRI wager, $25 of which is insured

Enjoy the first innning

The first inning goes quick, if no runs are score collect your bet and play again next Friday, if 1 run is scored, get $25 in bonus bets back to use on any betting market of your choice
Betting on MLB: The Ultimate Guide to NRFI Bets
Welcome to our comprehensive guide to betting on MLB, specifically NRFI bets. In this guide, we will cover everything you need to know about this exciting and potentially lucrative betting option. From the basics of how to place a bet, to expert tips on how to analyze the data, we will give you all the tools you need to make informed decisions and increase your chances of winning big.
What are No-Run First Inning Bets At BetMGM?
NRFI bets are a specific type of baseball wager that is offered by BetMGM and other online sportsbooks. The idea is simple: you are betting on whether or not there will be any runs scored in the first inning of the game. If there are no runs scored, you win the bet. If there is even one run scored, you lose the bet.
---
How to Place a No-Run First Inning Bet
Placing a no-run first inning bet is easy. First, you need to find a sportsbook like BetMGM that offers this type of wager. Most major online sportsbooks do, so this shouldn't be too difficult but only BetMGM offers a NRFI Promo. Once you've signed up at BetMGM sportsbook, simply select the MLB game you want to bet on and look for the option to bet on a score in the the first inning. You will typically see a line that looks something like this at BetMGM: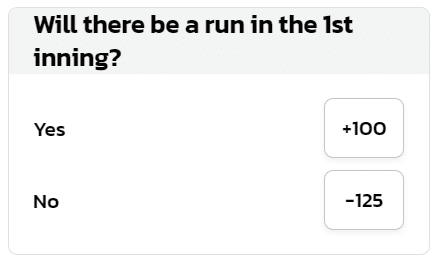 In this example, if you bet on the "NRFI" no runs being scored in the first inning, you would need to risk $25 to win $20, if it loses BetMGM refunds the $25 in bonus bets. If you bet on at least one run being scored in the first inning, you would risk $25 to win $25 however if it lost BetMGM would not insure the YRFI.
---
Factors to Consider When Betting on No-Run First Inning Bets
While NRFI bets are relatively straightforward, there are several factors that you should consider before placing your wager. These include:
Starting Pitchers
The starting pitchers for each team can have a big impact on whether or not there will be any runs scored in the first inning. Look at their statistics to see how they typically perform in the first inning. If they tend to start strong, there may be a higher chance of a no-run first inning.
Weather Conditions
Weather can also play a role in whether or not there will be runs scored in the first inning. If the conditions are windy or rainy, it may be more difficult for batters to get hits, which could result in a no-run first inning.
Home Field Advantage
Finally, consider the home field advantage. Teams that are playing at home may have a better chance of scoring in the first inning due to their familiarity with the field and the support of their home crowd.
---
Tips for Analyzing Data and Making Informed Bets
Now that you know the basics of NRFI bets and the factors to consider, let's dive into some expert tips for analyzing data and making informed bets. Also each and every day Jay Sanin breaks down his NFRI best bet of the day.
Use Historical Data
One of the best ways to increase your chances of winning is to use historical data to inform your decisions. Look at how the teams and starting pitchers have performed in past games to see if there are any trends or patterns that can help you predict the outcome of the first inning.
Monitor Line Movements
It's also important to monitor line movements. If a lot of money is coming in on one side of the bet, the sportsbook may adjust the line to balance their risk. This can be a good indication of which way the smart money is leaning.
---
Consider Betting on the Underdog
Finally, consider betting on the underdog. While favorites may seem like a safe bet, they also come with lower payouts. Betting on the underdog can be riskier, but it can also lead to higher potential payouts. If you have done your research and believe that the underdog has a good chance of winning or keeping the first inning scoreless, it may be worth taking the risk.
---
Wrapping Up NRFI Bets and The BetMGM Promo
NRFI bets can be a fun and exciting way to bet on baseball escpecially when they are insured with the BetMGM promotion. Considering the starting pitchers, weather conditions, and home field advantage, as well as using historical data and monitoring line movements, you can increase your chances of making informed and profitable bets. Remember to always gamble responsibly at BetMGM and have fun!