Are you in Indiana? Colorado? West Virginia? If you are in any of those three states or live close enough to get there in order to place a bet, BetMGM Sportsbook has a terrific Thursday July 23 promotion for you.
July 23 is Opening Day for the 2020 Major League Baseball season. The New York Yankees and the Washington Nationals will get us underway for what we hope will be a 60-game sprint to the playoffs.
On Thursday, Summer Camp will end and the games will officially get underway and that means that you want your bankroll to be ready to go as well. If you want a little extra money in your bankroll for the low cost of $1, then this BetMGM Sportsbook promotion is for you.
There is a potentially lucrative prop betting option for Yankees vs. Nationals. If any player on either team hits a home run and you have a $1 bet on it, it will be worth $100 in free bets thanks to the Odds Boost being offered by BetMGM.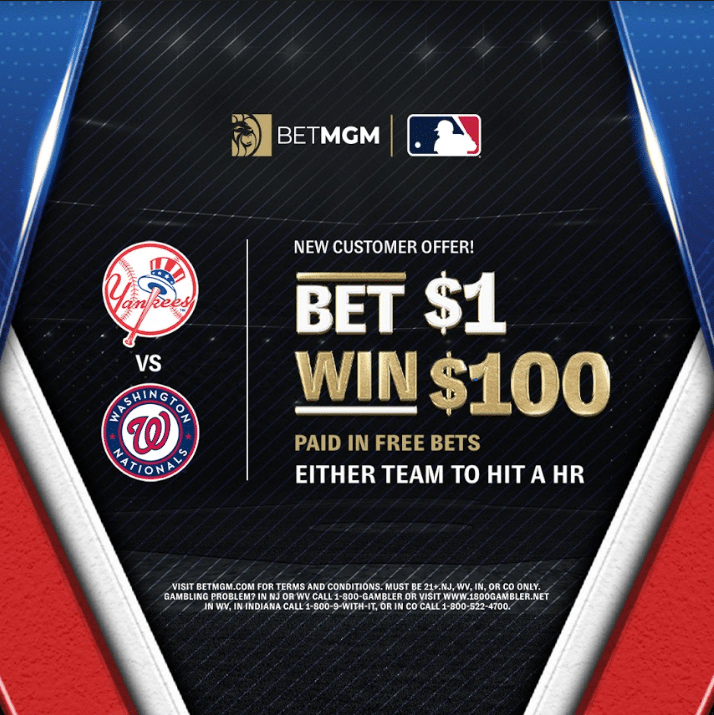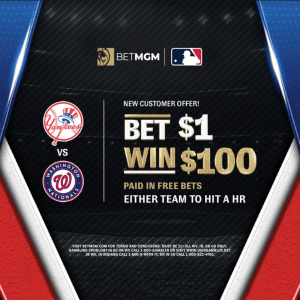 Home runs could be few and far between with Gerrit Cole, Max Scherzer, and the elite Yankees bullpen, but you're betting a Washington to win a Benjamin. You're getting +10000 on a home run getting hit. That is worth a dollar.
Imagine ordering a McDonald's Coke and getting handed a $100 bill at the drive-thru window.
Imagine handing a dollar to a magician and he makes a $100 bill appear.
Imagine taking four quarters to the bank and getting five $20 bills.
Even if those three things are not guaranteed, if you were told that you could make that gamble and take your chances, would you do it?
Of course you would and that is the offer that BetMGM has for users in Indiana, Colorado, and West Virginia.
If you don't have an account at BetMGM Sportsbook, you can sign up and take advantage of the initial deposit offer of up to $500 in free bets. Then, once you have an account, you can sign up and participate in this Thursday July 23 promotion.
In other words, there is no time like now to sign up for BetMGM Sportsbook.