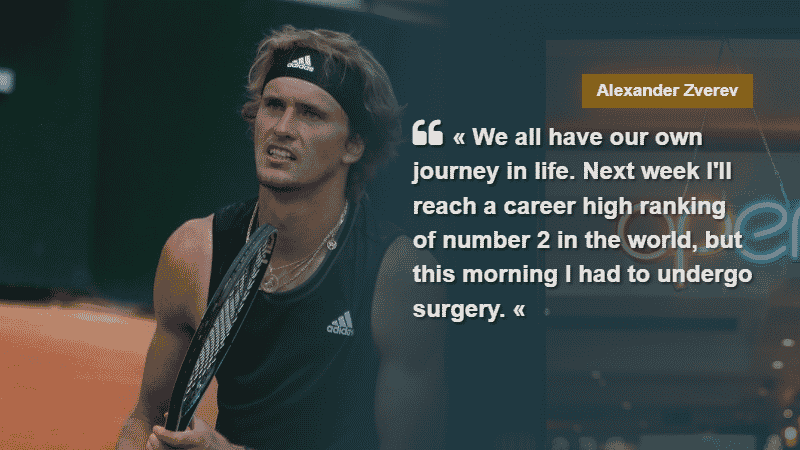 In the semi-final match of the French Open, Alexander Zverev gave his all against Rafael Nadal. However, an injury forced him to retire during the second set. The German player fell while he was trying to return a shot.
He was immediately taken out of the court and placed in a wheelchair. The crowd cheered for him as he returned to the court on crutches. In a later statement, Zverev revealed that his injury was not as severe as first thought.
Zverev comments on his ligament surgery
Zverev revealed in an Instagram post that he had to undergo surgery to repair the lateral ligament in his right ankle. That being said, he said that he expected to reach a career-high ranking next week.
After consulting a specialist in Germany, Zverev was informed that all of the lateral ligaments in his right ankle were torn. He said he opted for the surgery to ensure that his ligaments would not get damaged again. He added that he would do everything to come back stronger than ever.
"We all have our own journey in life. This is part of mine. Next week I'll reach a career high ranking of number 2 in the world, but this morning I had to undergo surgery. After further examination in Germany, we received confirmation that all three of the lateral ligaments in my right ankle were torn," said Zverev.
Zverev thanked his fans for their support. He added that he would continue to receive messages from worldwide.
Get free Tennis picks from expert handicappers at ATS.io.
"I am continuing to receive so many messages and would like to thank everyone once again for supporting me during such a difficult time."
The German tennis player said his recovery went well and that he was eager to get back on the court. Due to his injury, Zverev will not participate in the upcoming Wimbledon tournament, which will be held from June 27 to July 11. It is a bitter blow for the professional tennis player as he was supposed to be the tournament's top seed.
Nadal sends best wishes
On Friday, Nadal wished Zverev well and said he hoped that the German tennis player would be able to recover quickly from his injury. He also said that he was closely monitoring his condition.
During the match, Nadal praised Zverev for his impressive start. He also said that it was essential for him and other professional players to fight for their first Grand Slam. Nadal said he felt sorry for his rival's injury as it was a dream of every professional tennis player to be in the final of the French Open, saying "Feels very sorry for, if you are human, you should feel very sorry for a colleague".
After Novak Djorjic lost the French Open title, it was left to Zverev to become the new world number one. He had the opportunity to do so, but the injury prevented him from winning the tournament.
Although he lost the French Open title, Zverev will still be able to climb to second place when the updated ATP rankings are released next week. Meanwhile, Djorjic will drop to third as Russian player Daniil Medvedev will replace him.