SportsBetting.Com Sportsbook Review
If you are looking for a online sports betting site that caters to all members of the Colorado sports betting community, you don't have to look any longer. SportsBetting.com is up and running in the state of Colorado and more states, including New Jersey, Indiana, and Iowa, are coming soon.
Sportsbetting.com (launch date – September 2020) is regulated by the Colorado Division of Gaming licensed as an Internet Sports Betting Operator in partnership with Johnny Nolons Casino. CO. Only customers 21 years of age and older are permitted to wager. Registered offices at 1900 W. Littleton Blvd, Littleton, Colorado, 80120.
This is a legal sports betting site that wants newbies that are willing to learn and seasoned pros that are looking to win. They are willing to take on any and all new accounts and SportsBetting.com vows to give all accounts the same VIP treatment. Whether you are a $10 bettor or a $1000 bettor, you are going to find a hassle-free online sports betting experience that provides quick, reliable payouts and takes a variety of different deposit methods.
In other words, SportsBetting.com is a place that checks the most important boxes for Colorado sports betting enthusiasts. Customer service is a premium, but so is offering a full catalog of odds across several dozen online sports betting markets, including the six major U.S. sports.
Customers from SportsBetting.com may not have voices as loud as some of the major operators that are out there, but users are more than satisfied with the experience, the ease-of-use, the customer support staff, the fair odds, and the bevy of promotions and bonuses that you are eligible for as an account holder.
Let's take a deeper look at what makes SportsBetting.com so special.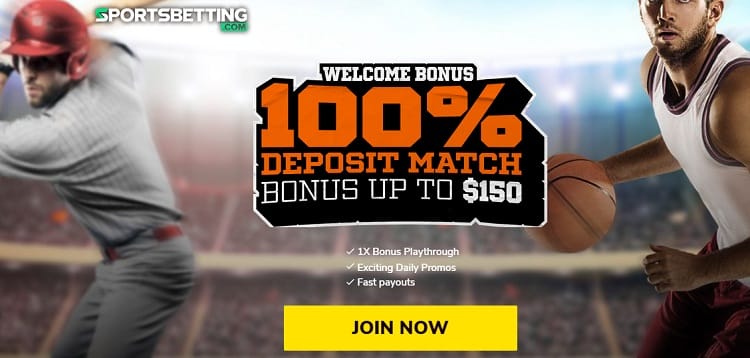 How The SportsBetting.Com Promo Works
First step is to visit Sportsbetting.com ( You must be 21 or over and located in Colorado)
Sign Up at Sportsbetting.com and make a deposit of $10 or more
Base on your deposit players will receive a 100% match up to $150 in Free Bet Credits, i.e:
If a player deposits $10, they will receive $10 in Free Bet Credits (Money to Play: $20)
If a player deposits $50, they will receive $50 in Free Bet Credits (Money to Play: $100)
If a player deposits $100, they will receive $100 in Free Bet Credits (Money to Play: $200)
If a player deposits $150, they will receive $150 in Free Bet Credits (Money to Play: $300)
The match bonus and Free Bet Credits have a 1x playthrough requirement.
Sportsbetting.com How To Find Bonus Code
No promo or bonus code is required when signing up or depositing, all users will be credited with their free bet credits. Simply use our link to signup and deposit! Free bets will be credited automatically.
Other SportsBetting.com CO Mobile App Promotions
Double your deposit – First deposit match 100%
He Shoots – He Scores – Bet on pre-selected hockey games and get a $10 bonus for every goal!
Slam Dunk – Bet on the NBA Championship outright winner and get $20 for each series your team wins.
The Long Ball – Bet on pre-selected baseball games and get $20 for every home run.
SportsBetting.Com Sportsbook Welcome Bonus
| SportsBetting.Com Sportsbook Welcome Bonus | |
| --- | --- |
| Bonus Code | Not needed |
| First Deposit Bonus | Up to $150 |
| Platforms | Desktop/Android/IOS |
SportsBetting.Com Sportsbook Promotions
The Customer is King at SportsBetting.Com
It says so right on the home page for SportsBetting.com. Every sports betting app wants to make money, but it's all about how they conduct themselves in the process. SportsBetting.com wants to ensure that your experience is a good one because a good experience means additional players will come and sign up. They believe that the gambler is at the center of everything. Even if a gambler is running on the wrong side of Lady Luck, he or she will keep coming back as long as the experience if a pleasant one.
There are a lot of ways to create a pleasant gambling experience. You have to succeed in all areas in order to impress even the most challenging client. That means having fair odds on an easy-to-use and eye-catching interface. That means having enough supply to meet the odds demand, which always includes NFL, NBA, college football, college basketball, MLB, and NHL, but also includes global and niche markets like MMA, soccer, tennis, golf, NASCAR, IndyCar, and more.
That also means handling any customer disputes in a respectful and transparent manner. SportsBetting.com has made it a point to have well-trained staff and a seasoned management team that can answer any and all concerns, questions, and issues.
That also means providing a secure environment when sensitive personal information is at stake. SportsBetting.com employs state-of-the-art data security and encryption technology to protect player account information.
If you want to be treated correctly and fairly, SportsBetting.com is the place for betting in Colorado.
Looking Out for You at Sportsbetting CO
Furthermore, along the same lines of treating the customers well, responsible gaming is a big deal in this day and age, especially with so many new bettors flocking to the Colorado sports betting market. SportsBetting.com has a wide range of tools, including hard limits that you can set for yourself so you don't get too crazy with your bankroll or your action.
They've made it a priority to assist new and experienced users with any safeguards that they want to put in place just to make sure that things don't get to a point of no return. Sports betting in Colorado and Gambling as a whole should be enjoyed responsibly.
SportsBetting.Com Site & App Sign-Up, Deposit, and Withdrawal
In keeping in line with the focus on the customer, signing up for an account is a breeze. With SportsBetting.com legal sports betting in Colorado, and with New Jersey, Indiana, and Iowa on the horizon, you can sign up from anywhere in three of those four states because of remote registration. The in-person registration requirement ends in Iowa on January 1, 2021, which will bring more operators to the market.
In Colorado online sports betting, for example, this is fully a remote registration state. SportsBetting.com has its license through Johnny Nolans Casino, so they are fully licensed and regulated in the United States and in the state of Colorado. Colorado's remote registration policy means that you can sign up anywhere for an account, but you must physically be within the state borders of Colorado in order to place wagers.
In order to place wagers, you'll have to make a deposit. In order to place a deposit, you can use a variety of different deposit methods, including Visa and Mastercard, but they also use the payment processor Skrill, which allows you to use bank account information for a direct deposit or to use your Visa or Mastercard numbers through there for additional security and convenience.
Withdrawals using credit cards and debit cards take 3-5 business days, which is a fast turnaround, but if you use Skrill, you can also get the money through there to then transfer to your bank account.
Bonuses and Offers at SportsBetting.Com
The sign-up bonus is the real eye-catcher here. If you sign up through us at ATS, you can get up to $1,000 in risk-free betting for a week. What that means is that if your losses exceed your wins in your first week of betting, they will refund you the difference up to $1,000. So if you win $50, but lose $100, you'll get $50 in free bet credits. If you win $1,000, but lose $1,500, you'll get $500 in free bet credits. That offer is good up to $1,000.
You don't have to bet that much, as all it takes is $10 to sign up and get started, but given that you have all week to use your risk-free bets, it is totally up to you how much you want to deposit.
Along with that excellent sign-up bonus, there are additional bonuses and promotions that are offered daily or weekly, like the Sunday Super Boost with boosted odds on select wagers, bonuses for trying out the in-game, live betting interface, a parlay credit if you come up a game short, and a whole lot more. It all depends on the game and the season.
Why Sign Up At SportsBetting.com?
For right now, SportsBetting.com is only in operation in Colorado, but more states are soon to come. You are getting in on the ground floor with an operator that truly cares about its customers and clientele and knows that the only way to attempt to compete with the big boys is by word of mouth and reputation.
It doesn't hurt to see a 100% first deposit bonus either. It means that you have the opportunity to see what CO sports betting at SportsBetting.com is all about.
This is definitely a great place to bet on sports and we highly encourage you to consider signing up to see for yourself
Colorado Sports Betting FAQ